As a smaller companion to its T880 flagship model for construction materials delivery, Kenworth Truck has added a light Class 8 vehicle. The T480's 107.5-in. or 109.5-in. bumper to back of cab length nets concrete mixer or dump packages for operators in urban markets or other environments where site conditions necessitate tight turning radius capability. Like companion Class 5-7 models in the new series, the T480 has as standard a 2021 Paccar PX-7 or PX-9 engine, with respective ratings up to 325 hp and 380 hp, and the new eight-speed Paccar TX-8 automatic transmission.
"Our new lineup sets the industry standard for quality, performance, reliability and durability throughout the many diverse, medium duty applications in the U.S. and Canadian markets. These models possess excellent versatility and maneuverability, spacious 2.1-meter wide cab, exceptional visibility and driver-focused ergonomics," contends Kenworth General Manager Kevin Baney.
"Over the past several years, Kenworth actively sought, listened to and collected invaluable input and feedback from customers and drivers throughout the extensive design process. The customer insights—representing a variety of medium duty applications—were essential," notes Chief Engineer Joe Adams. The 500-plus participants in design studies helped define the dimensions and fine-tuned ergonomics of the new models, he adds, resulting in a cab 8 inches wider than the previous version.
"From a series of sketches to digital data, to clay models, full size projections and prototypes, we kept our customers' interests at the forefront of the processes and involved them through every chapter. With all this input, along with thoroughly dissecting competitive products, we developed a clear roadmap of what needed to be done," affirms Kenworth Medium Duty Product Planning Manager Mark Wagner. — Kenworth Truck, Kirkland, Wash., www.kenworth.com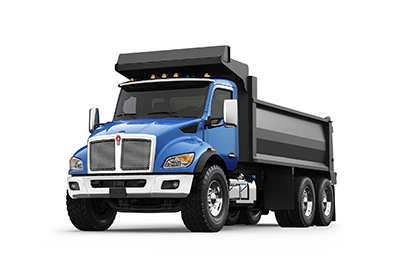 The Kenworth Medium Duty Series' largest offerings are shown here in dump-mounted T480 with medium aero hood, and mixer-bearing T480V, the latter letter indicating sloped, vocational hood. Both models are 109.5-in. bumper to back of cab. Compared to prior medium duty models, the T480's larger front windshield enhances visibility by nearly 17 percent, while the new cab construction reduces interior noise by up to 50 percent.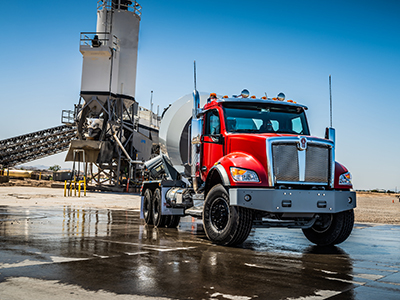 ---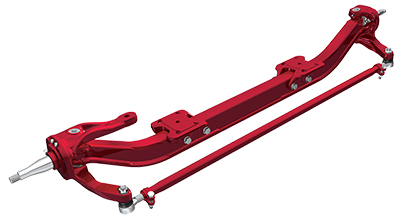 HENDRICKSON STEER SPEC
Hendrickson Truck's Steertek NXT fabricated front steer axle has been selected as standard for Kenworth Truck and Peterbilt Motors' new medium-duty truck models. The Steertek's proprietary design and manufacturing process saves weight compared to traditional I-beam axles, Hendrickson engineers note, while combining rigid strength, outstanding maneuverability due to 55 degrees of wheel cut, and reduced maintenance. — Hendrickson Truck Commercial Vehicle Systems, 630/910-2800; www.hendrickson-intl.com
---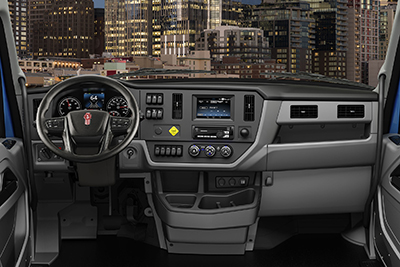 ---
FMCSA RECOGNIZES GROTE BRAKE-ACTIVATED WARNING LIGHTS
Amid the rising frequency of rear-end collisions rooted in distracted driving, the manufacturer recently secured a Federal Motor Carrier Safety Administration waiver allowing truck operators to install brake-activated, pulsating warning lamps to supplement the steady-burning lamps per Federal Motor Carrier Safety Regulations.
Citing the daily occurrence of over 300 rear-end collisions involving trailers on highways, Grote Industries proposed that a light with brake warning functionality could improve visibility and safety for all drivers. According to a recent study, a flashing amber brake-activated light can help reduce the frequency of rear-end collisions by more than 33 percent. FMCSA–2020–0122 waiver was granted based partly on such compelling data.
To bring greater visibility to trailers during the critical moments of vehicle braking, moreover, Grote engineers developed the Auxiliary Strobe and Stop Lamp, an add-on warning light that can be easily wired into a trailer's existing brake light circuit. The new light is designed to effectively draw the attention of traffic and give following motorists greater warning of braking. To ensure that nearby drivers are aware of the vehicle's actions, braking initiates a sequence of five amber flashes in four seconds followed by a solid-red burn. This light sequence far exceeds the attention-getting capability of standard solid-burn brake lights while not overwhelming following drivers with long periods of strobing, Grote engineers contend.
"The unique advantages of [our] Auxiliary Strobe and Stop Lamp have gotten the attention of fleets throughout the nation," says Grote Director of National Fleet Sales Mark Blackford. "Additional functionality for auxiliary lights will cut down on accidents and property damage, and make our roadways safer."
He anticipates a host of benefits resulting from the FMCSA waiver and adoption of the new light, both for fleets and the driving public. Drawing attention to the actions of trailers will increase operator safety and minimize rear-end collisions, meaning less equipment damage and downtime, along with fewer delays. — Grote Industries, Madison, Ind., www.grote.com