AJ's Concrete Pumping, a division of Sutherland Concrete in Vancouver, B.C., was looking for an engineered cribbing solution to add height when operating in unlevel or other demanding conditions, and one that would stand up to the company's stringent safety standards. It found the answer in Dica ProStack Pyramid Lock Cribbing blocks, which provide 6 inches of height per stacked level.
According Operations Manager Scott Sutherland, the British Columbia terrain means frequently setting up on some "nasty slopes" which require cribbing to level their boom pump trucks. "We use ProStack on eight out of 10 jobs in the mountainous regions. My operators love the cribbing blocks and the wedges. They are so efficient for leveling the cribbing stack on a slope."
Working in downtown Vancouver is a completely different scenario, he notes: "The terrain is flat, but because of the crowded conditions, we often have to set up right at the edge of the excavation. In Vancouver, ProStack has more than paid for itself. Working near an excavated foundation requires equipment to be set back and the ground to be prepped with gravel. However, operating in confined spaces makes this tricky. The farther back from the foundation you go, the more expensive the ground prep for the customer, and many times a bigger pump is required."
ProStack Pyramid Lock Cribbing Blocks are designed for equipment with outrigger loads up to 110,000 pounds, such as concrete pumps, boom trucks, digger derricks and aerial devices. The more load exerted, the tighter the blocks lock together. With ProStack providing the height and support needed, AJ's pump operators can set up directly in an excavated area. "There is no more guesswork by the operator as to the appropriate set back needed. It cuts setup time, it's safer, and it creates a revenue opportunity for us," Sutherland observes. "Customers don't question the solution because it's professional, promotes safety, and saves them money by eliminating the need to bring in back fill and larger more expensive equipment."
Before purchasing ProStack Cribbing, his operators grabbed timbers from the yard. "We had to trust the crews to use good stuff, not timbers that were rotten. With ProStack we have zero fail rate, zero wear and tear, and we take the liability off the shoulders of the operator," Sutherland affirms.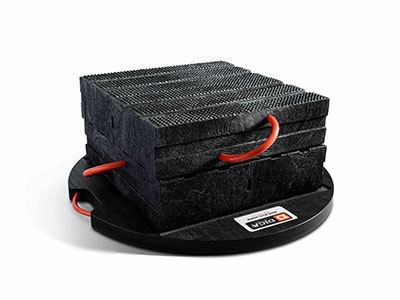 By interlocking together, ProStack cribbing block can be stacked to provide a safe setup in situations where the ground is not level and additional height and support are needed. AJ's Concrete Pumping crews also show how the units enable setting up directly in an excavated area. Each block weighs under 30 pounds and adds 6 inches of stacking height. The slot and flange interlocking system enables blocks to lock into the base and with each other when cross-stacked.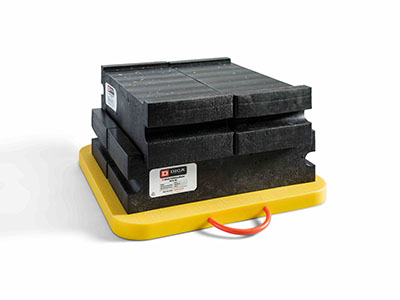 RETURN ON THE INVESTMENT
"Concrete pumping is very competitive in our market. Products like ProStack help us stay ahead of the curve, and it gives us a professional appearance," Sutherland affirms. Not only does ProStack deliver productivity and efficiency, AJ's crews have peace of mind in a fully engineered solution, he adds, noting: "DICA's published load ratings and usage guidelines give us the confidence we need and the documentation the authorities and customers are looking for. Having engineering documents to show local safety inspectors is important. Documentation is key."
Since trying out an initial set of ProStack Cribbing, AJ's Concrete Pumping has added the units to another eight pumps. "It's actually a money maker for us," Sutherland explains. "Cribbing usage fees are typically included in setup charges. And customers are happy, because it's less expensive than the alternative in most cases. After using it 10 times, it is paid for and we start making money on it.
"We invest in the best tools and training to ensure not only an efficient concrete pour every time, but also a safe concrete pour. Dica's engineered products help to ensure safe, and consistent setups of our equipment wherever we are working." — Dica USA, Guthrie Center, Iowa, www.dicausa.com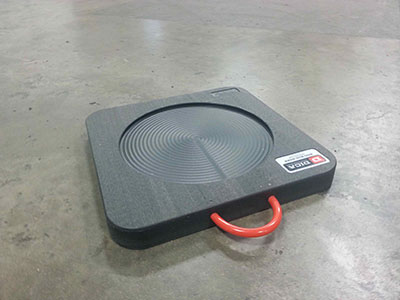 ProStack Cribbing Blocks are available in two styles: the original Pyramid Lock design, used by AJ's Concrete Pumping, and new Slot Lock design. The latter cribbing blocks are smaller and lighter, and accommodate up to 18-in. square outrigger feet. Additionally, Dica Recessed Radius pads, fabricated in 2-, 3- or 4-in. thicknesses, are designed to contain a boom pump truck's outrigger feet.