Sources: California Construction and Industrial Materials Association, Sacramento; CP staff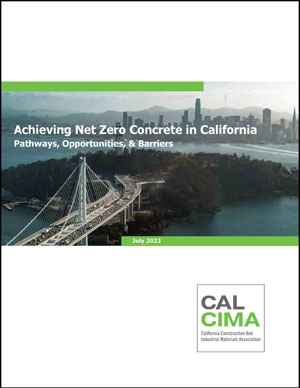 "Achieving Net Zero Concrete in California: Pathways, Opportunities, and Barriers" is a new report with which the California Construction and Industrial Materials Association (CalCIMA) intends to inform policymakers and the public about members achieving carbon emissions reduction goals, or net carbon neutrality. Authors assess what opportunities are most achievable by 2045, which have the most impact, and their time frames. They also provide a primer on concrete; the Golden State's concrete industry; plus, concrete producers' role among architects, engineers, contractors, and developers in the construction value chain.
"California's construction materials producers have a terrific story of innovation as we march toward net zero concrete," says CalCIMA CEO Robert Dugan. "Tremendous strides have been made in reducing the carbon impact of both concrete and asphalt. This report sets forth the context and path for concrete to move forward toward net zero, achieving a reliable supply with an eye to sustainability."
Related article
Shaping the future, sharpening the carbon focus
EMBODIED CARBON ACTION, GOLDEN STATE-STYLE
The Embodied Carbon Reduction Roadmap report, authored for the National Resources Defense Council by San Francisco engineering and architectural giant Arup, explores policy options to support a wide range of strategies that can be deployed to address embodied carbon across the construction industry. Authors focus on California as a case study due to its track record for setting ambitious climate targets and adopting progressive embodied carbon policies. Using quantifiable data and analysis, they provide a clear roadmap that highlights the importance of taking both a materials- and building-focused approach to embodied carbon policy action. 
The report is posted at www.arup.com/perspectives.