BY JOSEPHINE PATTERSON
Within a year of the California Nevada Cement Association's release of an industry-wide roadmap to attain net zero carbon operation by 2045, a rare alignment of state government, industry stakeholder and environmental group initiatives is validating some of the lowest hanging fruit in the action plan.
CNCA envisions three major pathways for the industry to attain the bold goal: reducing production process emissions, reducing combustion emissions through fuel switching, and increasing distributed electricity generation. Within these pathways are nine key levers to make carbon neutrality possible, beginning with what the group calls a powerful first lever—portland-limestone cement.
PLC market development was prioritized as CNCA members, like their Portland Cement Association peers, view low-carbon cement adoption and acceptance as easily achievable. It does not require new production facilities or additional transportation impacts as it is produced with existing limestone sources. In fact, CNCA officials say San Diego has been leading in the acceptance and use of the material and they are seeing that enthusiasm spread throughout the state—not just by local authorities but also state officials.
CALTRANS APPROVAL
The California Department of Transportation, best known as Caltrans, was not the first state agency to move on blanket approval of portland-limestone cement, but its action earlier this year stands to catalyze the material's consumption coast to coast.
The approval for this low-carbon cement was predicted on an extensive Caltrans-funded research conducted at Oregon State University College of Engineering. A team lead by Professor Jason Weiss concluded that PLC is equally suitable for the agency's construction projects as ordinary cement, while providing a quantifiable carbon reduction. Throughout the research process, Caltrans worked closely with industry experts and stakeholders, such as the California Construction and Industrial Materials Association and CNCA, to draft the new standard specifications.
"Using low-carbon cement can cut Caltrans' concrete-related carbon dioxide emissions annually by up to 10 percent. This is a big step in supporting California's efforts to achieve carbon neutrality by 2045," notes Caltrans Director Toks Omishakin.
In 2017 alone, Caltrans used 325,000 tons of cement to upgrade the state highway system. Switching to low-carbon binder, the agency sees the potential to reduce construction supply chain carbon dioxide emissions by 28,000 tons a year—the equivalent of removing more than 6,000 cars off the road. Caltrans expects that the reduced energy needs associated with PLC production will make the cost similar or slightly less when compared to ordinary cement.
Since Caltrans' October approval of the material, Arizona and Nevada Departments of Transportation have joined the bandwagon so that the entire western United Stats is on board. The addition of Vermont and Maryland bring the total of state authorities recognizing PLC in specifications for concrete pavement, bridge and other structures to 45. The approvals will accelerate a Portland Cement Association-tracked PLC consumption trajectory eclipsing 6 million metric tons to date.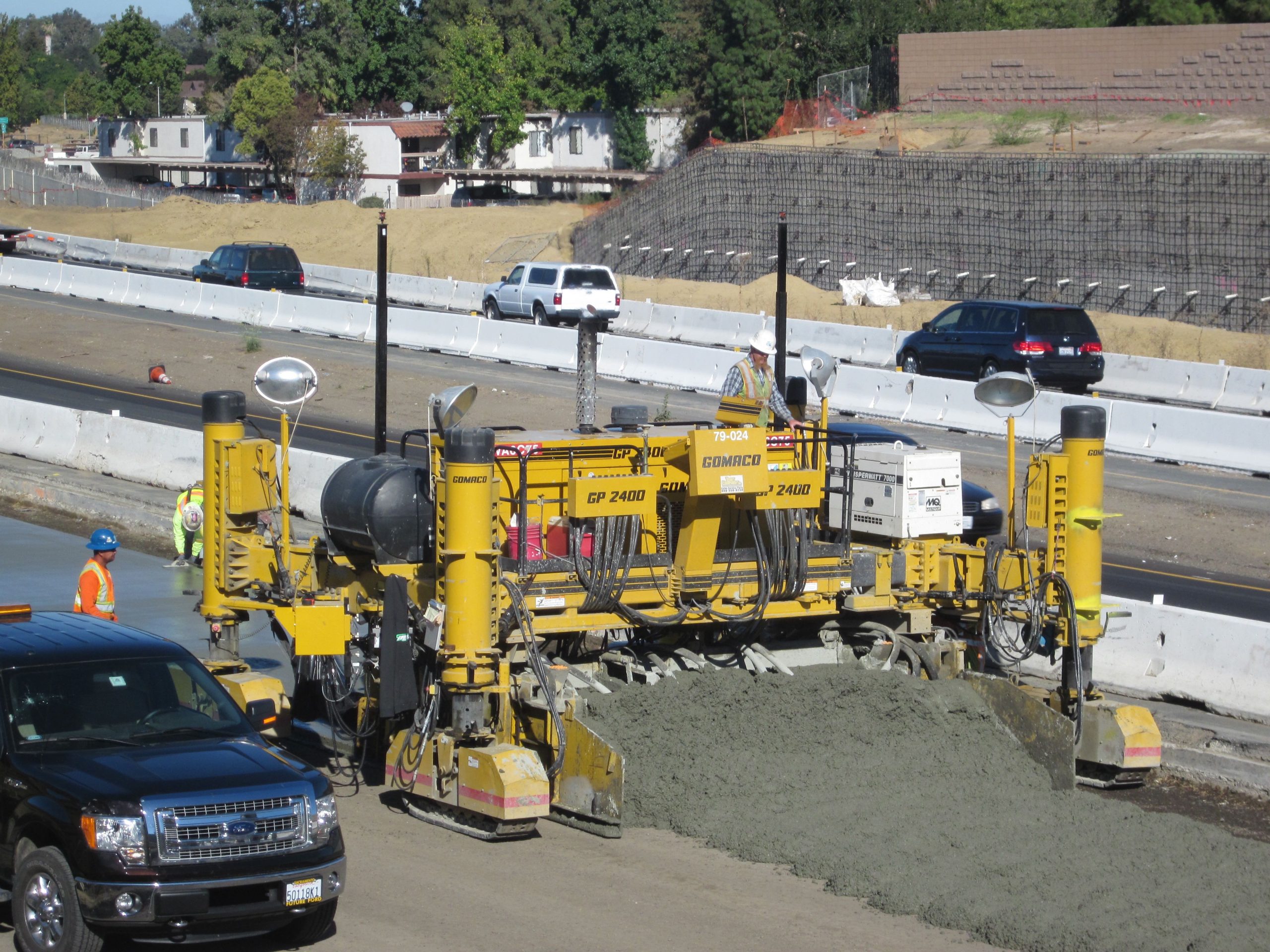 CALPORTLAND: FRONTRUNNER
In an effort to help CalPortland Co. and its customers achieve their carbon reduction goals, the producer has converted its Mojave, Calif. cement plant to Advancement HS, a blended portland-limestone cement—the first in the state to make the full transition.
The Mojave mill conversion dovetails broad market PLC uptake, underscored by the addition of Advancement HS and other Type IL cements to the Caltrans-approved materials list. The 1.3 million ton/year capacity plant's switch to the material will reduce the facility's carbon emissions by 10 percent on a per ton basis.
CalPortland and peers' migration from 100 percent clinker offerings supports CNCA's goal to attain net zero by 2045 as well PCA's Roadmap to Carbon Neutrality, which charts a nearly 30-year path of carbon dioxide emissions reduction at plants and downstream concrete or construction points nationwide.
LEGISLATION PROPELS GOALS
Legislation effective at the start of the year made California the first state to directly target greenhouse gas emissions from cement. Senate Bill 596 was also the first bill in any California sector to focus on achieving net-zero emissions.
"California is now the leader in driving decarbonization of the cement industry—a crucial material in the built environment, but one of the most challenging industries to decarbonize," says Senator Josh Becker of San Mateo (District 13), vice chair of the Legislature's Committee on Climate Change Policies and chair of the Senate Subcommittee on the Clean Energy Future.
In California, greenhouse gas emissions from the production of cement contributes about 8 million metric tons of CO2 each year, equivalent to about 1.7 million cars. Cement production is the second-largest industrial source of GHG emissions in the state, behind only the oil and gas sector. In response, SB 596 requires that a comprehensive strategy be created to achieve net-zero emission cement used in California as soon as possible, but not later than 2045.
"This legislation becomes law," Senator Becker says, "thanks to the help of the climate and environmental action advocates at the National Resources Defense Council, which partnered with me on the bill, and with support from the California Nevada Cement Association, which shared key input on the industry's efforts to reduce carbon emissions from cement and was a willing partner in helping to craft SB 596 as it advanced in the Legislature."
"We believe SB 596 establishes a regulatory framework, with the proper checks and balances, to allow the state and the cement industry to succeed in our common goal of lowering carbon emissions in our economy and reaching carbon neutrality in 2045," says CNCA Executive Director Thomas Tietz.
Regional climate action groups also mobilized around SB 596: "Senator Becker's focus on cement is putting California in the lead nationally on our critical need to reduce emissions from this significant source," said Janet Cox, legislation director for 350 Silicon Valley. "California is big enough, and our infrastructure needs are great enough, that we can influence both other states' policies and the cement industry nationally."
SB 596 is the first bill by Senator Becker focusing on the cement and concrete industry. A follow-up bill, SB 778, would add low-carbon concrete to the state's Buy Clean law in order to help drive demand for the low-carbon cement produced under SB 596.
Additionally, Senator Becker has co-authored SB 905, which tasks the California Air Resources Board with developing a geologic carbon sequestration demonstration initiative and funding one to three projects by January 2026. The projects must reduce air pollution and other co-pollutants from cement facilities that impact the health of local communities.
Solidia secures $2.1M DOE grant to refine carbon management methods
The U.S. Department of Energy (DOE) is providing $2.1 million in funding to New Jersey-based Solidia Technologies to develop and test methods for carbonating the company's namesake binder, thus broadening applications of low-carbon manufacturing technologies for building materials. Work under the DOE Office of Energy Efficiency and Renewable Energy grant will especially target processes for producing synthetic supplementary cementitious materials through direct capture and utilization of carbon dioxide from a cement plant flue gas stream.
Investigators will pursue an efficient carbonation method at laboratory scale, performing mortar and concrete specimen tests to determine the SCM's suitability as a portland cement replacement. A carbonated SCM could be added to mixes to create a product yielding similar or better performance when compared to concrete made with commonly used fly ash and ground granulated blast furnace slag.
"We are proud to partner with the U.S. Department of Energy to continue innovating and ultimately deliver on our mission to provide commercially viable decarbonization technologies and sustainable solutions for the global construction and building materials industries," says Solidia CEO Russell Hill, Ph.D. "The DOE funding will advance our carbon capture, use and storage technologies and synthetic SCMs that can be easily integrated into portland cement-based concrete formulations, offering a solution that is sustainable environmentally and economically."