Blair Block starts up CarbonBuilt-equipped CMU production line
Childersburg, Ala.-based Blair Block is the premier operator to adopt the carbon dioxide-capturing and -mineralizing technology of CarbonBuilt, enabling promotion of concrete masonry units whose embodied carbon characteristics are 70-100 percent lower than traditional blocks. The CarbonBuilt technology replaces most of the portland cement typically used in CMU mix designs with a proprietary alternative made from widely available, low carbon materials. They harden by chemically reacting with CO2, which is piped into the plant's curing chamber to augment unit strength development and permanently store the CO2 in solid form.
"As a family-owned business, we're incredibly proud to be the first plant in the world to produce ultra-low carbon concrete masonry," says Blair Block Vice President Matt Blair. "We're able to offer a highly sustainable and sought-after building material while positioning our business for the future."
"This is not only a milestone for Blair Block and our company, but also for the broader concrete and building materials industries," adds CarbonBuilt CEO Rahul Shendure. "We've shown that it's possible to reduce carbon emissions from concrete production without compromising on cost or performance. We look forward to replicating this success at concrete masonry plants around the country."
Blair Block's charter production line will avoid at least 2,000 metric tons of carbon dioxide emissions and consume 500-plus metric tons of atmospheric CO2 per year. Through process optimization and integration of additional lines, the producer and CarbonBuilt expect to increase the CO2 impact over time. A complete carbon accounting will be available in 2024 when the facility obtains an Environmental Product Declaration (EPD), verification of which requires one full year of operational data.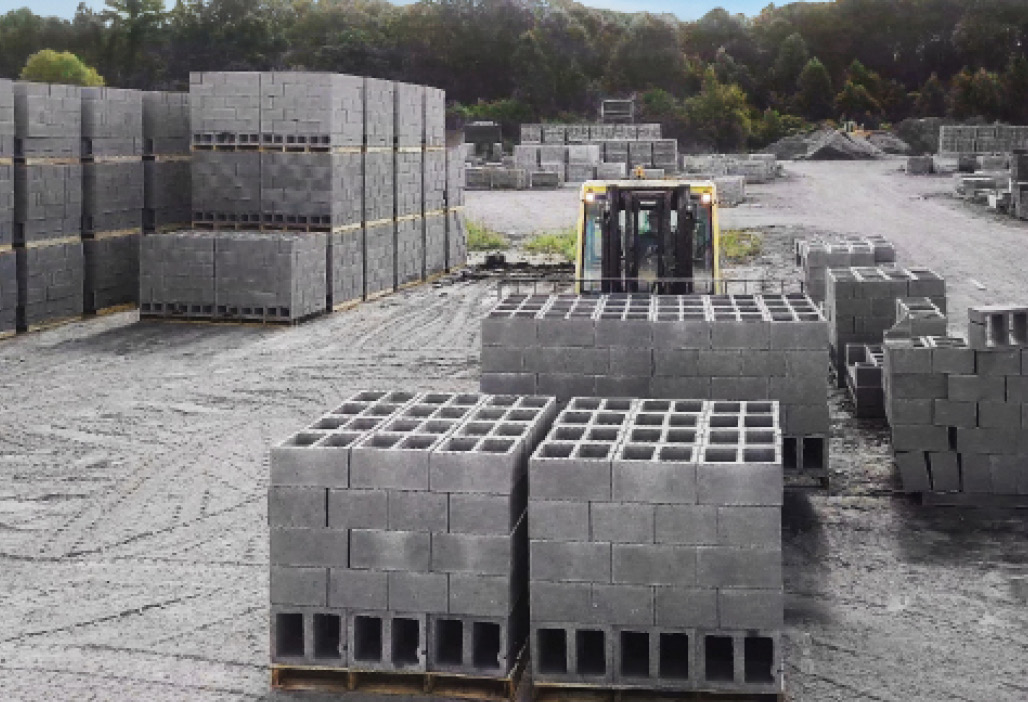 CHARTER CUSTOMER
Blair Block will deliver initial CarbonBuilt CMUs to C&C Masonry for municipal projects across Alabama. Among them is a new firehouse in the West Montgomery Fairview Avenue district, a historically underserved part of the city for which Montgomery Mayor Steven Reed is working to attract new investment and development. The ultra-low carbon concrete blocks will be seamlessly integrated into the project, replacing conventional CMU at no additional cost.
"We are proud to use these new ultra-low carbon blocks, made right here in Alabama," says Mayor Reed. "Through our Montgomery Forward initiative, we've made a promise for a safer, more equitable and vibrant Montgomery. We can now add 'sustainable' to that list."
"It's business as usual for us," affirms C&C Masonry owner Scott Cunningham. "Thanks to Blair Block and CarbonBuilt, we're now able to offer a much more sustainable option to customers without changing the way we operate, asking our masons to handle heavier blocks, or asking our clients to pay more. Everybody wins."
The Blair Block process deployment caps a research & development phase that Los Angeles-based CarbonBuilt began two years ago. The firm demonstrated the curing and strength development potential of its process in 2021 at the Wyoming Infrastructure Authority's Integrated Test Center, where a live feed of CO2 was used on a test load of CMU from TCC Materials. Blair Block assisted in a follow up demonstration at the U.S. Department of Energy's National Carbon Capture Center in Wilsonville, Ala.
CarbonBuilt officials cite concrete block's vital role in home, school, commercial and industrial facility construction, and future market prospects in light of society's efforts to build structures that are both resilient and sustainable. Given their strength, durability, fire resistance, energy efficiency, and noise abatement, concrete blocks are ideal for construction in regions prone to fire, hurricanes and tornadoes. Low carbon characteristics relative to conventional concrete make ultra-low carbon CMUs a crucial tool for reducing global emissions, CarbonBuilt officials contend, while their low cost profile against other building materials gives concrete blocks an advantage in accelerating the transition to lower embodied carbon in the built environment.