A global player in pumping equipment for cast-in-place concrete, Putzmeister has unveiled a modular placement system for precast production. A modified boom pump with sections, elbows and hoses contouring to casting beds, the Autocor is engineered to replace crane-mounted bucket and other traditional mix delivery methods and bring labor savings to architectural or structural precast plant managers contending with a lack of skilled workers.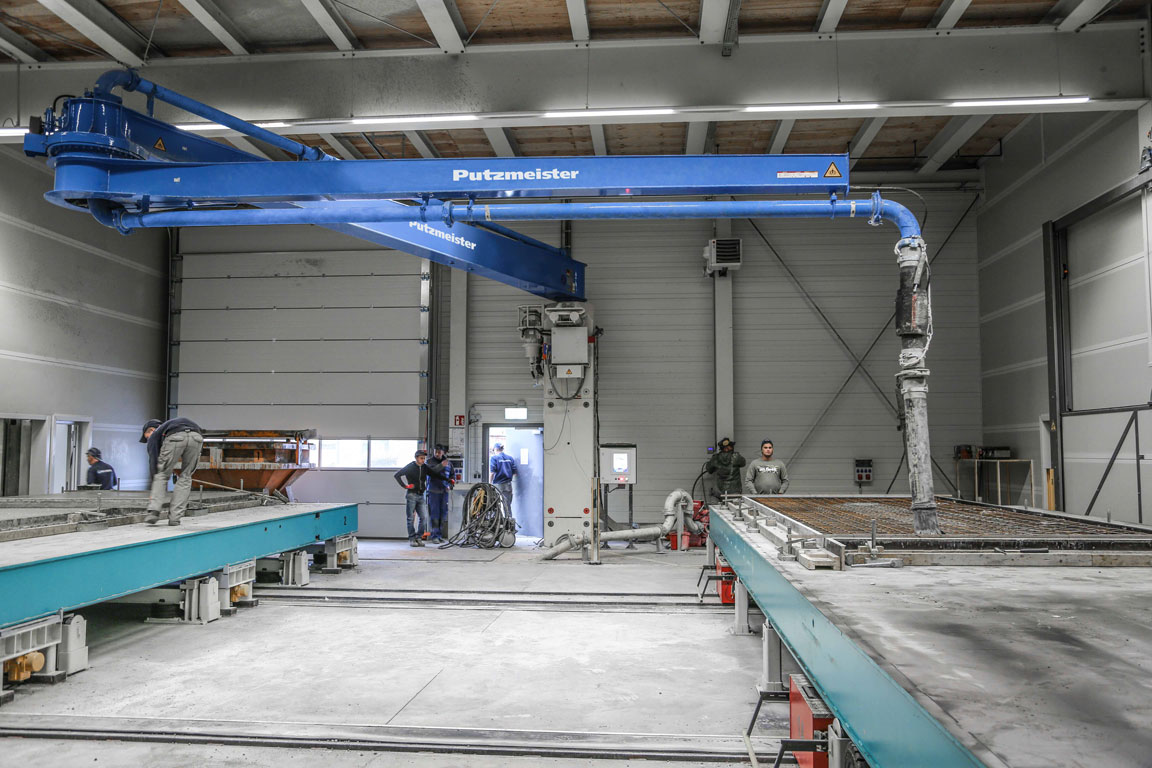 With the Autocor, concrete is transported via a traveling bucket into the holding hopper (mixer drum) and from there discharged into the pump hopper. The pump then conveys the concrete through the pipeline and remote controlled mechanical distribution arm into the formwork. The maximum theoretical output for the pump is 210 cu. yds./hour, although this heavily depends on the concrete output from the batching plant to the pump and the ability to place these amounts into formworks. As a rule of thumb, Putzmeister officials contend, the pump typically outperforms the batching plant from an output perspective. "This is where we can increase productivity, as the wasted time of an empty bucket going back to the batching plant is eliminated," says Putzmeister Special Application Business Senior Director Bastian Dreher.
Compared to more conventional mix delivery methods with crane and bucket or traveling bucket, the Autocor system is generally safer as there is no heavy bucket overhead. It is also cleaner as the endhouse of the boom can be placed precisely into the formwork, reducing spillage. At the same time, the concrete quality of the end product is typically better compared to conveying concrete with a bucket, notes Dreher, due to less segregation, no cold joints, and quicker filling.
Putzmeister offers two Autocor standard sizes, which are distinguished by the boom's horizontal reach—79 feet (24 meters) and 92 feet (28 meters), respectively. The boom is operated by remote control and can move laterally as well as horizontally to cover one or more prepared forms. The Autocor system can also move along tracks while placing concrete, further increasing the covered area.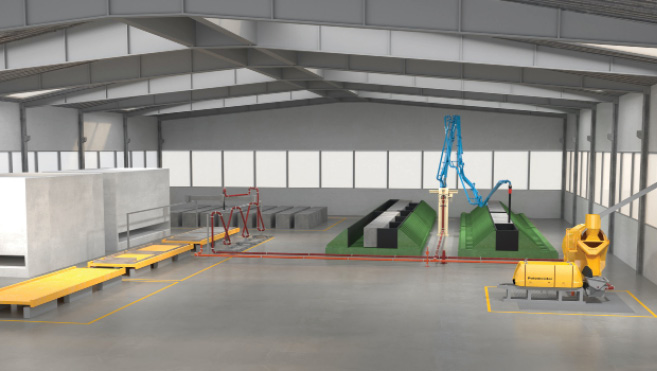 The key to Autocor system success lies in automation, limited capital investment and placement flexibility improving capacity utilization. "We offer precast solutions tailored exactly to requirements. Our comprehensive range of pumps, delivery lines, placing booms and buffer storage systems can be combined in such a manner that a new or existing plant can work more flexible and increase productivity," says Dreher. — Putzmeister Concrete Pumps GmbH, Putzmeister America, Sturtevant, Wis., 262/886-3200; www.putzmeister.com