North Carolina-based Concrete & Materials Placement has promoted Chris Dover to regional operations manager in western and central Carolinas and Louisiana markets. Dover has been with CMP since 2008, starting as a high-rise boom and line pump operator, proceeding to a series of management appointments. Along with administrative skills, Dover is also a Putzmeister Boom Inspector and Certified Pump Mechanic, and holds American Concrete Pumping Association and OSHA 10-30 certifications.
Groundworks, a major player in foundation and water management solutions, has acquired Florida-based Alpha Foundations, a leading repair specialist with six offices and a payroll of 300-plus. The firm is the 22nd acquisition for Groundworks, which now spans 18 brands, 47 offices, and approximately 4,000 employees nationwide. As part of the acquisition agreement, Alpha Foundations will retain its brand identity and continue to serve Florida and southern Georgia.
For nearly two decades, Groundworks officials note, Alpha has built a strong local reputation of providing superior foundation solutions and excellent customer service to homeowners in the region. Groundworks will continue to build on that reputation by investing in their employees, marketing, and infrastructure while still providing their customers the local experience and personal touch they've come to expect.
"Alpha Foundations has a dominant history in Florida, and like Groundworks, has been on an aggressive growth trajectory," says Groundworks CEO Matt Malone. "[Founder] Matt Shanley and his team achieved their remarkable growth by putting people first, and that's exactly what we are going to continue to do for their employees and customers. As part of the partnership with Groundworks, we will not only invest in the business, but we will also invest heavily in the career development and training of the Alpha employees, so they are empowered to provide better service and support to our customers."
"Groundworks and Alpha Foundations are two of the industry's fastest growing brands, so this partnership is a natural progression for both our companies," adds Matt Shanley. "The men and women at Alpha are the hardest working individuals, not just in the foundation repair business, but in any industry. I'm excited for the partnership with Groundworks because it will allow our employees to achieve new levels of career advancement and success they wouldn't otherwise be able to achieve elsewhere."
The National Institute of Building Sciences' Consultative Council plans to launch Infrastructure 2022, a quarterly webinar series covering transportation assets and how they affect daily commutes, goods and supply chain challenges, lifelines and access to high-speed networks.
"Infrastructure is the thread that holds together the built environment," says NIBS Interim CEO Stephen Ayers, FAIA. "Our government is placing much-needed funds to maintain, upgrade, and solidify our nation's foundation. This series comes at a critical time for our communities."
The NIBS Consultative Council assembles high-level building community representatives to make recommendations directly to the executive and legislative branches of government to improve the nation's buildings and infrastructure. Each year, the council publishes the Moving Forward Report.
---
BARD MATERIALS, GEIGER RM, MILES S&G PRINCIPALS GAIN BULK CONSTRUCTION MATERIALS INITIATIVE STAKE
A group of privately-held, family-owned concrete and construction materials producers has purchased shares of BCMI Corp., for a minority stake. New investors in the software developer, founded as the Bulk Construction Materials Initiative, include Bard Materials of Dyersville, Iowa; Geiger Ready Mix Co. of Kansas City, Kan.; and, Miles Sand & Gravel of Puyallup, Wash.
Their share purchase coincides with the retirement and exit of Bernard Benson, who co-founded the business with Craig Yeack, president, chief executive and majority owner. Along with Bard, Geiger, Miles S&G and peers, they built the BCMI Platform into a fully integrated, end-to-end software system for analytics, operational management, customer relationship management, quotation, fulfillment and dispatch, quality control and invoicing.
"True to the spirit and intent of BCMI, Bernie Benson has created a firm foundation for meaningful investment opportunities within our network of materials producers," says Yeack. "The investors are strategic, closely held, multi-generational materials producers aligned with the long-term BCMI vision." The new minority shareholders will provide invaluable strategic guidance, including through representation on the Board of Directors, he adds.
BCMI remains resolutely committed to protecting customer data. "Our customers' data belongs to them. Period," Yeack affirms. "It is safeguarded and will never be shared without explicit, case-by-case consent with any other customers, regardless of shareholder status."
BCMI receives guidance on technical development by a Producer Advisory Board. Advisors consist of key representatives from the Bulk Construction Materials Initiative producers' group, independent of shareholder status. They help define new functionality and contribute to prioritization of development plans.
"Ultimately, BCMI belongs in the hands of the construction materials industry," says Yeack. "Our goal is to become a truly generational, sustainable technology partner. This initial investment by early supporters of the Bulk Construction Materials Initiative is just the first step toward achieving that collaborative vision."
---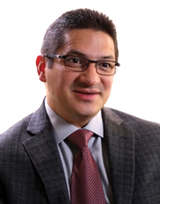 TITAN'S CONSTANTINO: 2022 ASTM INTERNATIONAL CHAIR
Cesar Constantino, Ph.D., director of Business Development for Titan America's Separation Technologies LLC subsidiary, has begun his term as the 2022 chair of the ASTM International Board of Directors, representing a variety of companies, associations, universities, government bodies, and other organizations from around the world.
"For nearly 125 years, ASTM has been a world-class organization that leads in international standards development and excels in the delivery of related products and services," says Constantino, who joined the ASTM board in 2016 after extended participation in Committees C01 on Cement, C09 on Concrete and Concrete Aggregates and E06 on Performance of Buildings. "I have been fortunate to see ASTM bring together stakeholders from over 140 countries in the relentless pursuit of its mission to help our world work better. My aspiration is to strengthen global cooperation activities and extend the reach of ASTM in alignment with the UN Sustainable Development Goals."
Constantino arrived at Titan America in 2005, serving as a manager of Technical Services, director of Concrete Technology, director of Process and Quality, and vice president of Corporate Engineering. Those positions inform his present duties at Separation Technologies, a specialist in fly ash marketing and beneficiation methods. Constantino previously worked as a researcher and a consultant both in Panama and the United States. He holds a bachelor's degree in civil engineering, master's degree in structural engineering, and doctorate in construction materials, all from the University of Texas, Austin.