Sources: Verte OZ Fund Inc., College Park, Md.; CP staff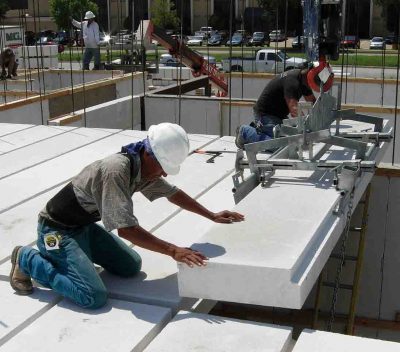 Verte OZ Fund has invested in Probitas Ventures LLC and its wholly owned AAC East LLC subsidiary, which are gearing up for autoclaved aerated concrete (AAC) production by year end in Bennettsville, S.C. Probitas is building an advanced operation for the lightweight, fine aggregate concrete under licensing from Germany's Xella GmbH, owner of the legacy Hebel AAC brand. The Verte OZ infusion will support plant completion and commissioning, while providing ramp up phase working capital.
Probitas' South Carolina site is in an Opportunity Zone, parameters and incentives for which are defined in the Tax Cuts and Jobs Act of 2017. "We are very pleased that the Verte OZ Fund has elected to invest in our state-of-the-art manufacturing facility," says Probitas Managing Principal Charles Paterno. "The mission that [Verte OZ CEO] Dr. Leonard Mills and his team have to invest in projects seeking to create a positive impact within the community and on the environment, and to add value for fund investors, aligns nicely with the mission of Probitas and AAC East. We appreciate the confidence in our plans."
"We look forward to participating in the long-term growth of Probitas and AAC East," affirms Dr. Mills. "This is our 10th investment, and it will enhance our portfolio by increasing domestic manufacturing, reducing carbon footprints in building materials, and promoting economic development of OZ communities such as Bennettsville."
A staple for vertical and horizontal load- or non-load-bearing construction in Europe and other overseas markets, Hebel AAC ships in bulk block or panel form and is easily cut on site with conventional saws. It combines what Probitas notes are "the advantages of non-combustible concrete with the workability of wood [for] a completely 'green' material." AAC offers architects, real estate developers and end users an energy-efficient, sound- and fire-resistant, cost-competitive, and environmentally friendly material to address increasingly stringent building codes, escalating lumber and steel costs, and growing demand for net-zero-energy structures with reduced carbon footprint. Probitas is developing the plant on the strength of a distribution agreement with Thermacrete LLC, an Arlington Heights, Ill.-based specialist in load- or non-load bearing firewall and other AAC building elements.
Related articles
Opportunity Zone hospitable to panelized concrete system specifications
Developer shows the promise of tax reform-ushered Opportunity Zones