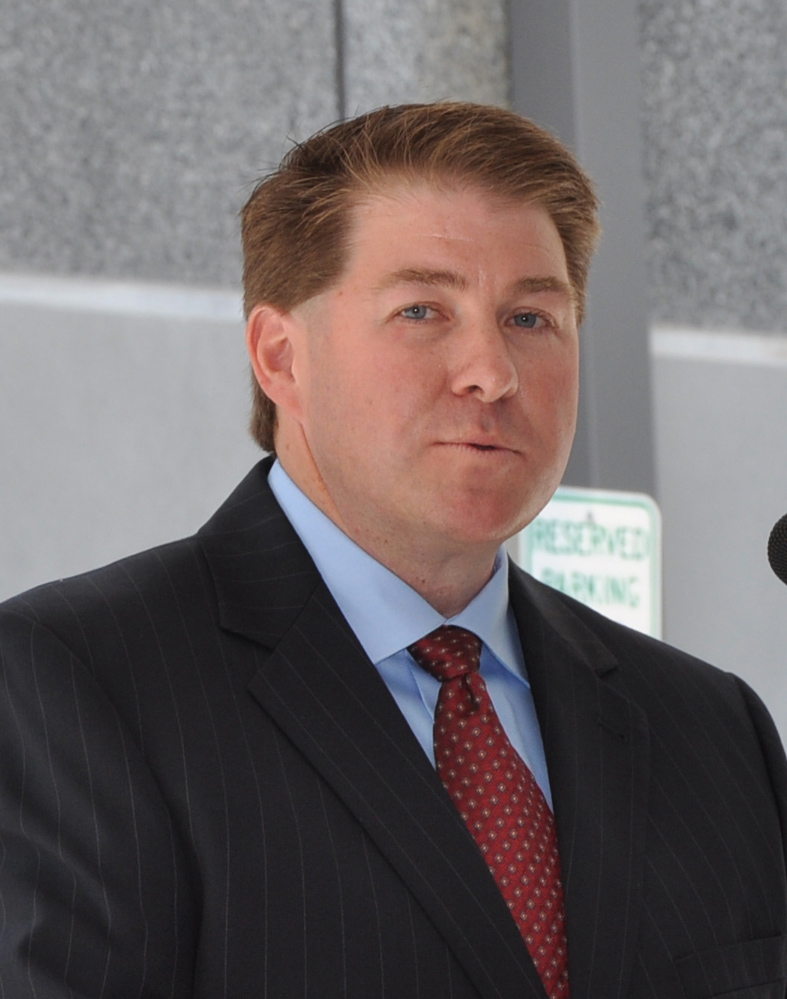 Eager to open a new chapter bearing on one of the most advanced and robust precast operations in North America, Tindall Corp. Utility Division completed a midyear move from legacy Spartanburg, S.C. headquarters to a 42-acre parcel about a mile away. At the former site, it shared batch plant capacity, traffic lanes, and property constraints no less than eastbound Interstate 26 lanes with the Tindall South Carolina Division, the producer's flagship precast, prestressed business. At the new headquarters, Tindall Utility shifts into a league of its own for highly efficient production of standard to large manholes, risers, flat tops and other stock or custom structures for drainage, transportation and power infrastructure markets.
"We come from a traditional utilities background making round, square and rectangular products, but over the years have grown into a specialized infrastructure solutions provider," says Tindall Utility Vice President and General Manager Joel Sheets. Operating in tandem with prestressed sales, engineering and production teams, he adds, the Utility Division has expanded into modular storm water detention cells; three-sided arches matching normal or accelerated bridge construction schedules; specialized trench and tunnel elements; and, most recently, stair and elevator tower components.
"This new facility means much more than just increasing our capacity," notes Sheets, who in addition to plant commissioning duties will stand next month for election to National Precast Concrete Association Chair-Elect during the group's annual convention. "The new plant, equipment and advanced production technology will give us the flexibility to deliver more innovative precast elements and structures for years to come. Every square inch is purpose built for innovation, efficiency, and teamwork. It's a major step forward for our Division; I can't wait to see where it takes us."
The main drivers behind the new home, he adds, are a) growth prospects, based on increasing demand for standard products and sales of larger structures leveraging Tindall Corp. engineering competencies; and b) space considerations tied to the South Carolina Division's construction of a long-line enclosure to support production of T-SLAB, a licensed, prestressed floor concept offering up to 12- x 65-ft. elements and poised to disrupt traditional elevated slab practice.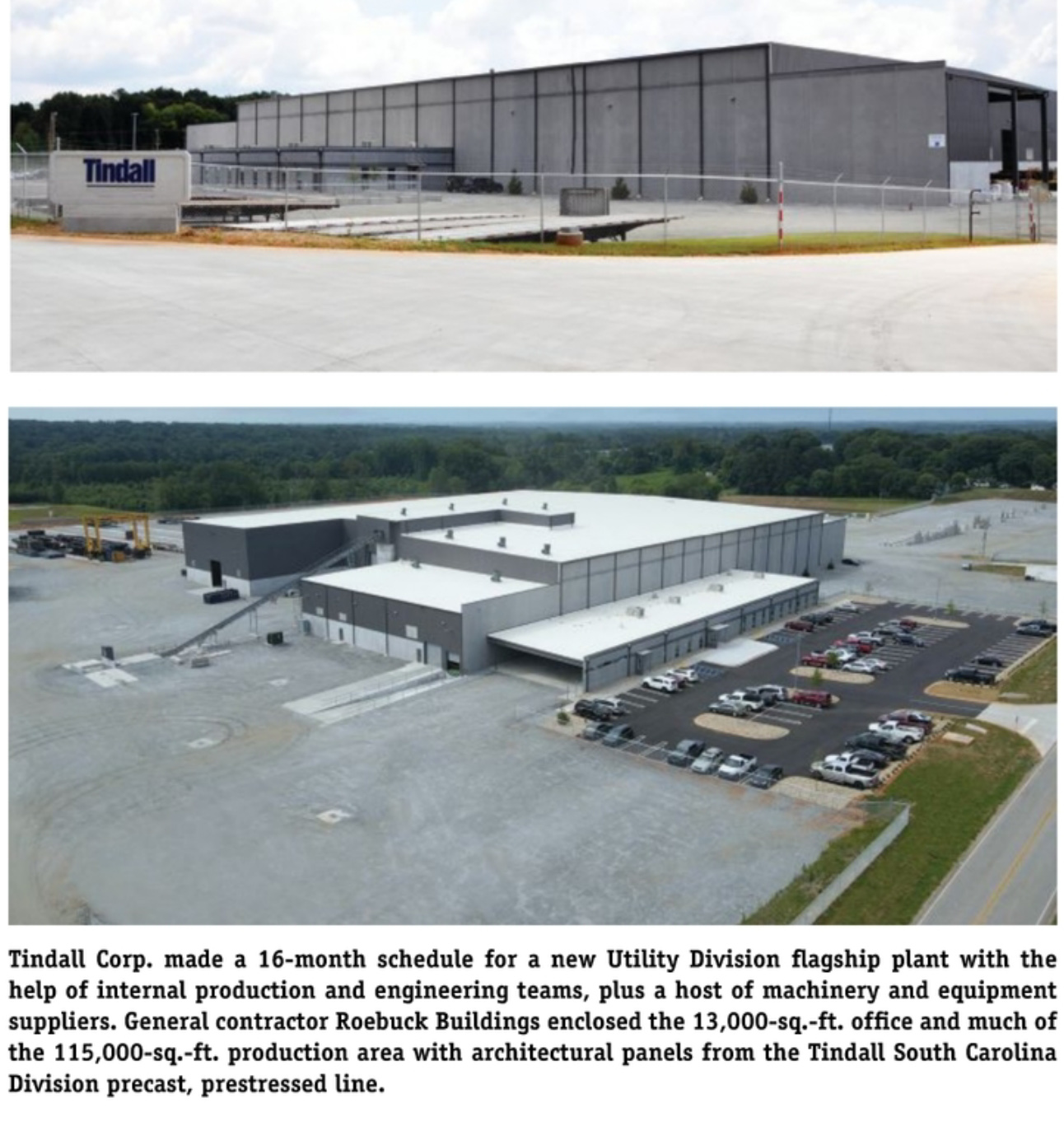 PRIMA-PRIMED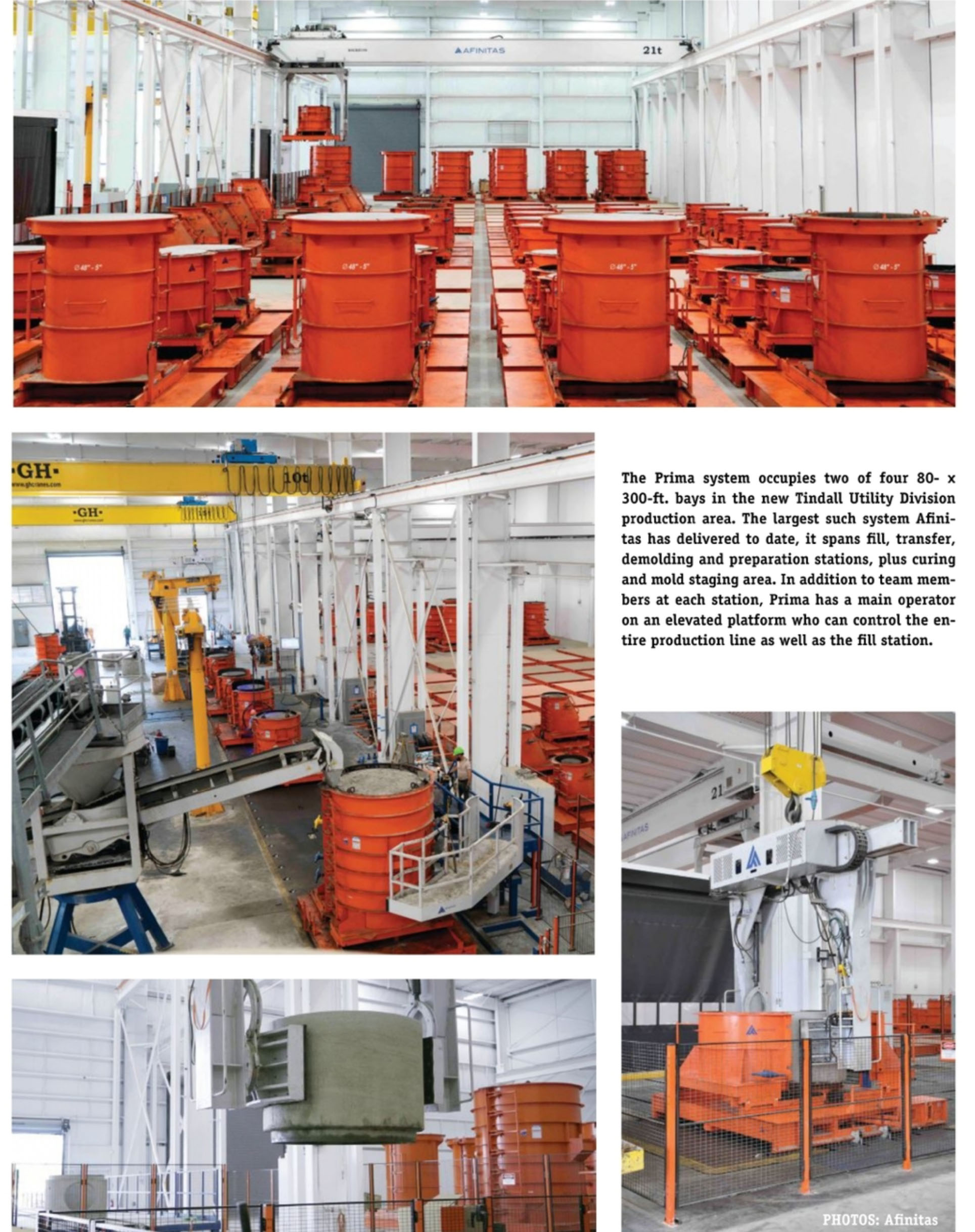 By enclosed-plant standards, Tindall Utility Division's new precast production area is inordinately bright. Raw material handling, batching and mixing din is comparable, machine or equipment noise volume lower, and vehicle or foot traffic lighter—belying lofty ton/man hour output. Ten 10- to 30-ton bridge cranes serving four 80- x 300-ft. bays total 200 tons' lifting capacity with 35-ft. hook heights. Crane raceways help confine nearly all forklift traffic to outdoor space.
In lieu of the dry cast method most often associated with high volume manhole, box and vault operations, Tindall Utility opted for an automated wet cast production line, anchored by Afinitas Prima forms and technology. Prima suits the Division's long-standing advocacy of the wet cast method as the route to finished product or structure quality and watertightness.
HawkeyePedershaab, the anchor brand of St. Louis-based Afinitas, introduced the system in 2015, applying to drainage or utility structures the carousel concept proven for panel or tunnel segment casting economy. Prima controls automatically circulate pallet-mounted forms or molds on a loop through specialized workstations. Crews do not stop for a product change: Any combination of 4-, 5- and 6-ft. diameter manhole bases or cones, small to large boxes, plus a variety of other products or structures flows seamlessly thanks to the use of RFID tags on each form or mold. Tindall Utility has launched Prima with an inventory of 120-plus molds staged in a grid pattern throughout a dedicated bay—readily positioned for retrieval or precise placement via a 21-ton automatic manipulator.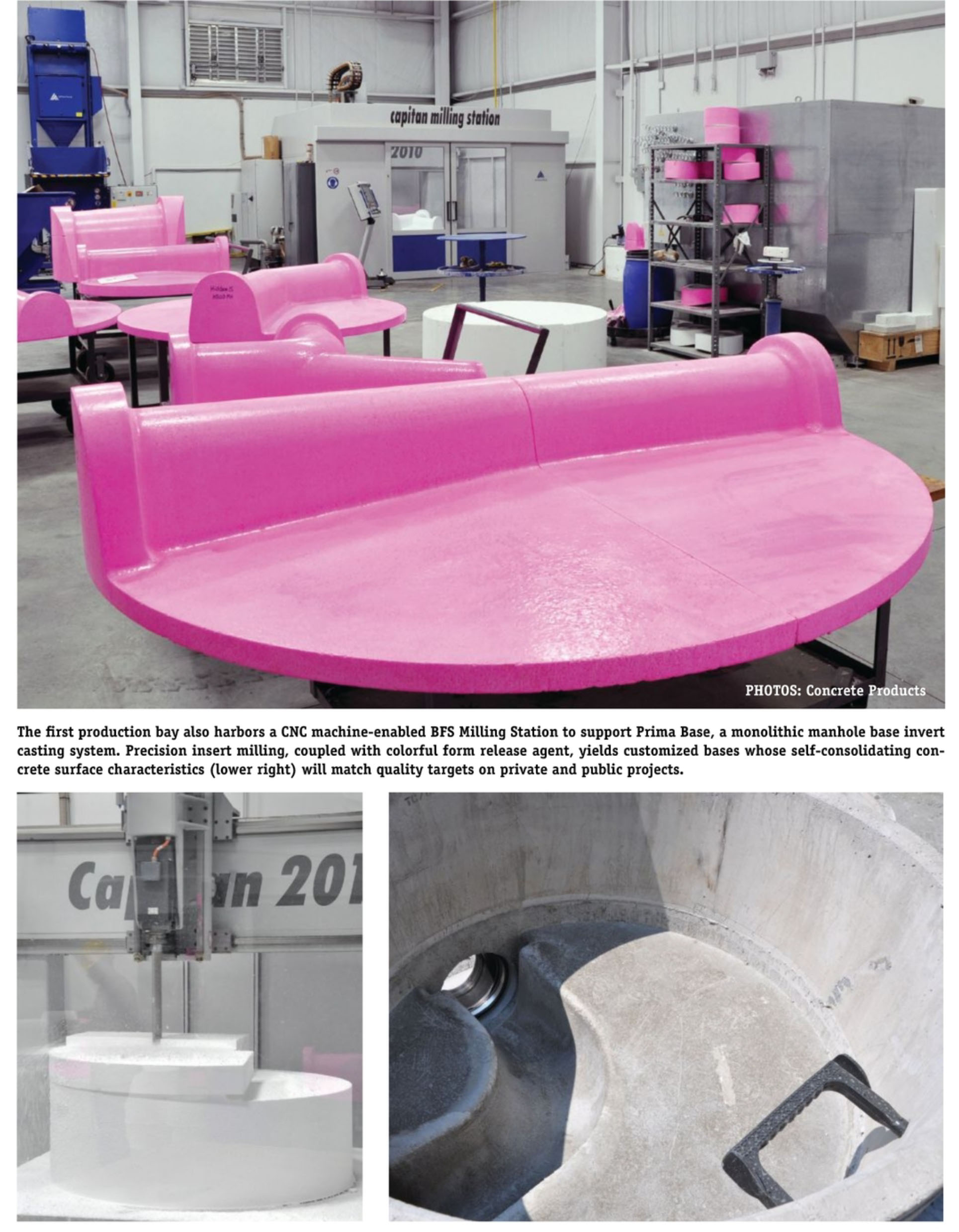 "The RFID tag provides the Prima control system with essential information when the mold arrives at each station," explains Afinitas Director of Technical Sales Jason Banwart. "It informs the system of mix volume requirements and estimated station processing times. All the data for that one product or structure is contained in the tag. The basic production jobs are still the same. Crew members still have to open the mold, clean it after it is stripped, and place reinforcement for the next casting cycle. But everything crew members need is right at their fingertips."
When a task is completed, the station is reported "ready" and molds proceed on floor guides to the next position. "Our team members are more stationary with Prima than in a typical wet cast plant, since the molds or forms are coming to them," observes Joel Sheets. "If their task is always to set up a mold or form, that's what they are doing exclusively—and excelling in that role. Each crew member has all necessary tools on hand and the opportunity to be an expert at their assigned station task as opposed to being part of a roving team."
The Prima architecture is based on lean manufacturing, which is programmed to increase crew productivity, improve efficiency and reduce waste. "One of the lean principles is creating a flow," explains Banwart. "With Prima, you're not bringing the tools and material to each mold. You're bringing the mold to the crew member. It drastically reduces the labor input per product or structure because of assembly line efficiency. With crew members performing a certain task throughout the day, the system consistently hits cycle times, so it really drives efficiency and lowers the labor content in every ton of output."
Prima system engineering and automation capabilities have evolved in tandem with the Afinitas family, which has grown to include BFS, New Hampton Metal Fabrication and Spillman Co. equipment, he adds.
The Tindall Utility Division contract was ripe for a package integrating Prima casting and BFS form insert milling, along with New Hampton and Spillman forms, molds and pallet assemblies.
"Afinitas has been working to bring its legacy companies together and producing a world-class system," notes Banwart. "The convergence happened at the perfect time considering the bar Tindall Utility Division set for a new headquarters."
"We had investigated automation so we could better utilize our workforce and have the ability to make more with our current team. Automation was going to be a key part of our move to a new location," says Sheets. "After evaluating a number of systems, Afinitas made the most sense to us as it has multiple, specialized companies under one umbrella." From early observation, he concludes, "The automated production line benefits Utility team members in many, many ways. Probably the chief one is from a safety and work task scenario."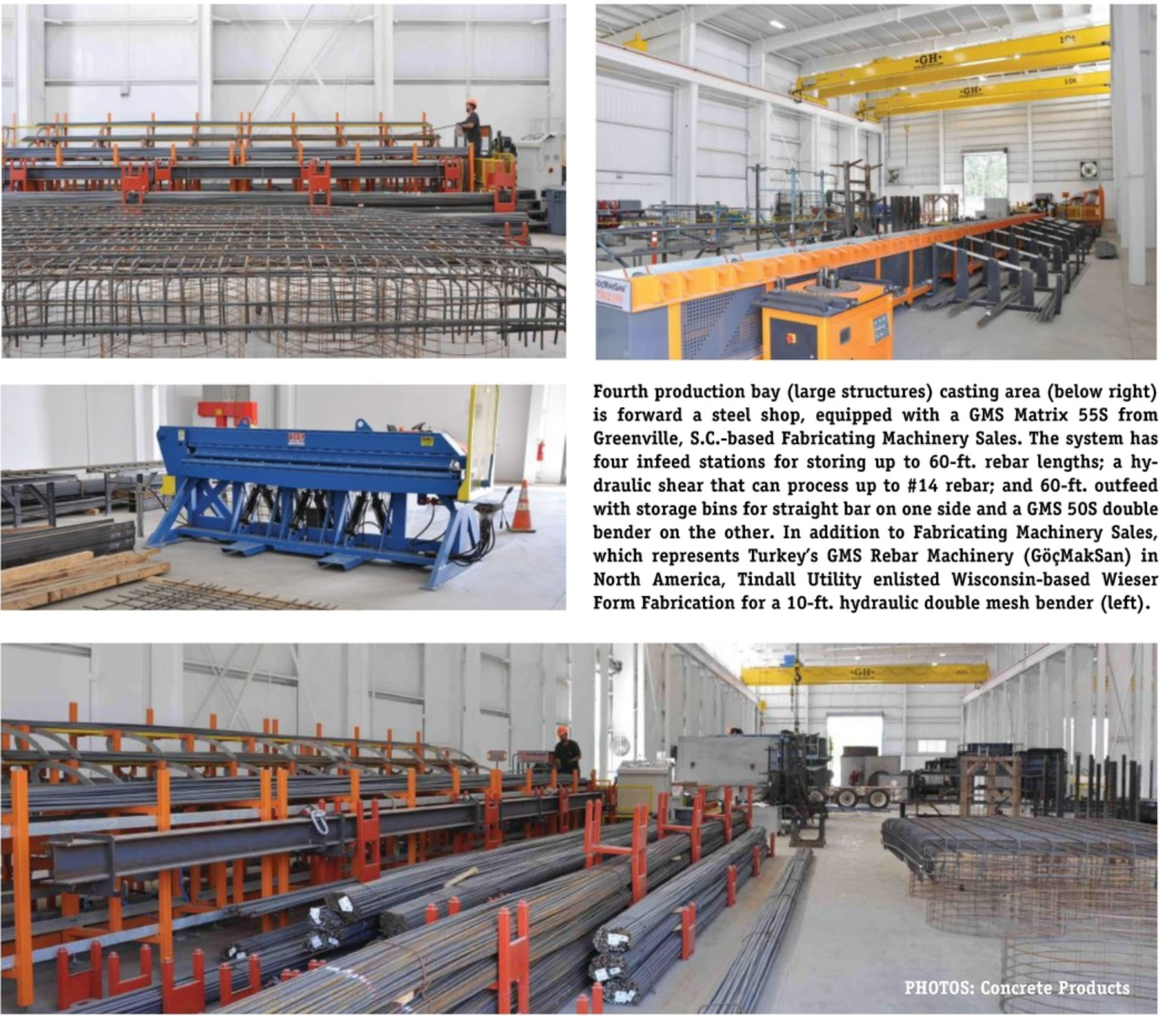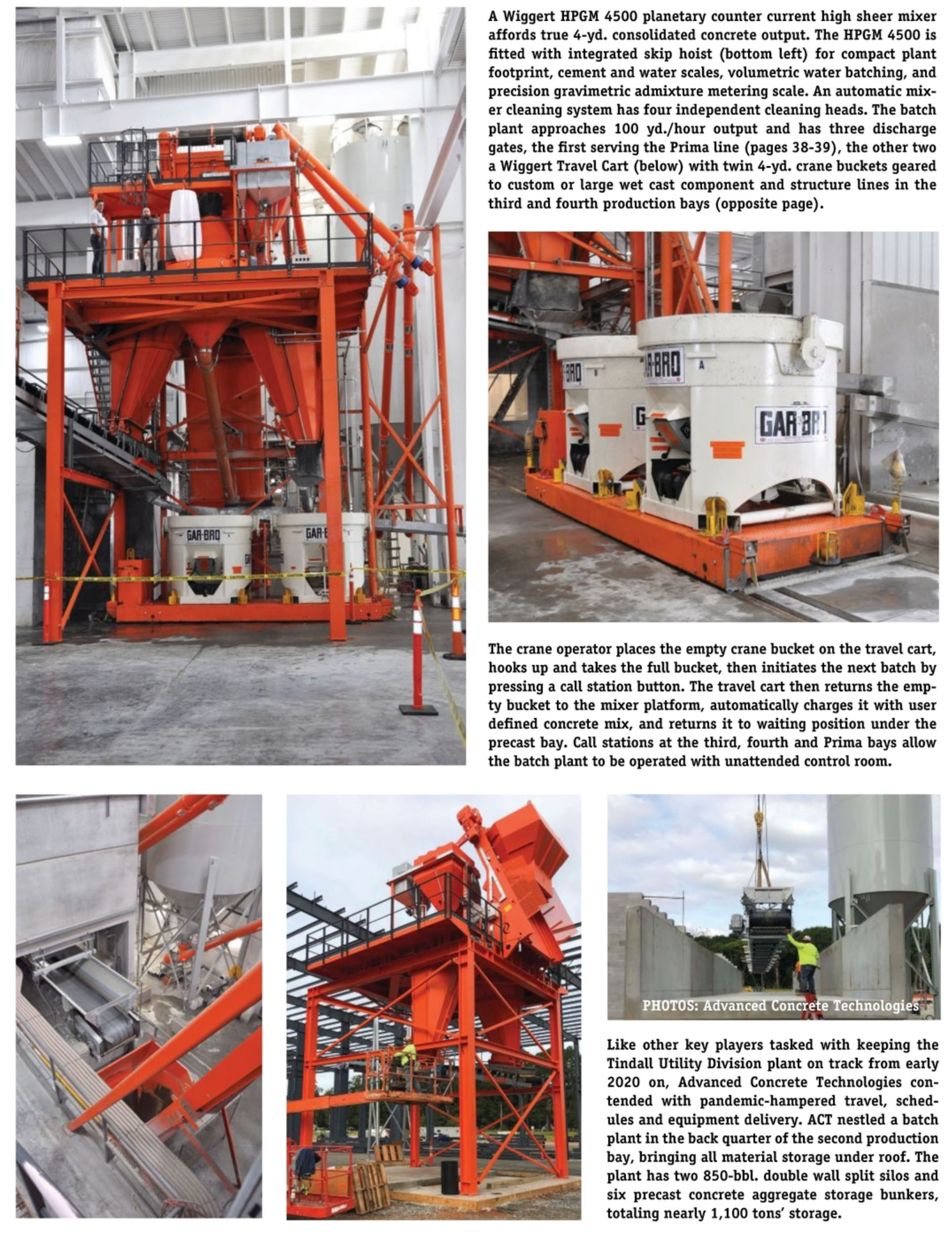 MARKET MAPPING
Through nearly 60 years in manufactured concrete, the $25 million-plus Utility Division investment is second only for Tindall Corp. to a Moss Point, Miss. precast, prestressed facility completed in 2008—replacing a Hurricane Katrina-ravaged Mississippi Division plant. Between South Carolina and Mississippi operations, plus precast, prestressed facilities in Connelly, Ga., Petersburg, Va. and San Antonio, Texas, Tindall Corp. has a payroll upward of 1,500. The producer is one of the top five Precast/Prestressed Concrete Institute members by shipments, and now ranks among the best equipped National Precast Concrete Association operators.
The latest major Tindall Corp. capital outlay reflects confidence in Upstate South Carolina and the Interstate 85 corridor linking the Greenville-Spartanburg area to Atlanta and Charlotte—two of the South's fastest growing population centers. Tindall Utility Division's new home is the most current exclamation point for a market transformation that began with the early-1990s opening of a BMW assembly plant between Greenville and Spartanburg—the automaker's first such operation outside Germany. BMW AG arrived while Spartanburg County reeled the loss of 25,000 jobs, as textile mills closed after a century and offshored their cotton, wool and synthetic fiber wares. The auto assembly plant has grown nearly 10-fold from an initial 1,200 headcount, and spawned businesses solidifying an employment base that textile interests could hardly have imagined.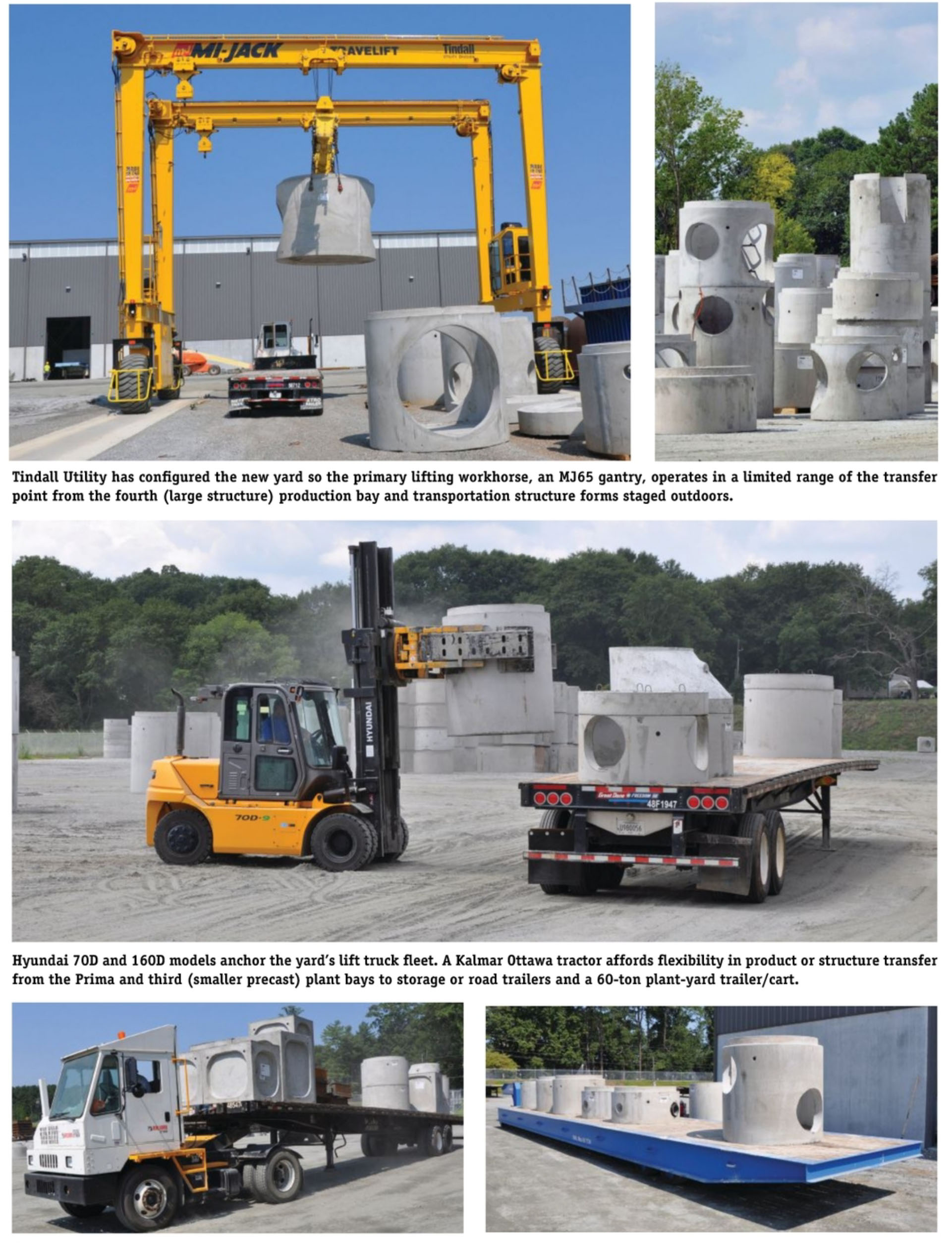 The Greenville operation is the crown jewel of the global BMW manufacturing network. That status is of no surprise to South Carolina Governor Henry McMaster, the guest of honor at an August 2021 Tindall Utility Division headquarters dedication. The Tindall team exemplifies the human capital that draws businesses to the Palmetto State, he stressed, adding, "Companies come from all over the world to invest here because of the people."
"What the Utility Division group has done, dreaming up this state-of-the-art plant and now bringing it to reality, is certainly evidence of both a growth mindset and can-do attitude," concurred Tindall Corp. President and CEO Greg Force. "I see exciting opportunities for both the company and its associates as we expand our capabilities and seek to continuously prove our claim that we are truly 'Engineered to Serve.'"