A survey of the latest offerings from mixer truck-mounted conveyors.
ROTABELT
Manufacturer credits the quality components and strong industrial experience behind its namesake mixer truck-mounted conveyor series as key to ensuring producers "profitability, performance and reliability while delivering concrete on site." RotaBELT models reach from 42 feet to 57 feet with standard, single telescopic, double telescopic, or the Rotating Chute—the latter a World of Concrete Most Innovative Product Award recipient.
A RotaBELT conveyor affords ready mixed producers the opportunity to offer a profitable service and simplify mixer truck scheduling by eliminating the need for a pump on most everyday jobs. Along with a range of 10 RotaBELT models, the company provides all the conveyor replacement parts and components a fleet requires, regardless of equipment brand. — Rotabelt USA, Milton, Pa., 570/522-8386; www.rotabelt.com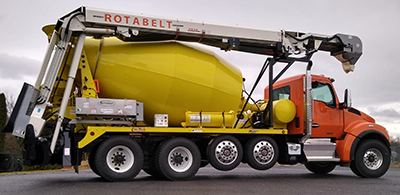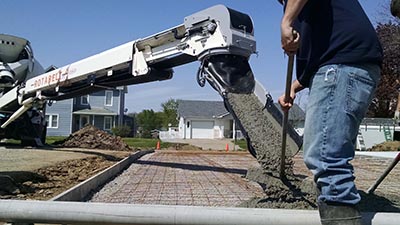 ---
ATLAS POLAR
Company enables ready mixed producers to "pour it both ways" by offering front- and rear-discharge Mixveyors in models up to 52 feet. Strong and durable, the Mixveyors' high-tensile steel, center-mounted swing/swivel construction means precise mix placement, low maintenance and larger pours. Their advanced, fully hydraulic design is free of chain mechanism and features a vertically pivoting discharge hopper that is easy to remove and clean; hose failure valves on all cylinders; and, an innovative 900-MHz remote control system with in-cab charging. Mixveyors are engineered with a choice of reach plus varying conveying heights, inclines and swivel ranges. — Atlas Polar Company Ltd., 888/799-4422; www.atlaspolar.com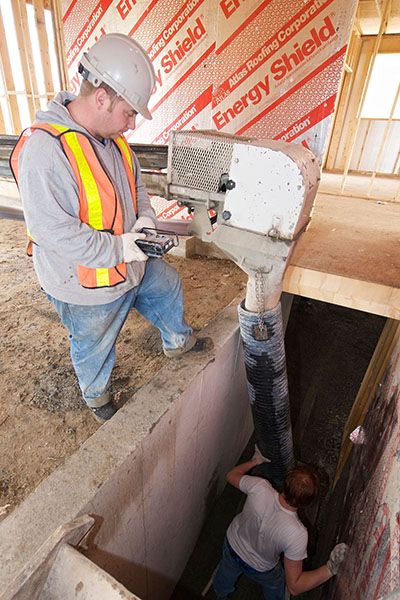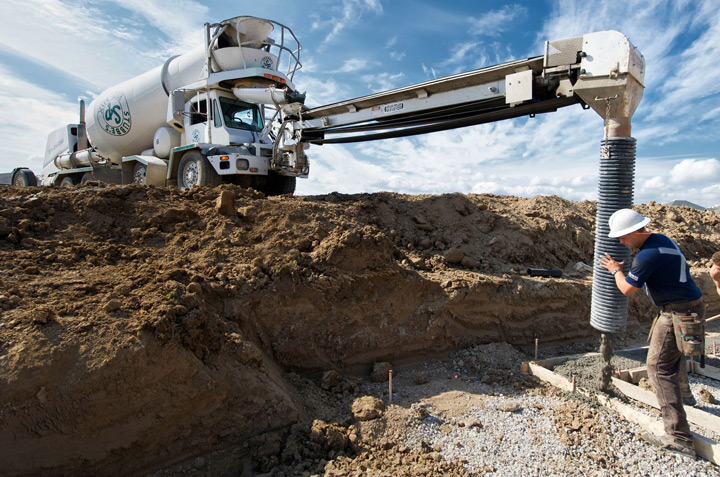 ---
WESTCON MFG.
Company fabricates, sells and services Theam mixer-mounted conveyors for ready mixed concrete fleets and this year marks four decades in business. One or two conveyors in a fleet typically suffices to provide efficient, economical placing capacity for many everyday jobs and ready mixed orders. Every time the placing and the concrete come together, scheduling becomes easier too.
Ready mixed producers have different needs and constraints, but will find the Theam model that best suits their customers' requirements and site demands: From the Standard Series, which includes the 42S, 42S/SL, 42A, and 42 Ontario, to the Telescopic Series, encompassing the TLS 35/52, TLD 35/60 and 42T 30/42 crossveyors.
The handheld radio remote-equipped conveyor operator maneuvers the belt quickly to the point of pour and maintains view of the job at hand. All delivery is made at 85 yard/hour, the hydraulically operated belt moving at 9 feet/second. Horizontal reach and telescopic ranges are indicated by model number.
Theam placing trucks can quickly become producers' most called on units, making belt reliability key. Every Theam conveyor regardless of size or weight is built to perform day in, day out. Street smart features ensure ease of operation, 10 points of protection ease of mind. — Weston Mfg. Inc., dba Theam USA, 800/635-6729 (North America), 207/725-5537; www.theamconveyors.com