The National Ready Mixed Concrete Association's 25th Ready Mixed Concrete Delivery Professional Driver of the Year program recognizes four industry veterans from a pool of outstanding nominees. The Safety, Environmental and Operations Committee assembled a panel of judges to weigh Driver of the Year nominees' competence, driving skills, number of years without an accident, and colleague or customer testimonials.
The NRMCA Truck Mixer Manufacturers Bureau will present checks of $5,000 to Driver of the Year Wiliam Youngers and $1,000 to Runners-Up Matthew Burt , Denise Barber, and Joseph Condello. As Driver of the Year program cosponsor, Concrete Products joins the association and SEO Committee in congratulating all nominees for their critical role in conveying a positive message about ready mixed concrete.
---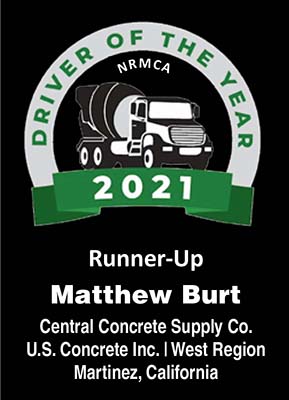 A 22-year veteran mixer driver, Matthew Burt has a laudable record of safe, timely concrete deliveries—free of vehicle accidents and reinforced by an average of 5,000 yd. hauled during each of the past three years. His most recent professional recognition, 2020 Central Concrete Supply Driver of the Year, is consistent with his career performance behind the wheel.
"Matt is a second generation concrete delivery professional who was inspired when he first rode shotgun with his stepfather Clancy. He brings old school sensibility learned all those years ago to the job—customer service, punctuality, knowledge of concrete, outstanding driving skills and a positive attitude," observes Central Concrete Operations Area Manager Victtor Lopez.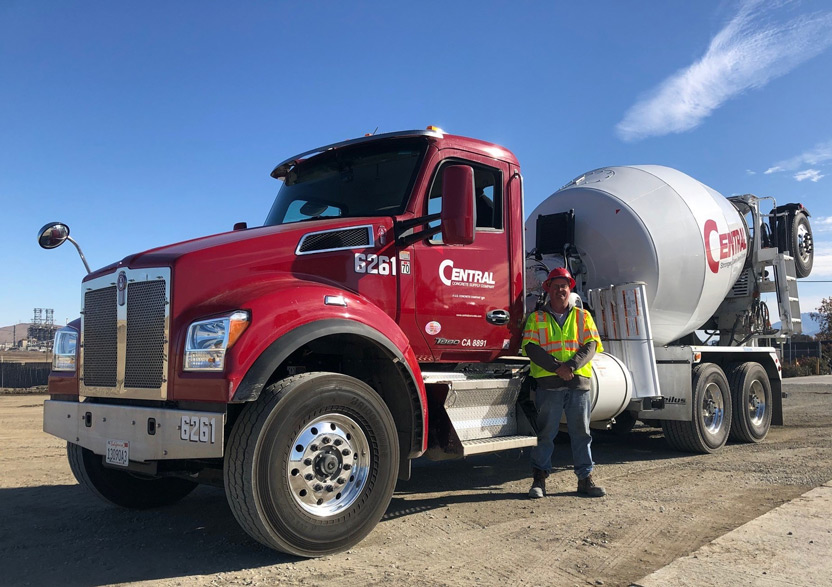 "Being a safety conscious concrete contractor takes diligence, persistence, punctuality, and ability to solve problems on the fly, while working at a rapid pace. Most of all it's downright hard work," says Garrett Bohannan of Bonhannan Concrete Inc., Alamo, Calif. "Matthew Burt exemplifies all these qualities and carries himself with the highest levels of professionalism and service. Pouring concrete is a complete team effort and it starts with the concrete truck driver. Matt backs into spots I wouldn't feel comfortable parking my small car in."
"Matt is a true professional [with] incredible customer service skills," adds Ed DeLuca of Berkeley Concrete Pumping Inc. "He takes safety very seriously, is extremely cautious on every job site, and is honestly one of the best drivers I have known from all my years in this business."
---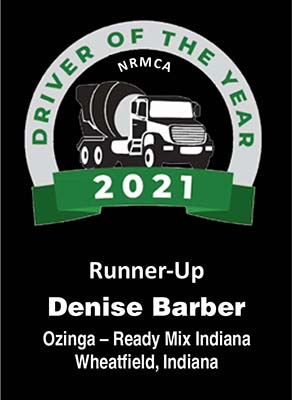 Denise Barber recently marked 20 years with the industry's top independent operator. During a tenure free of vehicle accidents, she has demonstrated skills beyond driving and a genuinely "full time" work ethic. "Denise punches in early, takes late loads, drives the loader, batches, and helps the mechanic, short-handed contractors, and fellow drivers by showing them a better way to get things done," notes Wheatfield Plant Manager Donald Brinkley.
Based on 30-plus years of pouring concrete and observing mixer truck drivers, contractor Jason DeYoung notes, "You can easily tell in a couple of minutes their knowledge of the truck, the concrete itself and the job situation. Denise is great with all three aspects. She always knows what consistency to have for your mix and how to position her truck to help you best."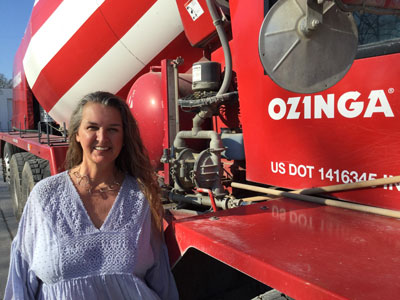 "Denise is an exemplary employee, showing up ready to work, on time and prepared for the tasks ahead," affirms Teamsters Local 35 Business Agent Jerod Warnock. "Her knowledge as a driver is recognized by the contractors who request her to deliver to their jobsites. Her pride in the job is reflected in the care she takes of the equipment she is assigned."
"If Denise has felt pressure or was ever intimidated by the fact the she is a woman in a male-dominated industry, she's never shown it," attests Ozinga – Ready Mix Indiana Executive Vice President Joseph Sanders. Contractors who had a confused look on their faces when they first saw her delivering ready mixed, he adds, are now "happy when she pulls onto their jobsite. They know they have one of the best."
---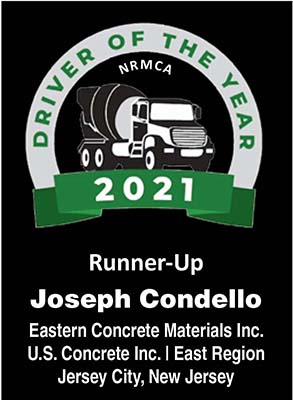 Joseph Condello has earned a Driver of the Year nomination on the strength of a remarkable, 33-year safety record, two Eastern Concrete Materials Top Gun Driver Awards, and Smith System Safe Driver certification. His 2020 haul of 12,575 yd. of ready mixed completes the backdrop.
Despite maintaining solid delivery efficiencies, "Joe has never sacrificed safety and in all his years of driving, never had an accident," writes Eastern Concrete Materials Vice President and General Manager Thomas Paisley. "Joe has been recognized time and time again for his demonstrated excellence in areas such as safety, service, quality, attendance, truck appearance, and ticket execution. He has demonstrated the skill set required to be a successful concrete delivery professional in one of the most densely populated metropolitan areas and he does so while representing the Company with the highest standards."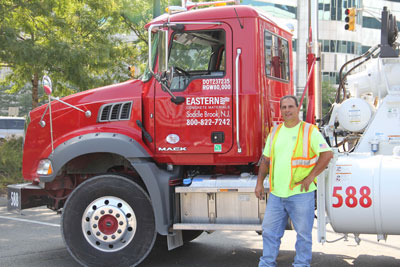 "Joe is always prompt with the delivery, and the concrete is consistently 'on the money' in terms of slump, temperature and mix. His ability to manage the delivery process, be it a 10-yard or 2,000-yard placement, is exceptional," notes Anthony DeVita, senior vice president of Operations for Roy Rock Masonry and Concrete, East Orange, N.J.
"Each and every time he completes his job by going above and beyond with professionalism and respect, not only for his role but for all of those with whom he interacts," adds Greg Fuchs, project manager of Concrete Rising LLC, Shrewsbury, N.J. "All who have the pleasure of working with him express the same: Hard work, diligent, prompt, efficient and, perhaps most importantly, a good guy who you would grab a coffee with."
---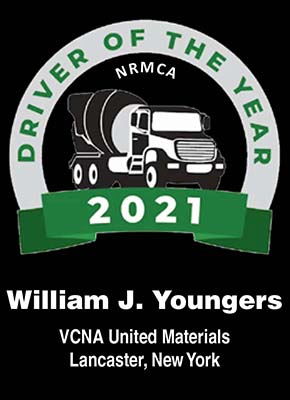 VCNA United Materials, along with the National Ready Mixed Concrete Association and Safety, Environmental and Operations Committee, honor Bill Youngers for his career achievements, outstanding safety record, professionalism, driving competency and customer service skills. Approaching 25 years in ready mixed delivery, he has had no at-fault or on-the-job-accidents, and no at-fault-rejected-loads. He is a two-time United Materials Mixer Rodeo Champion and two-time New York State Mixer Rodeo Champion, and four-time NRMCA National Mixer Driver Championship contender. An NRMCA Certified Concrete Delivery Professional, he holds a 10-Hour OSHA card and is a U.S. Air Force veteran, completing a tour of duty as Senior Airman, 1st Class.
"Bill Youngers has been delivering concrete to our company for over 20 years and down to a man, all members of our crew would describe him as the 'Best of the best!' He has an innate ability to assess site conditions and accessibility, which enable him to get his conveyor truck into the best possible position to make for an easy and timely placement of concrete," observes Joe Darlak, chief executive officer of Damiani Concrete Co., Buffalo. "Bill goes above and beyond what would be considered high expectations when it comes to customer service. He has jumped in to help us on many occasions when we're shorthanded on a job, which is not only a testament to his tremendous work ethic, but also to his concern for others."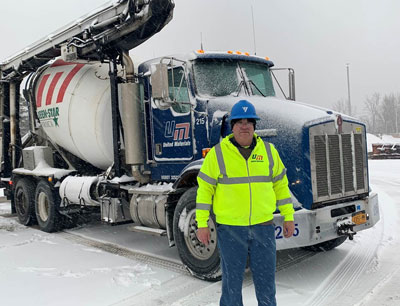 "When you combine Bill's professional prowess with his humanitarianism, you have what can only be described as an incredible asset to United Materials, the entire ready-mix industry and the entire Western New York Community!," adds Darlak.
"Billy is the finest operator/driver/trainer I have witnessed. He is a team player and has a positive can-do attitude. He truly takes ownership in his job and sets an excellent example for others to follow," affirms Jim Slowinski, president of B&D Concrete Corp., Lancaster.