A round up of current mobile and stationary models for portable production and fixed ready mixed plants, transit or central mixed.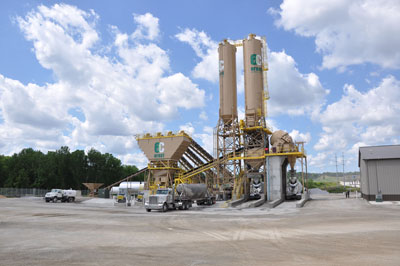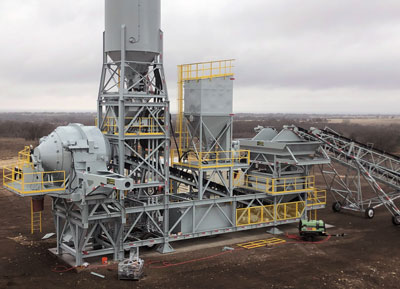 VINCE HAGAN
Manufacturer is a leader in the innovation of wet and dry concrete batching equipment. Since 1956, when Vince Hagan invented the first mobile concrete batching plant, it has pushed the boundaries of its equipment to produce the best quality concrete for the nation's smallest and largest producers. The new VH-GPP is redefining large gravity fed paving plants. The company's popular stationary plant line offers custom modular solutions. The third generation line of Haganators continues to be the top selling and most trusted mobile batch plant in America, notes company officials. The SmartVH Plant Monitoring System is the future of plant reliability and predictive maintenance. In addition, Vince Hagan is factory direct allowing customers to get the best value by not paying extra to middlemen or dealers. — Vince Hagan Co., Dallas, 800/354-3238; www.vincehagan.com
---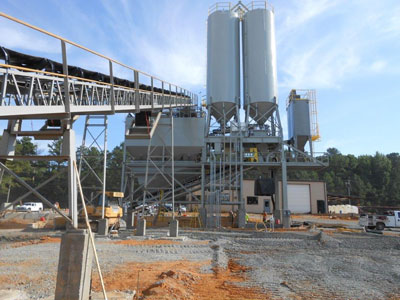 MERTS
The Big EZ Modular model is the flagship of the manufacturer's batch plant line, built to last and "EZ" to install. Pre-wired to save installation and start up time, it suits larger operations requiring output up to 300 yd./hour. The Big EZ is designed for speed, storage and durability. Standard features include 70 tons' heaped capacity aggregate storage in three or four compartments; 550-cu.-ft. aggregate batcher with 60,000-lb. scales; twin 971/809-Bbl (3,886-cu.-ft.) cement silos; and, 148-cu.-ft. cement batcher. — MERTS LLC, Leesburg, Ga., 229/435-3315; www.merts.com
---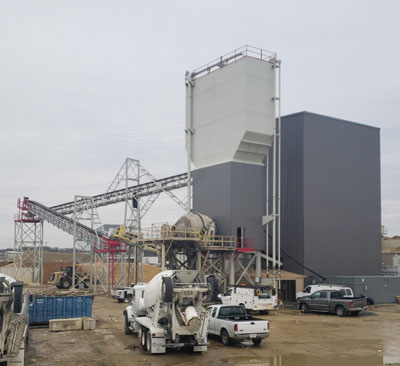 TREYCO
Custom batch plant manufacturer offers a full line of stationary and portable models. Endless configurations can be executed to suit any operation or location. Treyco also specializes in plant retrofits and upgrades, along with replacement components—from gates to entire aggregate or cement storage and transfer systems. — Treyco Manufacturing, Lebanon, Pa., 717/273-6504; https://treycomfg.com
---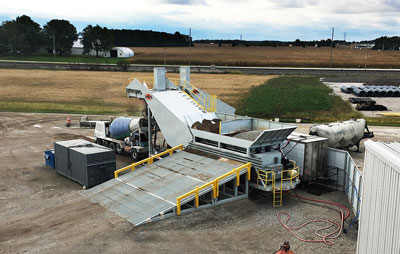 LIDDELL INDUSTRIES
Manufacturer offers stationary and mobile concrete batch plants with optional Ross-type tilt mixers and twin-shaft mixers for a wide range of production capacities for ready mix and precast operations. A variety of aggregate storage bins and cement silo choices allow customers to meet production capacity and profit goals. Replacement bins and drums for Ross and Johnson- Ross tilt mixers and plants are also offered. — Liddell Industries, Inc., Brownwood, Texas, 325/646-7581, 800/803-0183; www.liddellindustriesinc.com
---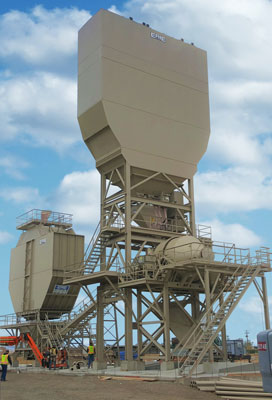 ERIE STRAYER
A fourth generation leader in designing, engineering and manufacturing concrete batch plants, Erie Strayer offers a wide range of highly mobile and fixed transit or central mixed models. The company underscores plants' premium features, quality and performance, along with after-sale service and support.
Erie Strayer can customize a batch plant by offering various material storage configurations, two gravity-feed silos on a common structure, dual lane drive through, fully self-erecting and all-gravity configurations. Paired with the signature tilt drum mixer and advanced Liberty batching controls, the models remain what the manufacturer calls "the rugged, reliable, and respected choice for concrete professionals worldwide." — Erie Strayer Co., Erie, Pa., 814/456-7001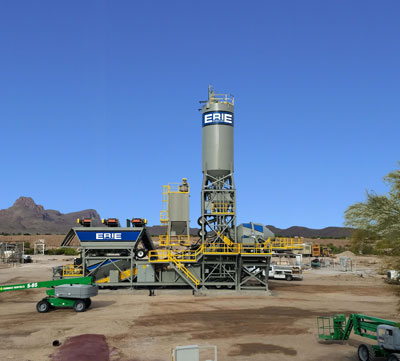 ---
ASTEC
In a series of 2019-2020 transactions, Astec Inc. brought three major batch plant brands under one roof. A deep portfolio of components and models enables the manufacturer to engineer and outfit fixed and portable concrete production operations. — Astec Inc., Chattanooga, Tenn., 262/539-4050; www.astecconcretesolutions.com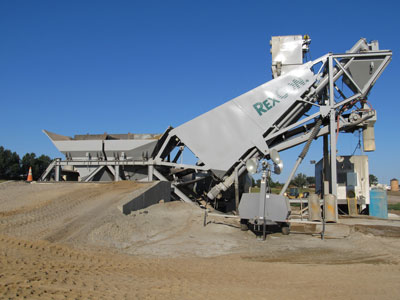 RexCon
The RexCon Mobile 12 SE offers the highest standard in quality, low-profile design, and durability in the concrete industry, product engineers contend. The self-erecting plant offers crane-less setup in transit or central mix configurations. Its versatility allows it to quickly switch between dry or wet operation to meet each project's specifications. With its self-supporting sub frame and superior self-erect hydraulics, this low profile plant ensures fast erection and tear down while offering industry leading high production rates.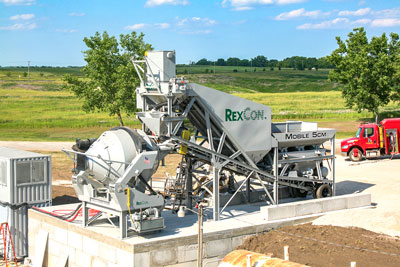 The RexCon Mobile 5 is ideal for remote projects requiring portability and lower production rates. The unique cement surge hopper design is fed by two screws to ensure fast discharge into the 5 yard cement batcher. No crane is required for setup; simply pick up the cement section of the Mobile 5 with a front-end loader and the front-hinged support legs fold downfor quick installation. Available in transit or central mix versions, this plant offers versatility for future project needs and a small footprint.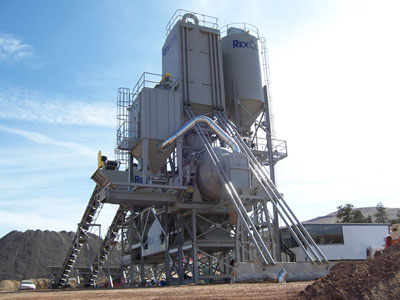 The RexCon Model S is among the nation's premier concrete paving or high production ready mix plants. The innovative design and quality construction ensure the plant will remain portable, dependable, and accurate for decades. This plant sets the standard for speed of setup, superior construction and operational simplicity, and is the model of choice for critical major infrastructure projects worldwide. — RexCon, 262/539-4050; http://rexcon.com
---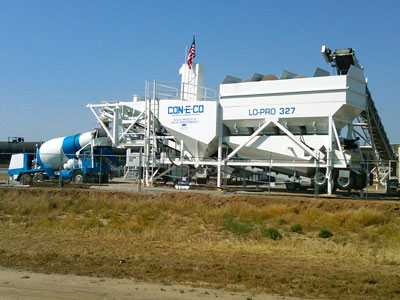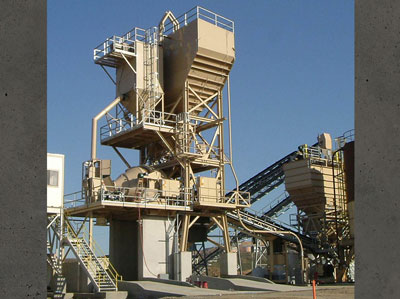 CONCRETE EQUIPMENT CO.
The Con-E-Co Lo-Pro model's live-bottom aggregate and unique blending cement batchers ensure uniform and consistent discharge load after load, while its tight footprint and low-profile design minimizes site preparation and setup time. The Lo-Pro's built-in expandability and customizable features provides for ultimate flexibility to future-proof your concrete production needs.
The Con-E-Co SLP Series is a versatile, modular custom concrete plant for large storage needs, efficient operations, and high production rates. Pre-assembled modules enable quick setup and are factory tested for trouble-free installation. Massive storage capacities and tailor-made designs offers ultimate flexibility for central and/or transit mix installations for any site. For central mix operations, any type of mixer can be incorporated to adapt the plant to all concrete application. — Con-E-Co, 800/656-2651; https://con-e-co.com
---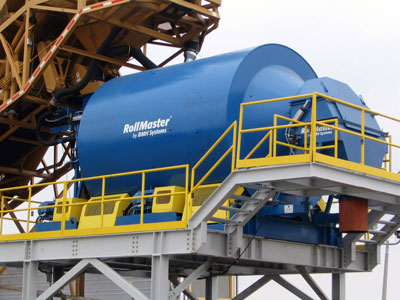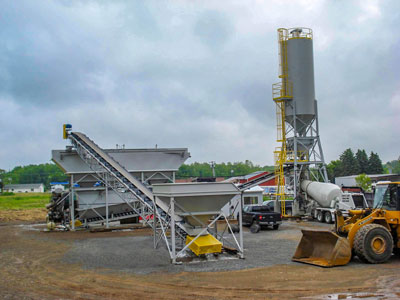 BMH SYSTEMS
The EG10 offers central or transit mix capabilities in a low profile, ultra-mobile design. Adding the self-erect MX9L Rollmaster mixer to the plant provides ready mix producers with a highly portable self-erecting and crane-free central mix installation. This remote jobsite plant requires no foundations and no aggregate handling system for compact transport loads. Its compact footprint and low profile guarantees it will fit on the smallest of jobsites.
The BMH Rollmaster offers concrete producers a quiet and simple central mix operation. Charging and mixing in one direction and smoothly reversing rotation for precision discharge of mixed concrete, this reversing drum mixer offers low-dust and low-splatter concrete production. Available from 4 to 16 cu. yds. and backed by an engineering-focused team of professionals, the Rollmaster is adaptable to nearly any existing portable or stationary concrete plant.
BMH engineers characterize the LP8 as the ultimate entry-level transit or central mix plant available. Its low profile aggregate compartments allow for loader fed operation or short feed conveyors, greatly reducing initial investment. With customizable expansion of cementitious or aggregate storage, this plant offers maximum value for any stationary concrete production application. — BMH Systems, 888/793-9340, www.astecconcretesolutions.com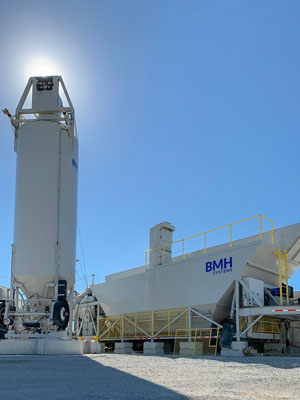 ---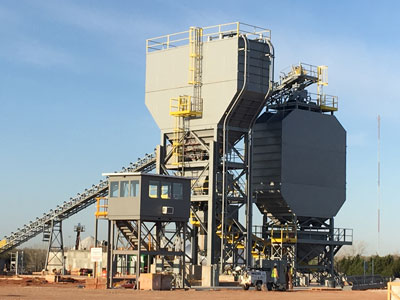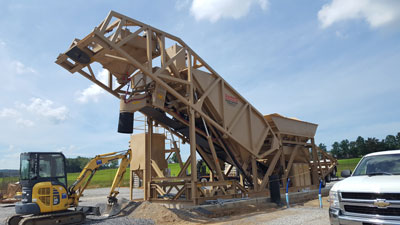 STEPHENS MFG.
Since 1957, the manufacturer has helped build America by ensuring contractors had an uninterrupted, affordable supply of materials. Stephens Mfg. has evolved and grown to meet demand with advanced, efficient and profitable concrete batch plants. The company offers a complete line of portable and stationary models that have passed the test of time, delivering dependable performance year after year.
Stephens recently expanded its product line to include a "self-erecting" Clydesdale plant, which can have accumulating or decumulating aggregate scales with maximum storage of 100 tons. The Clydesdale features a 385-bbl cement silo; 14-cu.-yd. cement batcher; 30- or 36-in. transfer conveyor; 3-in. water meter; and, a 15-hp air compressor. Designed for quick and easy installation, there are two single-stage cylinders to erect the silo, and the plant has four hydraulic leveling jacks. Additionally, the plant is skid-frame based to reduce the need for concrete piers. Quick connect electrical connection is available on the auxiliary silo and conveyors.
The Empire and Stallion stationary plants are the manufacturer's heavy duty plants. The DC-Colt decumulating aggregate batcher is considered by the company as its "bread and butter." The super-fast Eagle portable plant can be customized and elevated to charge the Workhorse or other types of industry mixers. Stephens also manufactures a complete line of equipment to complement its plants, including truss and screw conveyors, radial stackers, fly ash silos, central dust collectors, and ready mix reclaimers. — Stephens Mfg. Co., Tompkinsville, Ky., 877/626-0200; www.stephensmfg.com