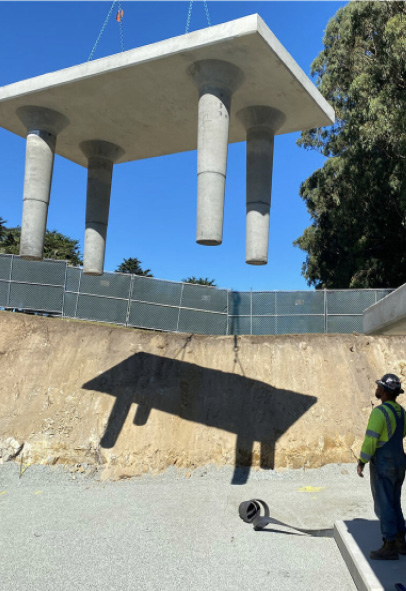 Under an agreement with California-based Precon Products, Foley Products Company LLC of Newnan, Ga. has been assigned patents and trademarks for the StormPrism precast concrete structure in Canada and all U.S. markets excepting California. StormPrism installations are engineered to store large volumes of stormwater runoff underground and promoted for their ease of installation, access and maintenance. The system joins value-added offerings available throughout 17 Foley Products concrete pipe and precast operations, concentrated in the Southeast, with satellites in Colorado, Arizona and California—the latter home to both Precon plants.
"The addition of StormPrism to our portfolio is an important step in Foley's growth strategy," says CEO Keith Haas. "We will now be able to offer high-value stormwater solutions across North America and play an expanded role in the management of one of society's most vital resources."
"We are thrilled to work with Foley Products and look forward to seeing StormPrism available to more customers," adds Precon President David Zarraonandia.
Public agencies, engineers and contractors recognize StormPrism structures' runoff storage capacity, integrity, ease of construction, low maintenance operation.

BILLD PATENTS PROJECT-BASED CREDIT EVALUATION METHOD FOR SUBCONTRACTORS
Commercial construction subcontractor payment services provider Billd has secured a patent for an evaluation method that determines credit offers by assessing the project on which they will be used—opening up subcontractors' material procurement power. The method involves receiving contract information electronically; analyzing project attributes; using online data sources to verify and expand work profile; and, calculating a project score indicating credit capacity. A machine learning component enhances credit evaluation speed, efficiency and repeatability. It likewise eliminates the manual effort that project assessments typically require. The method can also learn from past projects to become better at determining potential risks associated with working capital for a specific project. It continuously updates its understanding based on new information and adapts recommendations accordingly using artificial intelligence powered learning. 
Based in Austin, Texas, Billd provides extended terms on materials as well as immediate advances on approved pay applications, helping thousands of subcontractors establish the liquidity needed to deliver timely and successful work on their commercial projects. Limited collateral and long payment timelines have historically left subcontractors underserved by financial institutions, the firm contends. By evaluating creditworthiness at the project as well as the business level, Billd can more accurately appraise risk and offer greater financial support.
"We believe subcontractors deserve financial solutions that align with their specific needs," says Billd CEO Chris Doyle. "This patent deepens our commitment to expand subcontractor access to financing and protects our intellectual property, verifying our first to market technology." The company will leverage its patent portfolio for intellectual property protection, he adds, and expansion of its innovative payment and financing solutions.
The Polsinelli Law Firm, whose practice includes intellectual property, oversaw the credit evaluation method patent application.