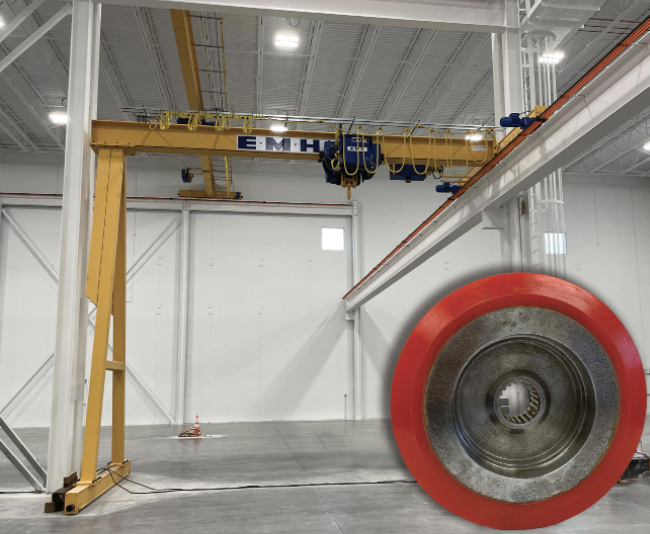 The new EMH Single Leg Semi Gantry Crane eases load transfer between workstations, while freeing up overhead cranes to handle other tasks. The model features an exclusive poly wheel design, eliminating the need for built-in floor rails, and the new EG Hoist, augmenting trolley adjustment. The EG is designed to have a more spacious enclosure to accommodate much larger control panels and variable frequency drives. It has capacities of 3, 5, 7.5, and 10 metric tons, and 20-, 33-, 50- or 65-ft. lifts. The hoists are available in monorail or double-girder models, providing a price and performance ratio that compares favorably across top industry offerings.
The EG incorporates numerous safety features, led by a new smooth acting rope guide tracking on a bar independent of the hoist frame to eliminate possible damage. It also offers manufacturing advantages and efficiencies: Instead of having various lengths of dead end supports, there is now just one size that fits all three lift ranges, 20, 33 and 50 feet. Options include variable frequency hoisting. — Engineered Material Handling, Valley City, Ohio, 330/220-8600; www.emhcranes.com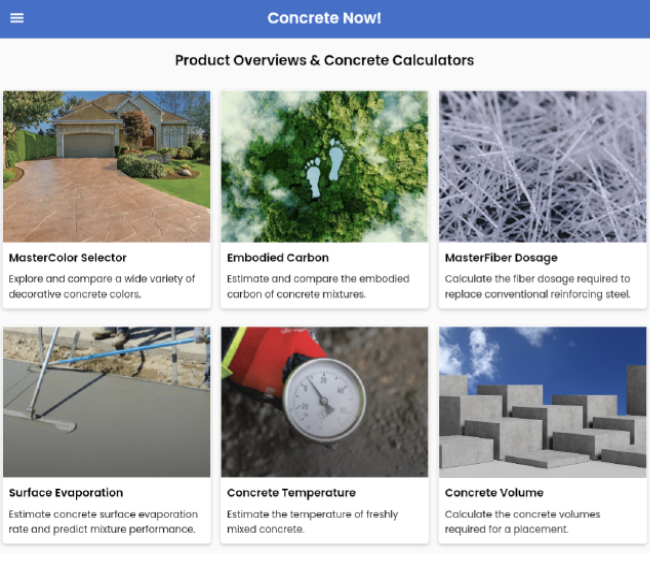 MASTER BUILDERS SOLUTIONS APP: CARBON, COLOR, FIBER, VOLUME
Available in desktop or mobile iOS and Android versions, the Master Builders Solutions Concrete Now! app equips concrete practitioners with fiber dosage, carbon footprint, surface evaporation, and mix temperature or volume calculator or estimator tools.
The MasterFiber Dosage Calculator assists replacement of conventional steel rebar or welded-wire reinforcement by calculating slab-on-grade and composite metal deck slab fiber requirements. The Concrete Now! Embodied Carbon Estimator, on the other hand, analyzes key metrics to provide a comprehensive view of carbon dioxide emissions associated with concrete production, thus enabling data-driven decision making. The app's Surface Evaporation Estimator determines plastic-shrinkage cracking potential by gauging concrete performance under anticipated weather conditions. Concrete Temperature and Volume Calculators respectively consider the specific heat and mass of a load's ingredients to effectively address hot or cold weather concreting challenges, and augment material estimation for a specific project.
"Producers have many facets of their business to manage each day, and we understand the intricacies of making small improvements for big impacts in concrete mixtures," says Master Builders Solutions, U.S. and Canada President Dr. Bruce Christensen. "Concrete Now! is the right tool to help make their work a little easier, allowing them to better respond to local conditions and attain specific business goals." — www.concretenow.app