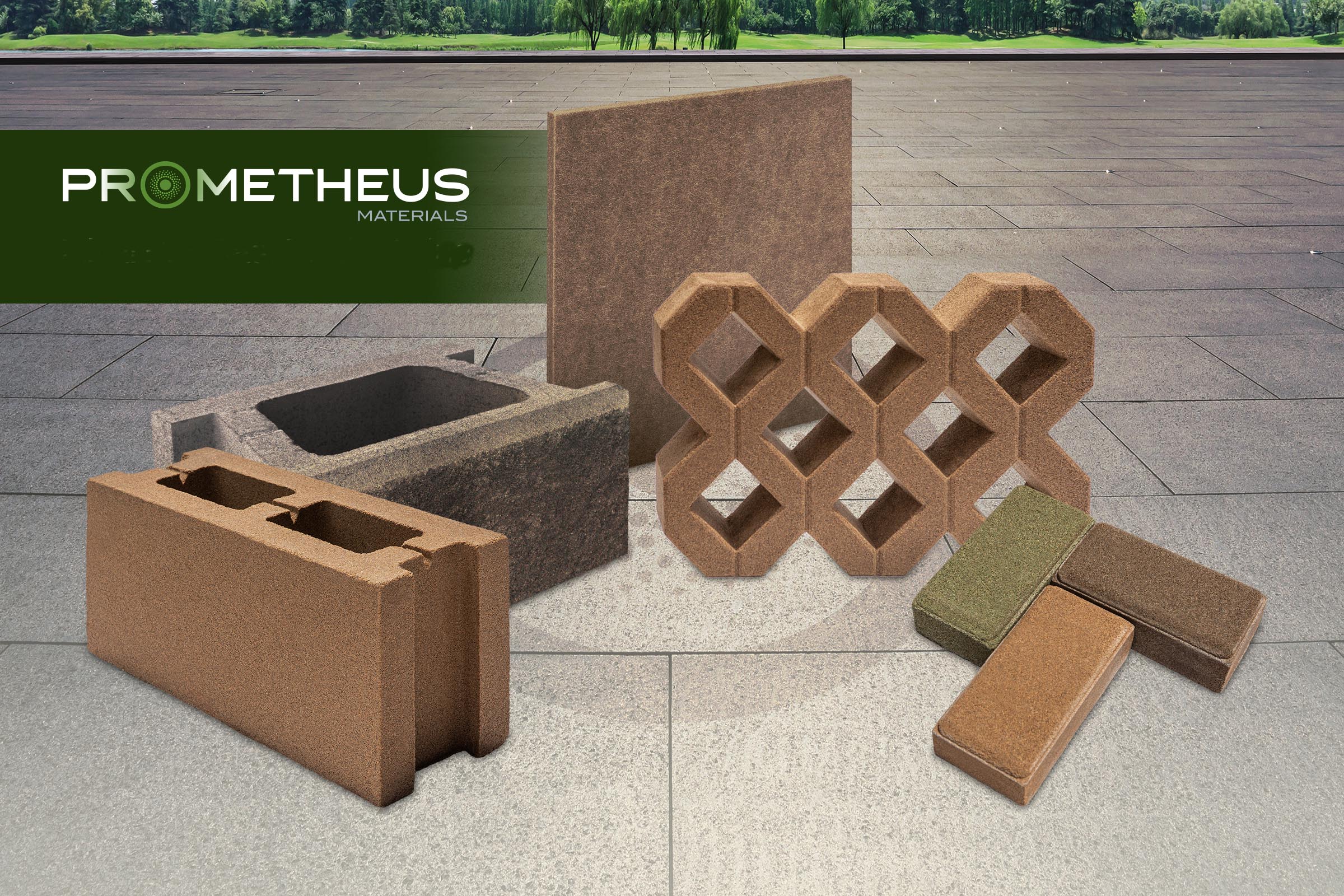 Prometheus Materials, Boulder, Colo. developer of bio-cement and bio-concrete technology debuting in molded, dry cast products, reports strong performance of 2-in. thick specimens subjected to ASTM C423-23, Standard Test Method for Sound Absorption and Sound Absorption Coefficients by the Reverberation Room Method. Testing at the Johns Manville Technical Center Acoustical Laboratory in Littleton, Colo. determined that the company's bio-concrete—formulated with a micro-algae-based binder in lieu of portland cement—exhibits a 0.60 Noise Reduction Coefficient (NRC). 
The NRC rating indicates 60 percent sound absorption, 12 times that of traditional concrete. It enables Prometheus Materials to promote its block and slab products' potential in applications where noise containment is a factor, from residential, commercial and institutional buildings to amphitheaters, music studios and highway sound barriers. The C423-23 results mirror the success reported earlier this year when testing confirmed how bio-concrete specimens meet ASTM C129-22, Standard Specification for Nonloadbearing Concrete Masonry Units and C90, Standard Specification for Loadbearing Concrete Masonry Units performance requirements.
"Our latest ASTM testing results embody our commitment to innovative design," affirms Prometheus Materials Co-Founder and CEO Loren Burnett. "We've developed a novel material that provides a zero-carbon alternative to traditional concrete while delivering additional performance benefits and applications. We're proud to pave the way toward a more technologically advanced and environmentally responsible future for the construction industry."
"Test results like these prove that Prometheus Materials has developed far more than zero-carbon concrete, by itself is an enormous accomplishment," adds Director Vishaan Chakrabarti, FAIA, founder of Practice for Architecture & Urbanism, New York City. "With this level of sound absorption, as well as other characteristics currently being tested, it's clear that this material will offer a suite of products based on entirely redefined ideas of what concrete can be and do."
The company is ramping up commercial scale production of bio-concrete block and other molded, dry cast building or hardscape elements at a Colorado plant set for 2024 opening.
EarthCam, a specialist in live camera technology, content and services for construction interests, has unveiled a breakthrough in its artificial intelligence platform, whose latest algorithms can detect when workers are operating at height with significant accuracy. An incremental improvement in safe practices due to better awareness created by objective AI camera analytics has real potential to prevent many injuries and deaths, company officials note, especially in light of Occupational Safety and Health Administration data indicating falls as the leading case of a fatalities in construction.
New Edge Computer Vision and AI Object Detection software sends customized alerts based on predefined actions such as when people climb a ladder, work on scaffolding or operate an elevated scissor lift. Safety personnel can retrieve detailed recorded video to verify safe practices are being observed, fall protection applied, and personal protective equipment correctly worn. In-person site visits by safety inspectors can be supplemented with remote, visual validation of safe behavior.
"Detecting workers at height is one of the most in-demand, yet challenging AI models to develop," says EarthCam Founder and CEO Brian Cury. "Our unique expertise in deploying and managing automated robotic cameras, together with advanced deep learning, will instill best practices with unbiased data."
EarthCam continues to pioneer AI software and services that are highly relevant for the construction industry, he adds. Analytics already include weather sensor data, equipment identification and activity heat-maps. AI Object Detection recognizes specific vehicle types and AI proximity advisories are sent when workers are close to energized equipment. License Plate Recognition automatically handles access control, verifies deliveries and sends alerts to management. — www.earthcam.net
MASONRY SOUND ABSORPTION COMPARISON