Sources: Association of Equipment Manufacturers, Milwaukee; CP staff
ConExpo-Con/Agg and International Fluid Power Exposition 2023 booked attendance of nearly 140,000 over a March 14-18 window at the Las Vegas Convention Center. The record-setting events saw 2,400-plus exhibitors from 36 countries present on-, on/off- and off-road fleet or plant equipment and machinery, engine and other vehicle component, plus lubricant and material offerings. Manufacturer, supplier and service provider exhibitors demonstrated how the construction industry is adapting to sustainable technologies, products and practices. Attendees observed sustainability across the board, from electric and hydrogen powered construction equipment to a prioritizing of waste reduction, recycling method adoption and recyclable material usage.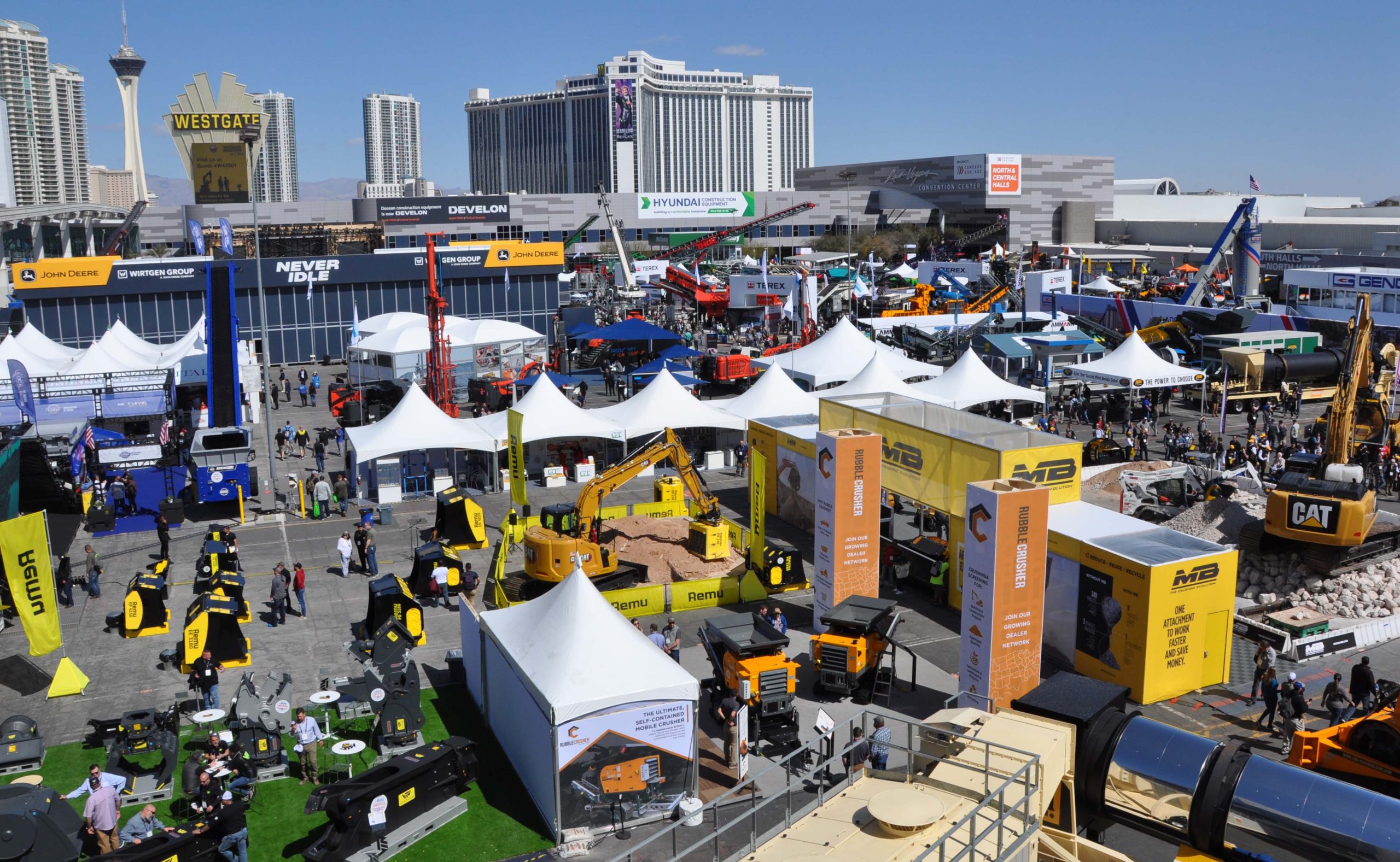 On the concrete front, ConExpo-Con/Agg 2023 reflected a merger & acquisition-rooted realignment of companies in principal fleet and materials categories, plus the lengthy (> 12 months) backlog in one the show's bedrock fares: mixer trucks. The absence of an Oshkosh Corp. booth meant no namesake front discharge mixers on display and a scant presence of rear discharge models from McNeilus and London Machine—both brands soon to depart the Oshkosh portfolio for Chicago-based holding company Rite Lane Industries. The ownership transition, perhaps coupled with customer delivery commitments, resulted in an overall ConExpo-Con/Agg mixer line up light on McNeilus, but heavy on Con-Tech Manufacturing and Continental Mixers iron. Rounding out the mixer truck offerings this year were Terex Advance and Ernest Industries with their respective 3-yd. and 2-yd. models: the all-electric, International MV-mounted Mini-Mix and diesel + gasoline Isuzu NRR-mounted Shortstop 2.
Among heavy-duty truck OEM, Navistar International Corp. was center stage at ConExpo-Con/Agg 2023 with the S13 Integrated Powertrain debut. The S13 is the first major development for International series vehicles since Navistar's merger with Traton Group of France. The new engine, T14 automated transmission and diesel particulate filter-free exhaust treatment package is the result of Navistar engineers' work with their counterparts at sister Traton brands Scania, MAN and VW Bus & Truck. 
The show marked the formal debut of Saint-Gobain Construction Chemicals, formed in late 2022 from the bulk of Chryso Group and GCP Applied Technologies portfolios. Along with parent brand unveiling, Chryso and GCP launched their first jointly developed product, EnviroMix Strength Enhancer, a portland cement-optimizing agent.
"The innovations in the construction industry unveiled this week will play a role in helping construction professionals drive meaningful and sustainable economic growth," ConExpo-Con/Agg Show Chair Phil Kelliher (Caterpillar Inc.) noted upon show close. "Live events in the construction industry are very important, because you can see, touch and experience the products. That value was reaffirmed across the show floor."