Sources: American Concrete Pavement Association, Rosemont, Ill.; CP staff
A new American Concrete Pavement Association white paper synthesizes research on concrete pavement's contributions to economic, environmental, and social sustainability. With the release of "Concrete Pavement's Role in a Sustainable, Resilient Future," the group aims to educate decision-makers involved in the placement and rehabilitation of roadway, highway and airfield pavements, many of whom are challenged to meet ever-increasing levels of sustainability. Authors summarize concrete pavement's role in sustainability as they examine: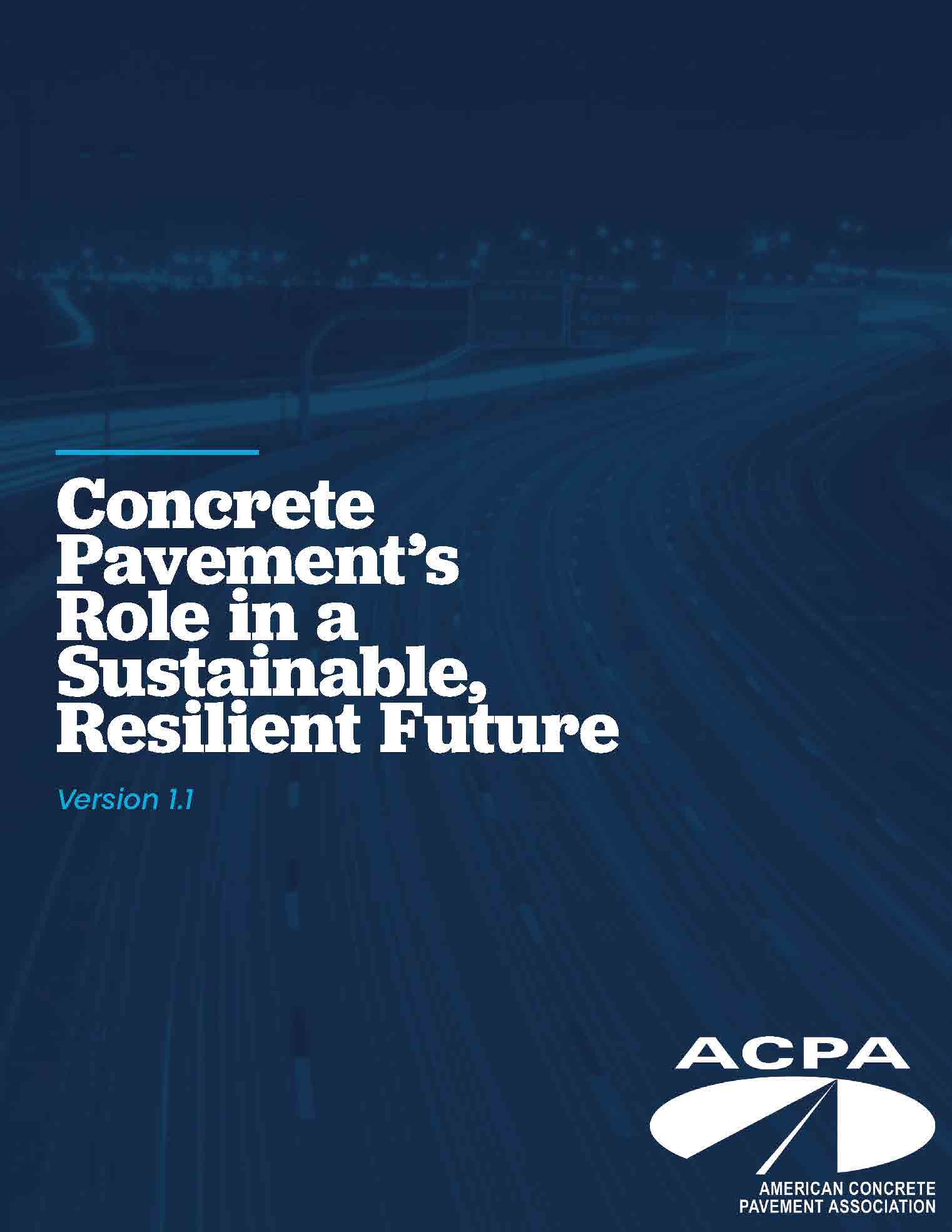 • The long life span of concrete pavement, which provides the greatest economic value over the long term for taxpayers and end users. A concrete roadway can last 30 years or more before requiring a maintenance cycle.
• Research supporting concrete pavement's many use-phase environmental and societal benefits, including improved fuel efficiency; high albedo, which improves the earth's energy balance and urban heat island effect, both catalysts of cooling effects; and, carbon dioxide absorption.
• How pavement interests and others across the concrete value chain are working to implement the Portland Cement Association Roadmap to Carbon Neutrality, with a goal of achieving net zero carbon emissions by 2050. Roadmap strategies include reducing cement and concrete carbon footprints using blended binders and performance-engineered mixtures.
• The importance of life-cycle thinking in addressing social sustainability, particularly concrete pavement's long life, which provides a smooth, safe roadway for the traveling public while reducing hazards associated with work zones throughout the service life; its ability to withstand, respond to, and recover rapidly after a disruptive event; and, good performance with minimal traffic disruption due to maintenance.
The paper qualifies the sustainability and resilience link. "Because a system cannot be sustainable if it is not also resilient, pavements should be designed with a life cycle approach that contemplates pavement's entire life span. Designing with life cycle in mind can help ensure pavements enhance all three categories of sustainability: economic, environmental, and social," says ACPA CEO Laura O'Neill Kaumo.
"Installing long-life pavements is one very important way of improving sustainability," adds ACPA Chairman Steve Friess (Milestone Contractors). "Another big contribution to sustainability, and one that I and my company have been personally involved in, is developing performance mixes to reduce cementitious content. As an industry, we're seeing significant success with such mixes."