Sources: American Coal Ash Association, Denver; CP staff
The American Coal Ash Association 2022 Production and Use Survey reflects 2021 data from coal-fired power stations, which yielded 77.3 million tons of ASTM C618 Class F or Class C ash and lesser grade coal combustion products (CCP), up from 69.1 million tons the prior year. When measured against 2020 figures, last year saw:
• Fly ash consumption in concrete reach 11.9 million tons, up 800,000 tons despite continuing supply limitations affecting certain markets;
• Use of all CCPs in cement production climb 14 percent to 5.6 million tons; and,
• Coal ash processors and marketers increase their total recycling rate for concrete, cement and other CCP end uses to 60 percent, a single point gain. 
The 2021 tally includes 4.5 million tons of CCP extracted from electricity generating station ponds or long-term impoundments, then processed for use as cement kiln raw feed on in concrete and gypsum panel production. "Harvested ash utilization volumes now equal nearly 10 percent of the volume of ash recycled from current power plant operations," affirms ACAA Executive Director Thomas Adams. "The rapidly increasing utilization of harvested coal combustion products shows that beneficial use markets are adapting to the decline in coal-fueled electricity generation in the United States. New logistics and technology strategies are being deployed to ensure these valuable resources remain available for safe and productive use. We must continue to support these practices that safely conserve natural resources while dramatically reducing the need for landfills."
FLY ASH PRODUCTION AND USE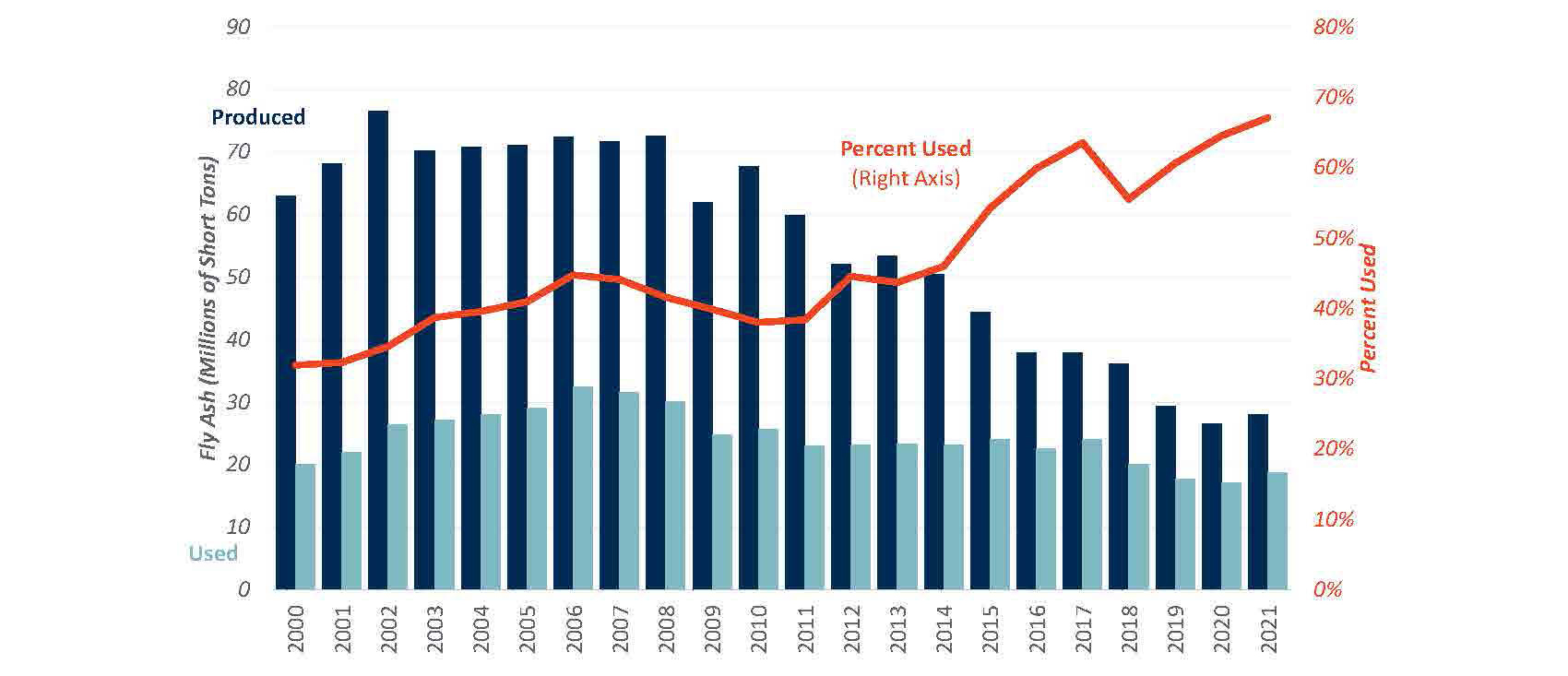 "As America's electricity grid changes, coal ash beneficial use is evolving as well," he continues. "As we work diligently to utilize the nearly half of coal combustion products that are still disposed annually, our industry is also taking significant strides in developing strategies for improving the quality and availability of these materials." Increasing CCP beneficial use levels, he adds, requires ash marketers to ensure that products are consistent and available when customers need them—necessitating large investments in technology and logistics.  
Related articles
Eco Material books record, 600K-tpy harvested ash processing contract
Charah projects nine-year, 4.3 million-cu.-yd. ash contract timeline
Coal ash recycling rate increases in 2020, reversing previous years' declines