The American Coal Ash Association 2020 Production and Use Survey shows 59 percent, or 40.8 million tons, of the 69.2 million tons of coal ash produced during 2020 was recycled—up from 52 percent in 2019 and marking the sixth consecutive year that more than half of such material produced in the United States was beneficially used rather than disposed.
ACAA finds a 12 percent year-over- year decrease of fly ash use in concrete, to 11.1 million tons in 2020. Concrete producers and their customers indicated a desire to use more fly ash, but several regional markets were affected by shifting supply dynamics associated with coal-fueled power plant closures. The survey also reveals how ash harvested from ponds or other utility company impoundments is beginning to play a meaningful role in beneficial use activities: Nearly 4 million tons of previously disposed ash was extracted last year for applications including cement kiln raw feed and gypsum panel production.
"The reversal of a downward trend in recycling rates and the utilization of a significant volume of harvested coal combustion products shows that beneficial use markets are adapting to the decline in coal-fueled electricity generation in the United States," says ACAA Executive Director Thomas Adams. "New logistics and technology strategies are being deployed to ensure these valuable resources remain available for safe and productive use. We must continue to support these practices that safely conserve natural resources while dramatically reducing the need for landfills."
In addition to the fly ash production and consumption figures, the ACAA survey for 2020 finds:
Use of all coal combustion products in cement production declined 4 percent to 4.8 million tons.
Utilization of a key "non-ash" coal combustion product, synthetic gypsum, posted a modest increase. The material is a byproduct of flue gas desulphurization units, also known as "scrubbers," located at coal-fueled power plants. Use of synthetic gypsum in panel products (i.e. wallboard) increased 3 percent to just under 10 million tons.
Synthetic gypsum use in agricultural applications, where the material improves soil conditions and prevents harmful runoff of fertilizers, increased 34 percent to 847,704 tons.
Use of CCP in pond closure activities increased 44 percent to 3.4 million tons. This activity is driven by utility compliance with coal ash regulations enacted in 2015 that effectively require an end to the practice of wet disposal. Fly ash, bottom ash, and synthetic gypsum were all used in construction of new permanent disposal facilities.
Use of CCP in structural fills continued a multi-year decline, dropping 52 percent to 816,543 tons.
Production of boiler slag declined 14 percent, but utilization in the production of blasting grit and roofing granules increased 11 percent to 273,548 tons.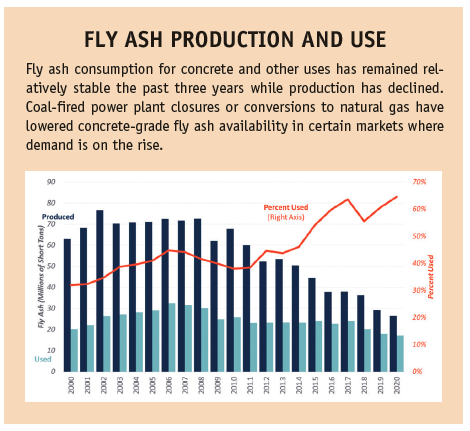 "As America's electricity grid changes, the coal ash beneficial use industry is evolving as well," Adams observes. "As we work diligently to utilize the nearly half of coal combustion products that are still disposed annually, our industry is also taking significant strides in developing strategies for improving the quality and availability of these materials."
ACAA has conducted a survey quantifying the production and use of coal combustion products in the United States each year since 1966. Data is compiled by directly surveying electric utilities and combined with U.S. Energy Information Administration figure. Survey results have been widely utilized by the U.S. Environmental Protection Agency and U.S. Geological Survey.