Source: Concrete Industry Management National Steering Committee
For a second consecutive year, Kenworth Truck Co., Norcal Kenworth and Alliance Concrete Pumps are donating what will likely to be the top ticket in the Concrete Industry Management Auction, the 2023 edition scheduled January 18 at the Las Vegas Convention Center. The manufacturers and dealer are delivering a four-section, Z-fold 38-meter pump mounted on a T880 model running Paccar MX-13 power rated at 455 hp. With a robust rotec pedestal plus streamlined side panels and outriggers, the JXLZ 38M pump's modern design equates to less overall weight—making the machine road legal in more markets.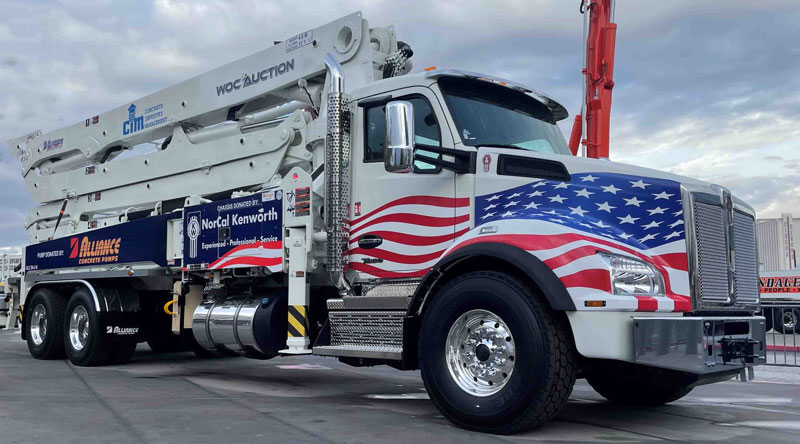 "Alliance Concrete Pumps is excited to donate its most popular boom pump model to the CIM Auction," says CEO Clayton White. "We are also proud to be part of procuring young and up-and-coming talent for the concrete industry."
With a 2023 World of Concrete backdrop, the CIM Auction will have silent bidding from 11 a.m. to 1 p.m., followed immediately by live bidding in LVCC North Hall Room N262. A full auction pool is detailed at www.concretedegree.com/auction. Companies, organizations or individuals interested in donating equipment, products, materials, plus leisure travel, sports or entertainment event packages can contact CIM Auction Committee Chairman Ben Robuck, [email protected] or 404/456-6867.
Related article
Kenworth team, Alliance Pumps unfold record CIM Auction donation
Mack, McNeilus continue to pay it forward with CIM Auction donation