Lehigh Hanson Inc. has acquired JEV Recycling Inc., which runs a major concrete and asphalt materials facility in Woodinville, Wash. The deal times with the addition of a similar operation in Redmond, Wash. at Cadman Inc., Lehigh Hanson's Pacific Northwest franchise and a key Seattle market ready mixed and aggregates player. The new facility processes slab or structural rubble into recycled concrete aggregates, marketed under the brand name Revolve and suiting ready mixed concrete mix design or base material specs.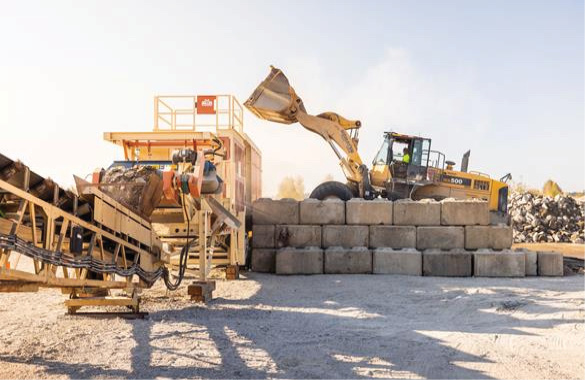 "JEV Recycling represents an important step as we grow our business beyond cement and aggregates while working to lower our environmental footprint," says Lehigh Hanson CEO Chris Ward. "It also highlights the importance of finding innovative ways to serve the needs of our customers for responsibly sourced and circular products so they can meet the sustainability targets of their projects."
"We are pleased by the progress we are making to grow our recycling businesses in the Pacific Northwest," adds Canada Region President Oliver Patsch. "Our new plant in Redmond is a great opportunity to showcase our Revolve line of recycled aggregate products."
Holcim Group has closed on Illinois Tool Works' Polymers Sealants North America (PSNA) division, a leader in coating, adhesive and sealant solution. With 150-plus employees across California, Arizona, Texas, Georgia and Massachusetts manufacturing plants, and projected 2022 sales upward of $100 million, PSNA will accelerate the growth of Holcim Solutions & Products. PSNA's innovation-driven approach is highly complementary to the existing building envelope business, Holcim management notes.
"We are broadening our waterproofing and coatings offering while delivering significant synergies with our roofing business," says Solutions & Products Head Jamie Gentoso. "Building on PNSA's proven engineering and technical expertise, we will accelerate new product development together. By expanding our envelope offering, we can play a bigger role in providing innovative and sustainable solutions for energy-efficient buildings."
Beyond construction, PSNA products are used in aerospace composites and wind energy. The business is ideally positioned to capitalize on high-growth areas such as commercial re-roofing, green building and energy efficiency, and joins Holcim's other 2021-22 acquisitions in roofing and insulation, from Firestone Building Products, Malarkey Roofing Products to SES.