Western Star Truck Sales Inc. consummates its X-Series "Trilogy of Tough" with this month's on-highway 57X reveal, building on sister brand Detroit technology, safety and powertrain features that underpin the on/off-highway 49X and 47X models unveiled in 2020 and 2021. Available in a day cab plus two long-haul versions, the 57X bears hardware and software designed to protect the driver, pedestrians and other motorists, while providing real-time vehicle information to help minimize insurance costs and downtime associated with accident related repairs.
The 57X has as standard the Detroit Assurance 5.0 safety system, marking the premier of Active Side Guard Assist, an industry-first technology mitigating driver's blind side limitations during righthand turns. It joins other principal Detroit Assurance features: Active Brake Assist 5, an always-on system that fuses camera and radar technology to detect moving obstacles in front of the truck and equipped to deploy full braking; Adaptive Cruise Control, which keeps the truck at a safe distance from forward vehicles; and, the optional Active Lane Assist, powering Lane Keep Assist, Auto Stop, Lane Departure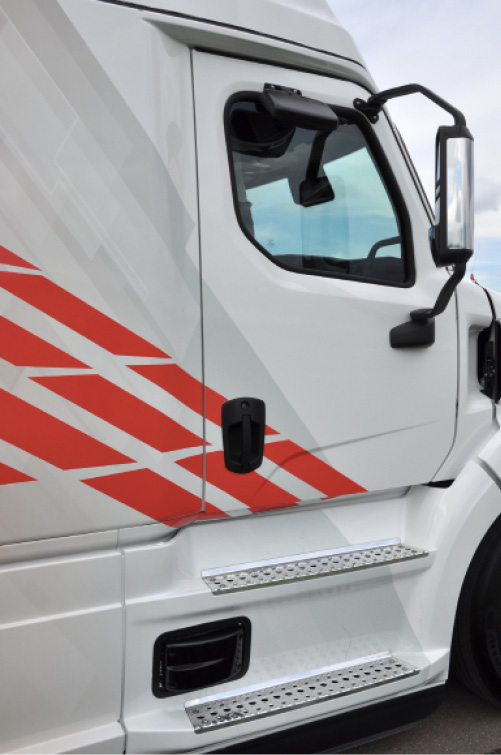 Protection and Steer Assist functions.
"While the 47X and 49X serve the vocational customer, the 57X was conceived, designed and engineered specifically for owner-operators and small fleets looking for a truck that provides the safety, efficiency, durability and prestige that only Western Star can deliver," says Daimler Truck North America Senior Vice President, Sales and Marketing David Carson.
The 57X is Western Star's most fuel-efficient truck to date, besting predecessor, the 5700XE, on that metric by 5.8 percent. The new model runs on Detroit DD13 Gen 5, DD15 Gen 5 or DD16 engines.
Available Detroit Powertrain components include DT12 Direct or Overdrive AMT transmissions, which reduce fuel consumption, improve shifting, and reduce wear. Intelligent Powertrain Management devices anticipate terrain and adjust to road conditions.
Augmenting powertrain efficiency are new cab and chassis improvements that help the 57X log mile after mile with less fuel consumption: Aerodynamic hood and bumper with air ducts; roof and chassis fairings; chassis side fairings with flexible skirts specifically designed to fill the gaps between cab and chassis; day cab's adjustable aerodynamic deflector; and, optimized drive wheel fairings to smooth the air flow as it passes the trailer. Available Detroit front steer and high-speed ratio rear tandem axles also contribute to fuel efficiency and performance.
Another standard 57X feature, Detroit Connect, offers a comprehensive and innovative suite of connectivity systems that provide realtime, actionable insights into vehicle performance and empower better decision-making. New to the X-Series is the 57X's digital dash display, featuring a configurable instrument cluster to provide an experience similar to late luxury car models. Integrated steering wheel controls let drivers trigger most entertainment and information functions without taking their hands off the wheel.
An all-LED exterior lighting package gives the 57X a distinctive look on the road while also providing greater pavement illumination for safer driving. Dual-Stage Intelligent LED headlights with sensors quickly melt ice or clear condensation. Interior LED lighting delivers better performance and longevity than prior standard or halogen bulb offerings. Numerous customization and bright finish options are available to tailor the truck to the owner or driver's needs. Western Star has set 57X production to commence in Q1 2023 at the DTNA Cleveland, N.C. Truck Plant. — www.Western-StarTrucks.com