Optimizing the production side of ready mix operations reduces cost, manual processes, carbon emissions, and wasted human potential
The production side of the ready mix industry has traditionally consisted of many manual processes. Think about your own operation: Do your batch operators sit behind a screen from the time they arrive at the plant until it is time to go home? What sort of efficiency improvements could be made if their potential could be allocated to other areas of the business that need attention?
Many producers have automated the dispatch side of their operations and are beginning to realize how they can optimize processes and improve asset utilization if the production side of the business could be digitized and even (virtually) centralized as well. In the ready mix business, it is difficult to think about the future because most producers are highly focused on meeting production for that day. The fact of the matter is, supply chain challenges and new environmental requirements are forcing producers to think not only about what will happen tomorrow, but what will happen in the months and even years to come. On top of materials, there is already a limited number of workers available and recruiting new talent remains a challenge.
The worker shortage will not be magically fixed overnight. The good news, however, is that innovative technology can help ready mix operators make the production process more efficient, cost-effective, and reduce manual tasks, which helps maximize the team that is already in place. Additionally, automating processes helps to improve the business' carbon footprint as well as reduce overordering material and overdesigning of concrete, which is another big win in today's tight resource markets.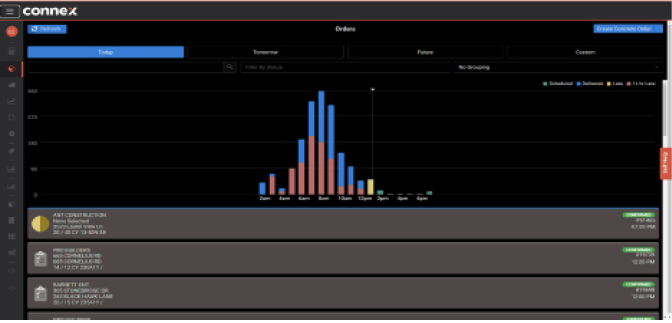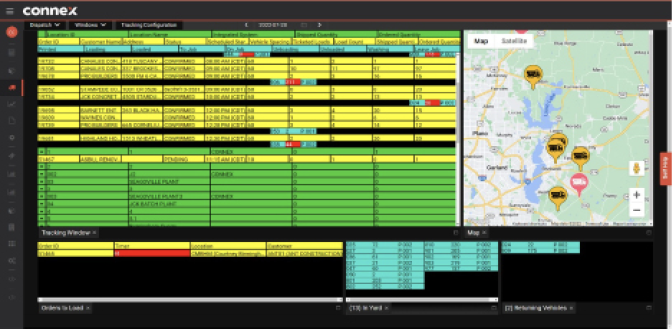 EFFICIENTLY TRACK AND OPTIMIZE PERFORMANCE LIKE NEVER BEFORE
Many producers operate with (standalone) batch systems at different plant locations. When information is needed across the combined sites, managers have to visit each to get an idea of how that plant is performing. With solutions like Command Alkon's CONNEX, key data from any batch system brand can be moved to the cloud, allowing producers to see a snapshot of every one of their production systems. The CONNEX Cloud integration delivers real-time information such as ticket and production data that allow managers to monitor key performance indicators across all the plants, helping to drive better decisions improving quality and efficiency in real-time. Employees across the organization have access to this through a browser-based platform or by using a mobile application.
With COMMANDassurance, all data about each load of concrete is measured, processed, and stored. A probe in the drum of the truck mixer is in constant direct contact with the concrete, capturing real-time data on the properties of a load from the time of truck charging through placement, including slump, temperature, volume, drum rotation, and other information that summarizes overall mix workability. Soon, measuring air-content in real-time will be available, giving complete and unparalleled visibility into concrete properties. The data is spontaneous and visible on the truck display, making it possible for producers to hire and train inexperienced drivers more quickly and effectively. All this information is also available in CONNEX through the web or mobile device, and the producer can share it internally across the organization as well as externally with their customers to provide visibility from the time a load is ticketed through to the invoice and reconciliation process.
Producers can integrate their existing COMMANDbatch system with CONNEX. This allows the batch operator to do his job from the cloud platform at any location other than behind his desk. The entire batch process is safe and secure on the CONNEX platform, and no other infrastructure is required. One place for production, truck tracking, and placement insights results in extreme operational configuration and adaptability. Multiple plants can be controlled from a single location, and an operator can even take care of his raw materials or be on the plant floor while batching concrete using a mobile device at the same time.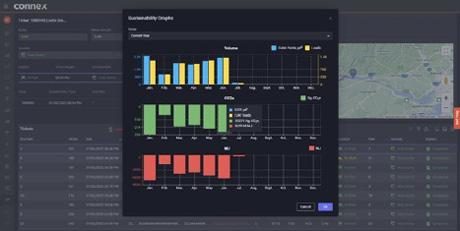 KEEP UP WITH EMISSIONS DATA IN THE JOURNEY TO NET-ZERO OPERATIONS
There is a cement and concrete industry commitment to be carbon neutral by 2050. Many producers are preparing for the future and readying themselves for initiatives like a carbon tax, which would require producers to pay for the amount of carbon dioxide emissions released into the environment and tied to specific order or project. By monitoring each load and maintaining that data back to CONNEX, producers can show how much carbon has been emitted through their production and dispatch operations.
Environmental Product Declarations (EPD) are required more often, and from 2023 mandatory for federal projects. EPDs are the 'nutrition label' to give insight into the environmental impact of the concrete mix used. While they can be a burden for many producers, the great news is that Command Alkon's COMMANDqc already integrates directly with Climate Earth's EPD Generator to provide the PDF documentation about the mix. Aside from this existing functionality, programmers are working on a way to have automated EPDs available for every mix and every batch system using CONNEX.
By adding COMMANDassurance's data, producers are finding that they now have fewer rejected loads since insight into slump, temperature, volume, drum rotation, and how much water was added at the site helps to reduce the time spent performing adjustments in transit and conducting tests while at the jobsite. Historical and real-time data is readily available to all who have been granted access to it by the producer, including customers. Another major benefit is that any concrete left in the drum that can be reused for another order (while automatically checked for ASTM C94 compliance) can be, rather than dumping it all out and making a completely new batch. More consistency and less standard deviation of cement batches means that overdesigns could be reduced over time as confidence grows through the use of the system and observing quality improvements. The ability to reduce overdesigns is a win-win; the environment is positively impacted by the reduction of standard deviation of cement, and the producer's pockets are not hurting due to overdesign. There are further instant fuel savings when the materials can be mixed at a lower speed. Eventually, with COMMANDassurance, producers will have the insight required to make the decision to reduce drum RPM while mixing and being transported to the jobsite. Once the materials hit a fully mixed status, the driver is notified and drum speed can be reduced so that additional fuel is not consumed and attendant carbon dioxide emissions not generated.
To achieve decarbonization, collaboration from production through to placement must occur to set out the vision, goals, actions, and milestones needed to drive the change through connected technologies and an active community of people. Each stakeholder in the project must have the desire to work symbiotically and share data, allowing real-time visibility across materials to create greater trust among partners and ensure the product specifications that are delivered are what was ordered. COMMANDassurance affords this insight and confidence. While optimizing cement use is a great goal, having a real-time view on the delivered quality is extremely important.
MOVE AWAY FROM THE 'JUST KEEP IT FULL' MENTALITY
Not only can producers reduce the need to overdesign, but they can also effectively manage inventory to mitigate overbuying of all their raw materials. The name of the game for a producer is to never run out of materials. Keep the bins full, and there will be no problems.
Ordering material in this way puts a huge strain on the resources available to deliver this material, especially if plants are being replenished in a multi-plant network. What most producers lack is real-time visibility and an accurate view of the future. How would having real visibility into what the plants need and when they need raw materials look? How would that help when it comes to reducing the carbon emissions required to produce this material that is not even needed? How much money and manpower could be saved when we can stop ordering unnecessary material?
Managing inbound raw material needs and logistics has historically been handled with paper, or at best out-of-date information. This naturally results in errors and is enormously time-consuming. Manual inputting makes it difficult to know where your inventory stands at any given moment and lends itself to difficulties in juggling orders and deliveries. CONNEX Inventory can eliminate these issues entirely and unify the entire process. Users of CONNEX have a single-user interface, one login, one username, and one way to receive all of these materials on the inbound side within that interface, always having a true picture of what's available and insight into when more is needed. This results in operating at optimal inventory levels, not just a 'keep the bins full' mentality.
FOCUS ON TOMORROW, TODAY IS TAKEN CARE OF
Economic uncertainty, labor and material shortages, insufficient communication and lower productivity are putting a dent in bottom-line profits. The move toward tech-enabled concrete operations can eliminate or help to mitigate these risks.
When processes are digitized, production and quality control analytics can live in one centralized location, and managers can be sure that the data that they are working from is timely and accurate.
Dashboards offer insight into operations for making more informed decisions to meet demand, stay compliant, and increase profits. Command Alkon is a believer in Industry 5.0 where production, quality control, and dispatch personnel will be empowered to concentrate on optimizing operations and focusing on process improvements. So, instead of worrying about whether the operation will meet production today, everybody can focus on how to make the operation better and more sustainable for tomorrow and for years to come. Rob Piosik leads Global Technical Business Development for Command Alkon, Birmingham, Ala.