Sources: FMI Corp., Raleigh, N.C.; CP staff
FMI Capital Advisors, a leading investment banking firm for aggregate, concrete, asphalt producers and their customers, examines key drivers and challenges its 2022 Construction Materials Outlook. Themed "Seizing the Opportunities Ahead," the report also assesses 2021 producer and contractor merger & acquisition activity.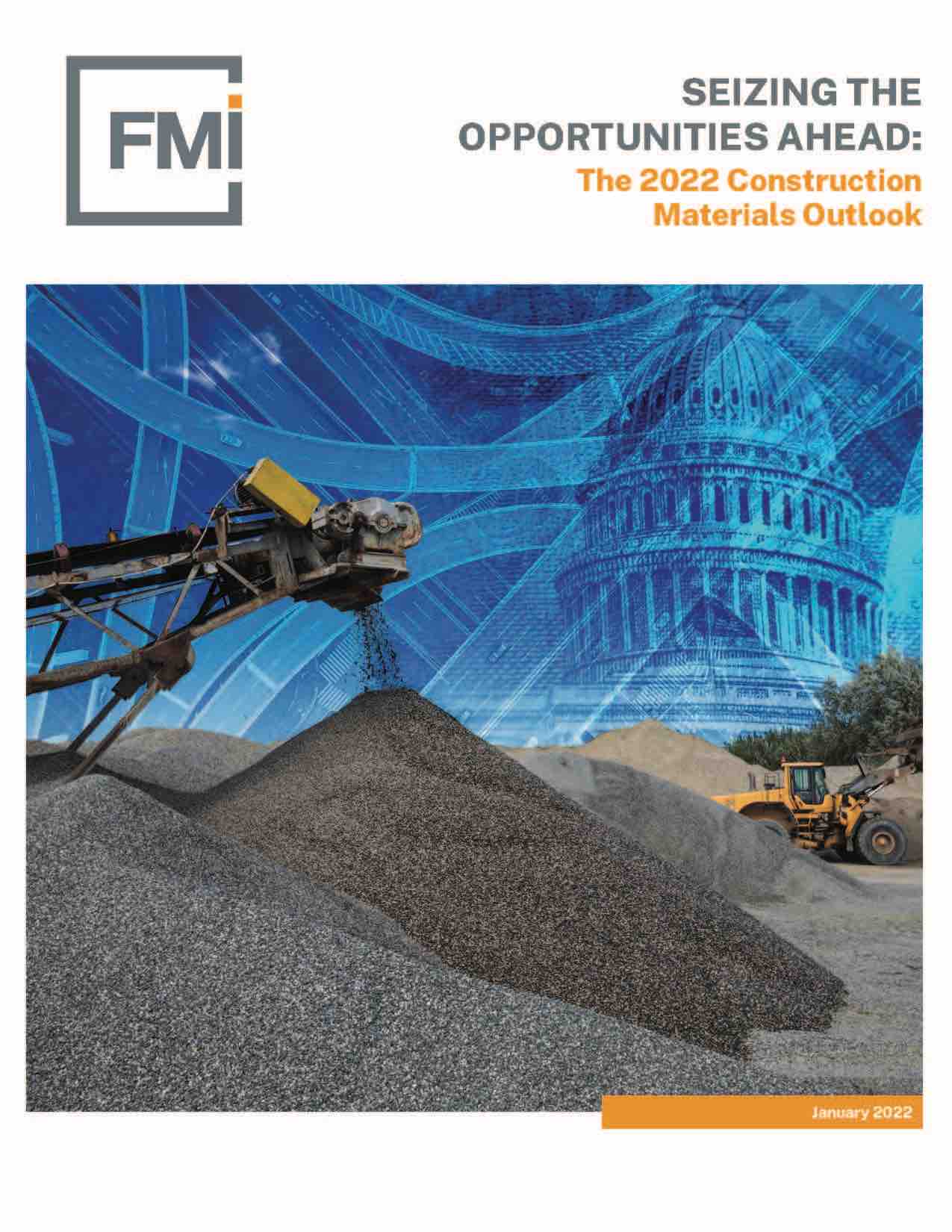 "[Last year] presented an acquisition-rich environment for Construction Materials. Cash on hand, solid earnings and the labor challenge poised the industry for continued consolidation. Going into 2022, we see twin tailwinds of cash-rich investors and prolonged government investment leading to further acquisitions across all three types of deals: bolt-on, platform transactions and 'thunderclap' consolidations," authors note. For this year and beyond, they also find:
• The Infrastructure Investment and Jobs Act (IIJA) will continue to fuel the construction materials space. Strong, sustained demand is likely as projects to repair, maintain and modernize infrastructure kick off in 2022 and continue past a 2026 funding horizon. IIJA funding for highways is projected to increase by as much as 55 percent over the previous FAST Act baseline.
• Labor shortages, inflation and supply chain issues will all impact construction materials production; plant owners and operators will need to address these factors when planning work and contracts.
"2021 was a very good year for producers. Passage of the IIJA will mean a significant increase in highway and street funding, which will support continued M&A activity," says FMI Capital Advisors Managing Director George Reddin. "While the infrastructure bill presents many opportunities, we are also faced with the reality that we don't have enough skilled laborers needed for production."
"Companies will need to evaluate resources and figure out their right approach moving forward. The 2022 Construction Materials Outlook is intended to shed light on the opportunities and challenges they face in the coming years, and how they navigate them in order to succeed," adds Director Rob Mineo.