Members of the Concrete Industry Management National Steering Committee invite donations for the 2021 CIM Auction, to be staged June 9 at the Las Vegas Convention Center amid the rescheduled World of Concrete (June 8-10). Items for previous auction pools have included mixer trucks, cement loads, concrete plant equipment, construction tools and rolling stock, computers, sports memorabilia, plus sports, entertainment or vacation event and travel packages. A silent auction will run 11 a.m. to 1 p.m., immediately followed by live bidding.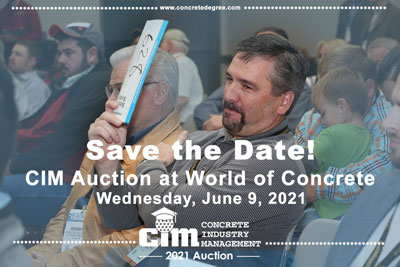 "Auction proceeds will benefit the CIM National Steering Committee and support degree programs at Middle Tennessee State University, New Jersey Institute of Technology, Texas State University and California State University, Chico, the Executive MBA program, as well as help fund scholarships," says CIM Auction Committee Chairman Ben Robuck (Cemex USA). "Industry support is needed more than ever with the addition of South Dakota State University, who will be joining the CIM family of schools beginning fall 2021."
"The auction is a critical funding mechanism for the National Steering Committee," adds CIM Marketing Committee Chairman Brian Gallagher. "We've been blessed with tremendous support from the concrete industry and the World of Concrete show management has been an amazing partner." Steering Committee members, he adds, aim to top the 2020 auction's record gross of $1.2 million.
Manufacturers, material suppliers, service providers, individuals and organizations interested in making a 2021 CIM Auction donation can contact Ben Robuck, 404/456-6867, [email protected].