Charah Solutions Inc. has secured a beneficiation and marketing contract involving up to 8.1 million tons of ash located at Dominion Energy's coal-fired Chesterfield Power Station in Chester, Va. Processing facility and transportation infrastructure construction this year will facilitate rail transfer of the reclaimed material as ash kiln feed supplying cement plants across the U.S. for more than a decade.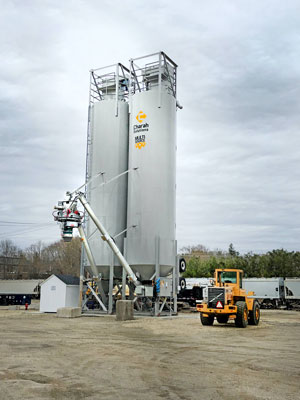 The ash products are suitable replacements to virgin raw materials and offer Charah Solutions cement customer base opportunities to improve their production costs. Quality and handling characteristics of aluminum-, iron- and silica-bearing feeds—representing 5-15 percent of clinker formulations or mix designs—are important procurement factors for cement plant operators, but delivered material costs tend to be the major driver. Environmental considerations are likewise critical, as mercury or other heavy metal content, plus elevated carbon, sulfur and chloride levels can preclude a certain ash, or portion of a ponded deposit, as a cement kiln feed candidate.
Substituting dried, graded Chesterfield ash for virgin aluminum-, iron- and silica-bearing materials may equate to a lower carbon dioxide emissions factor per ton of cement mill output, which is a metric producers increasingly prioritize for their environmental profiles. The Dominion Energy contract and infrastructure outlay are indicative of a changing regulatory and supply chain landscape for power utilities and cement producers alike. The Virginia site's scale of viable material, coupled with Dominion Energy incentives to pursue ponded ash recycling versus permanent disposal measures, allow cement producers the opportunity to improve production economics as well as environmental performances.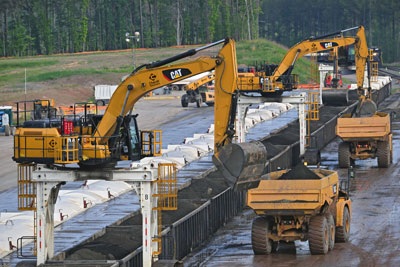 Legislation passed during the 2019 Virginia General Assembly gives Richmond-based Dominion Energy 15 years to remove approximately 15 million cubic yards of coal ash stored in two Chesterfield ponds. The material must be recycled or placed in a lined landfill that meets federal and Virginia guidelines for coal combustion residuals (CCR) impoundment. To meet the standards mandated in Virginia Senate Bill 1355, the utility has contracted with Charah Solutions for ash utilization efforts through 2032. Dominion Energy will store the remaining CCR in a lined landfill adjacent to the ponds.
"Charah Solutions is nationally recognized in the power generation industry as a total solutions company, providing unparalleled service and innovation to meet the evolving and increasingly complex needs of our utility partners," says CEO Scott Sewell. "Utilities like Dominion Energy are experiencing an increased need to retire and decommission older generating assets while improving the environment. We have been proud to partner with Dominion Energy on their sustainability efforts and are delighted to extend our relationship at this site for the next 12 years."
"Charah Solutions is a leader in environmental and maintenance services and we look forward to partnering with them for the removal and beneficial reuse of coal ash at Chesterfield Power Station in a manner that is protective of the community and human health," adds Dominion Energy Vice President of Project Construction Brandon Stites.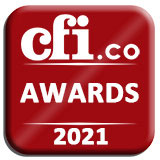 SUSTAINABILITY AWARD
Concurrent with the Dominion Energy contract, Charah received the Best Sustainable Environmental Management Solutions USA 2020 Award from Capital Finance International (CFI.co), a print journal and online outlet covering global business, economics and finance. Each year, CFI.co seeks out individuals and organizations that contribute significantly to the convergence of economies and add value for all stakeholders.
"While many companies talk about their sustainability initiatives, Charah Solutions' business model and the services we provide are actually built on sustainability," Sewell contends. "It's what we do and who we are. Our work, mission, and company culture are directly aligned with providing environmental services and sustainable solutions to solve the power industry's most complex environmental challenges."
---
SLAG CEMENT SHIPMENTS SUSTAIN GROWTH
U.S. slag cement shipments climbed 11.7 percent in 2020 versus 2019 volume, sustaining a streak of year over year, double-digit percentage growth dating to 2016. The Slag Cement Association attributes the trend in part to the binder's benefits in plastic and cured concrete, including better workability and finishing properties; thermal stress reduction; higher compressive and flexural strengths; and, resistance to aggressive chemical exposure. Additional traction is linked to environmental factors: Slag cement is a recovered material from the iron production process; consequently, it reduces concrete mixtures' environmental impact by decreasing carbon footprint, embodied energy, and non-renewable material consumption.
"The continual rise in shipment totals serves as a testament of slag cement being used in broad applications to produce quality concrete," says SCA President Ed Griffith (VCNA/St. Marys). "The SCA is the leading source of knowledge for slag cement, providing resources of the inherent benefits that slag cement provides to the industry."
In addition to Toronto-based St. Marys and Votorantim Cimentos, SCA represents Ash Grove Cement, Cemex USA, LafargeHolcim, Lehigh Hanson, Ozinga Bros. and Skyway Cement.