SiteOne Landscape Supply of Roswell, Ga., has gained a deeper foothold in Canada through the acquisition of Burnco Landscape Centres Inc., a wholly owned subsidiary of Alberta-based Burnco Rock Products Ltd. The business serves Alberta, British Columbia and Saskatchewan from 12 locations, and will continue to operate with long-time president Morgan Martel at the helm.
"Burnco Landscape Centres is a market leader in western Canada and a great fit with SiteOne, as they expand our product offering in these provinces to include hardscapes and landscape supplies, complementing our growing irrigation and agronomics presence. This addition moves us strongly forward on our mission to be the best full-line distributor to landscape professionals in all major U.S. and Canadian markets," says SiteOne Landscape Supply Chairman Doug Black.
"Morgan and his team are focused on providing excellent quality, service and value to their customers. We are committed to delivering the best customer experience in the green industry and the combination of the Burnco Landscape Centres and SiteOne brings us one step closer to achieving that goal. This is our seventh acquisition in 2020 as we continue to expand into new markets and increase the number of markets where we provide a full range of landscape supplies and services to our customers."
"[Our] organization has developed a strong relationship at the leadership level with SiteOne over a number of years," adds Burnco Rock Chairman Scott Burns. "We believe SiteOne acquiring our landscape supply business opens a new and winning chapter for the centres' employees, customers and suppliers in western Canada. We expect SiteOne will be an excellent owner for the business and look forward to continuing to work closely with them in future."
Oldcastle APG, Atlanta, plans a fourth South Carolina concrete masonry production site: A greenfield plant in Ridgeway, north of Columbia and along the Interstate 77 corridor linking the state capital to Charlotte, N.C. The $25 million operation will be dedicated to Belgard hardscape units; serve trade and retail accounts; and, build to a projected payroll hovering 100. Plant construction will dovetail an expansion in Cowpens, S.C., where Oldcastle APG is adding Sakrete and Amerimix bagging lines to an existing Belgard facility.
"As business continues to expand for Oldcastle APG around the globe and particularly in the Southeast, we are prepared to meet customer demand with strategic investments in manufacturing facilities," says President Tim Ortman. "As the leading provider of outdoor living and building materials, we look forward to strengthening our footprint in South Carolina."
"Oldcastle APG is a world-class company, and it speaks volumes that they have decided to locate their newest manufacturing facility here," adds South Carolina Secretary of Commerce Bobby Hitt. "This announcement serves as another testament to [our] strong business climate."
Dallas-based conventional and lightweight aggregates producer Arcosa Inc. has acquired Strata Materials for approximately $87 million. The latter is a leading provider of recycled aggregates through five Dallas-Ft. Worth area plants; between them and one natural aggregates site, it produced more than 2 million tons of material in the past 12 months. The Strata deal follows a similar transaction Arcosa consummated earlier this year for Cherry Companies, a key recycled aggregates player in Houston.
"Building on the Cherry acquisition, we are excited to replicate this model in the Dallas-Ft. Worth region," says Arcosa CEO Antonio Carrillo. "Strata's strategic network will allow us to serve customers with a complementary product offering that includes both recycled and natural aggregates. We believe that this model will have increasing value as the construction industry seeks to reduce transportation costs and its carbon footprint by using both recycled and natural aggregates.
"By leveraging our Cherry team's operational and commercial expertise in recycled aggregates, and our long-standing relationships with DFW customers, we expect to drive incremental growth," he adds. "Strata's margins are similar to Cherry's recycled aggregates margins, and should be accretive to our overall Construction Products Group margin. Overall, Strata is an excellent strategic fit as we continue to reposition our company around core infrastructure products."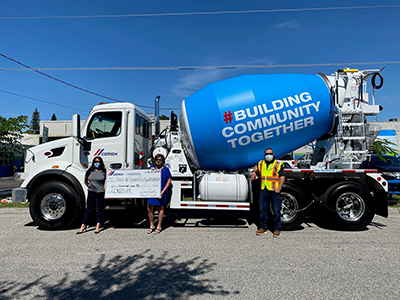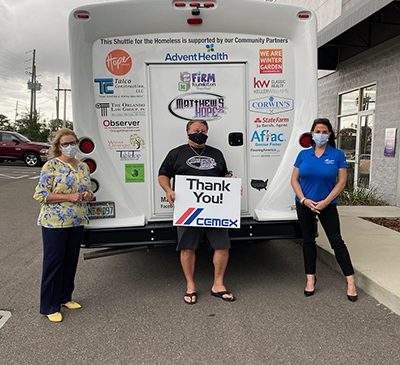 Cemex USA announced that its philanthropic arm, the Cemex Foundation, has awarded grants to more than 15 Florida non-profit organizations, with the funding expected to assist in providing food, housing, safety, education and other vital support to communities during the Covid-19 pandemic. Company representatives have delivered checks on behalf of the Foundation to help fund efforts in Miami, West Palm Beach, Tampa, Ft. Myers and Orlando.
"The Covid-19 pandemic has caused many of our neighbors and their families across Florida to face unforeseen hardships, and they need additional help," says Cemex USA Florida Region President Jeff Bobolts. "We are proud to be able to present donations from the Cemex Foundation to help our communities through the support of hard-working non-profit organizations that are providing critical assistance in what remains a challenging time."
Shown here are representatives of two beneficiaries: United Against Poverty, offering food, housing and job training assistance in Orlando; and, Matthew's Hope, a healthcare and related services provider to homeless individuals in west Orange County.