Losses from operational miscues, a general lack of ready mixed concrete dispatch and batch process efficiency, and significant task redundancies triggered a software programming and Internet of Things technology project leading to the late-2019 launch of Complete Load Solutions, LLC. By fully realizing communications links between dispatch software, batch software, and mixer trucks, the Chicago-based firm aims to eliminate load-out errors, while maximizing plant production.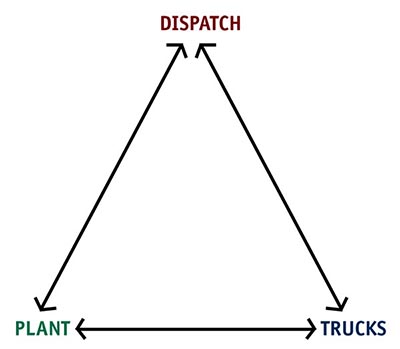 Complete Load Solutions' technology and devices address the absence of a functional relationship between the mixer truck and ready mixed concrete batch plant, and complement established dispatch-plant and dispatch-truck relationships.
| | |
| --- | --- |
| Brent Pommerening | Patrick Dunbar |
"Consider the dispatch-batch panel-truck triangle. Dispatch has a relationship with the other points, but the truck and plant are not shaking hands electronically. Tying the truck into this equation opens up a whole new world of possibilities in our space," explains Complete Load Solutions co-founder and President Brent Pommerening, who knows ready mixed production from family owned and major operator perspectives. "We capture low-hanging fruit by creating an electronic 'staging area' before the plant and 'load verification' point under the plant, which allows us to power an automatic ticketing to loading cycle."
"Ready mixed concrete customers require transparency and want to be confident that the load they are to supposed to receive is actually their intended material, and no possibility exists that the incorrect load/truck arrives on site, or even worse, is unloaded on the wrong jobsite," adds co-founder and Vice President Patrick Dunbar, a veteran of ready mixed production and concrete construction product sales. "A general contractor superintendent or agency inspector needs to know 100 percent of the time that concrete based on the mix design, ticket, and intended truck is what's ready to pour. This is the ultimate QC/QA/DOT platform. The build out of our technology will eliminate manual load-checking processes and redundancies in handling paper. Plant professionals can then focus on other higher level tasks."
Complete Load Solutions' answer to the panel-truck connection is an electronic array of readers and tags. It seamlessly and automatically relays identification signals from transmitter devices in each truck based on their physical positions in relation to the readers, then back to the batch control panel and dispatch platforms. Programming from there triggers an auto-weigh up process when a truck enters the staging area provided the vehicle has an available or pre-dispatched load ticket. From there, the truck will proceed to park under the batch plant and it is scanned once again to confirm that the correct mixer is in fact under the plant prior to discharge. This ensures 100 percent plant efficiency as there are no seconds wasted between manually weighing up subsequent loads, and eliminates the chance of loading the wrong truck.
On the jobsite, mixer drum discharge functionality can be locked until a truck is positively identified by scanning it with a contractor's connected smart device or similar tool. Once again, the producer, customer and inspector are assured the correct truck is on the correct job. The possibility of unloading at the incorrect job-site/unloading point is eliminated and fraudulent discharge prevented. In addition to hardware or devices powering truck identification, the technology requires a batch panel interface and the ability to manipulate load sequences and batch controls; and, providing audible or visual means to communicate with drivers on vehicle acceptance or rejection. Potential savings equate to a one-year system investment payback, based on truck operating costs of $1-$2/minute. The ROI would begin immediately.
EVOLVING VALUE
The Complete Load Solutions platform addresses current inefficiencies and errors emanating from manual, redundant processes. The technology anticipates wide use and adoption in all types of normal concrete production, plus expansion into remote batch and dispatch applications and autonomous mixer truck operation. The firm ultimately envisions its technology supporting a) transit or central mixed plant alleys where mixers lined bumper-to-bumper shave minutes or seconds from one loading cycle to the next; and, b) customers quickly directing just-arriving mixers to placing points or pump hoppers, confident vehicles bear only the mix and truck that the customer ordered.
"Our process can eliminate batching and yard time lost as mixer trucks line up for loading. We see where we can get an extra load or more per hour out of most plants," Pommerening observes. "Data from the batch panel interface can be used to automatically trigger the weighing process. We are all in a traditional form of 'push' dispatching now, but can go to a process where trucks are instead 'pulling' from dispatch. All of the necessary information for auto-ticketing already exists in dispatch software environments, it's just a different approach to ticketing. The ability to eliminate manual ticketing, all of that clicking and dragging for each ticket: We'd like to re-envision that.
"We are working with telematics providers and discussing code with batch and dispatch software providers on a pre-beta installation for early- to mid-2021, and approaching broader launch in phases. The platform will really become evolutional when we bring automation to the batch process, automatic ticketing, weigh up and truck confirmation."
The Complete Load Solutions value proposition, he adds, turns on patents (10,330,520; 10,417.610) awarded in June and September 2019, dubbed "System for automatically initializing a weighing process of one or more loads at a concrete plant" and "System and method for verifying a load placed in one or more trucks."
"When a plant is equipped to never load the wrong mix on a truck, you are pushing down liability insurance. Producers large and small see the prospects for lower premiums and less risk on all types of projects," Dunbar affirms. "Instead of adding another task, our goal is to program software and equipment that run in the background. We want users to be able to produce more concrete as efficiently and effectively as possible. All dispatchers and plant operators can now perform at the same productivity level with these automated tools. We want dollars to fall to producers' bottom lines. Eliminating waste in manual processes is key." — Complete Load Solutions, LLC, 312/599-0838; www.completeloadsolutions.com
---
PROCESS PATHS
Complete Load Solutions maps steps where its technology takes hold in the mixer truck loading and unloading loop.
Auto Weigh Process
Automatic process to initiate the weighing process of a load in queue utilizing staging area.
Truck enters the designated staging area of the plant

Scan truck output device ID utilizing the output device reader, capturing the output device ID value

Scanned value is compared to stored output device ID values for each truck, found in the master truck file

When matching truck file is identified, the truck ID (truck #) is compared to all the truck IDs (truck #s) in the load queue for all active load matrices

IF a match is found, then,

Weigh process for matching load matrix is allowed to initiate
Optional signal to advance into the loading area is given
When truck is at the discharge point of the plant, and the operator initiates the discharge sequence, go to step # 2 of 'Logic and process for verifying load at discharge point of plant' document

IF a match is not found, then,

Weigh process is not allowed to initiate, as no loads exist for scanned truck
Optional signal is given to the truck
Load Check
Logic and process for verifying load at discharge point of plant.
Load start initiated (weigh process begins)
Call to initiate discharge sequence (prior to any batch constituents actually being discharged)

Scan truck output device ID utilizing the output device reader, capturing the output device ID value
Scanned value is compared to stored output device ID values for each truck, found in the master truck file
When matching truck file is identified, the truck ID (truck #) is compared to the truck ID (truck #) in the load matrix for the current load

IF truck.truck_id = matrix.truck_id, for current load then,

Discharge sequence is allowed to continue
Selected text, such as 'certified load', print on batch weight at 'END LOAD'
Still image is captured of the when the discharge sequence is allowed to continue

Image can be printed on the batch weight
Image can be transmitted to tracking software
Image is time stamped and archived with load info, when image is taken

OR IF truck.truck_id <> matrix.truck_id, for current load then,

Discharge is not allowed to continue
Option to 'continue' or 'switch trucks' is displayed on batch computer with audio signal

If 'continue', discharge sequence is allowed to continue and:

'non-certified load' is printed on batch weight at 'END LOAD'
Still image is captured, time stamped, and archived with load information
Still image can be transmitted to tracking software, printed on batch weight

If 'switch trucks' is selected, then,

Display says 'press any key to re-scan'
Press any key
Back to step # 2

CASE, if at any time the discharge process is interrupted, such as a manual hold, then subsequently released, at the moment of release and prior to any additional constituents being release, back to step # 2

'END LOAD'