Concrete plant/yard space limitations, tightening storm and process water management rules, escalating waste-concrete hauling and disposal costs, and sustainability-driven water recycling measures are prompting more producers to invest in mix reclaiming and slurry filter press equipment. Concrete Products visits key players in both categories.
---
BFK TECHNOLOGIES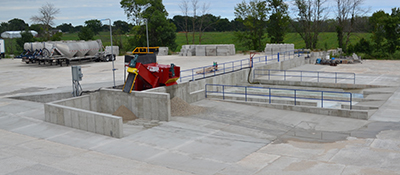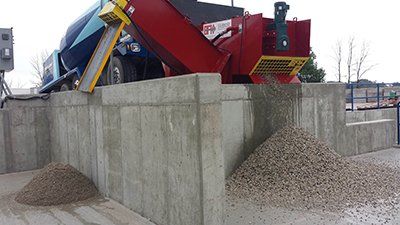 Taylor Ready Mix of Sheboygan, Wis., recently deployed a BFK Model B Snubnose Concrete Reclaimer.
Manufacturer configures concrete reclaimers around producer requests for models featuring simple design plus ease of installation, operation and maintenance characteristics. Engineers have replaced greaseable bearings with UHMW bushings and eliminated shaft seals or other points warranting a grease gun. The models also have redesigned plumbing; a new drain box, easily removeable for clean-out; and, one-bolt, tip-out access panels to allow cleaning of interior spray outlets without removing machine lids.
The latest upgrade involves bolt-on shafts on the rotary screen assembly. The original design had a drive shaft that was welded in. After some time in the field, corrosion makes the gearboxes difficult to remove from the shaft. If operators cannot remove the shaft from the machine, gearbox replacement becomes difficult.
Couple those design elements with a control panel built using standard off-the-shelf electrical components—other than PLCs or micro-processors—and the result is a simple, robust concrete reclaimer that is easily installed and operated by plant personnel. Concrete producers are able to repair and maintain reclaiming equipment on their own.
In addition to concrete reclaimers, the company offers carbon dioxide-based pH control systems, well suited for treating excess concrete washout water from ponds and/or pits, with or without a concrete reclaimer discharging into them. The BFK CO2 treatment system is quick to reduce and maintain the pH, simple to install, low maintenance, and operates using 120 VAC. Diffused CO2 gas lowers washout water pH and triggers reactions that make suspended solids or particulates heavier whereby they can settle out quickly. — BFK Technologies, Kiel, Wis., 888/235-8235; www.bfktech.com
---
FULL CIRCLE WATER
Company focuses on assisting clients with solving slurry water management, offering robust equipment solutions and automation tools to reduce maintenance and labor. Applications from a few hundred to tens of thousands of gallons per day can be installed onsite with very little labor requirements to manage ongoing operations. The latest advancements in controls and data storage are offered as well as preventative maintenance and alarm messaging.
Portable solutions include semi-trailer systems to handle 300 gallons per minute flow with shaker screens and conveyors, along with automated filter presses. Systems can be monitored in the cloud and are simple to operate. — Pristine Environmental/Full Circle Water, St Joseph, Minn., 320/529-4035; www.fullcirclewater.com
---
LIEBHERR USA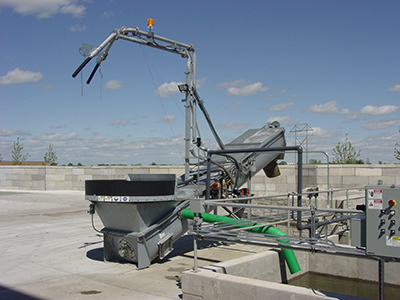 Screw System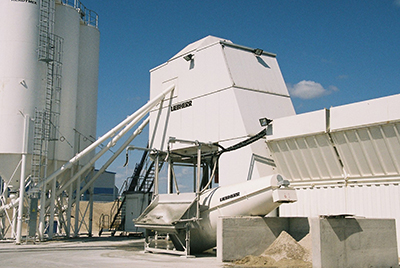 Trough System
Company offers two recycling models with a wide selection of equipment options. The Screw System, or LRS Recycling System, requires little space and is available in capacities of 15 to 29 yd./hour. The screw element is fitted with paddles at the lower end, which wash out the material which is fed in. Due to the asymmetric arrangement of the screw in the trough, optimum dewatering of the washed-out aggregate grains can be achieved. A material bed formed in the trough protects the vessel wall against abrasion. The round loading hopper allows for the emptying and cleaning of up to two truck mixers from different angles. The drive for the screw shaft is provided by a geared motor, with special low-wear bearings to guarantee smooth and reliable operation. A galvanized finish affords optimum corrosion protection. The LRS is also available in a mobile version for use on construction sites.
The Trough System, or LRT Recycling System, features capacities of 5 to 26 yd./hour. The shape of the trough allows for a large volume of wash water to be applied, along with large quantities of materials introduced at short intervals. The washing trough is closed; its two half-shells can easily be opened for maintenance work. Inside the trough is a two-start washing spiral element, conical in shape, which is driven by a tough, flat geared drive unit. Placement of all bearing locations outside the wet area promotes long service life. The loading hopper can be installed at the front or at the side, next to the trough, and if desired the system can also be supplied in galvanized finish.
PLC control systems allow all LRS and LRT processes to run automatically. As an option, Liebherr recycling systems can be supplemented by a dosing buffer, configured with four or six mixer unloading points, to accommodate large quantities of residual concrete at peak times, and feeds them uniformly into the system. — Liebherr USA, Co., Concrete Technology Division, Newport News, Va., 757/928-8547; www.liebherr.us
---
SCROMMEL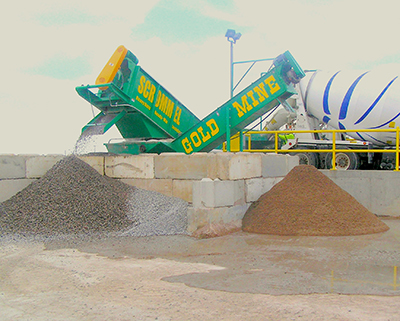 Manufacturer has designed reclaimers to deal with the harsh realities of ready mixed concrete production. Models are built tough to withstand years of use, and carry a five-year auger warranty. Simple design and automatic operation, engineers note, make the Scrommel reclaimer easy to use and maintain.
Each model features large cone shaped discharge hoppers that use gravity. The reclaimers typically recover up to 95 percent of sand and 100 percent of coarse aggregate from returned ready mixed loads and truck washout, and process material for re-use in new orders.
The reclaimers are sold factory direct, and offered in four different sizes to meet a wide range of concrete operations. Multiple station designs allow up to four mixer trucks to discharge at once. — Scrommel Resource Management, Salina, Kan., 800/595-5293
---
ENVIRO-PORT

Enviro-Port's recently added filter press models extract water from cement fine-heavy cakes, minimizing net waste volume and weight.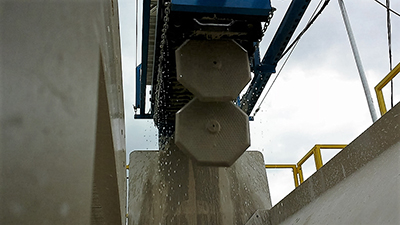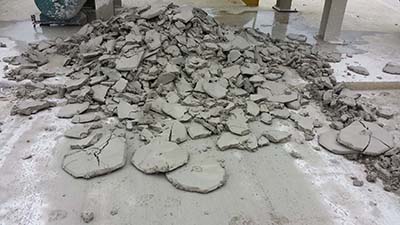 Company is armed with its most extensive environmental management product line to date. Starting with the entry level Aggregate Processor, all systems it manufactures are expandable in both volume and process levels.
Wash Out Aggregate Processor. Entry-level recycler opens the door to producers aiming for a wash out center and aggregate recapture; one- or two-truck discharge versions; upgradeable.
Basic Separation Series. With the integral unloading buffer, multiple truck discharges are achieved. Proper planning positions the unit for future conversion to a Complete Recovery System.
Standard and Custom Pit Agitation Kits. Well suited for customers desiring agitation for an existing or future vault and/or wedge pit. Normally deployed with gray water re-batching and/or a filter press.
Complete Recovery Series. Design implements the unloading buffer of the Basic Separation series with above ground gray water agitation tanks that have been the company signature for years. Both gray water re-batching and filter press implementation are possible.
Filter Press. Device proves to be a great tool to extract solids from an agitated tank, vault, or wedge pit. With the filter cake, a more manageable product is produced for transportation—minimizing water weight.
Services. Enviro-Port has the knowledge and capabilities to design new installations and also work with infrastructure and recycling equipment already in place. The company assists producers in achieving their recycling and process water management goals. — Enviro-Port Inc., Gratiot, Wis., 800/356-8106; www.enviro-port.com
---
STEPHENS MFG.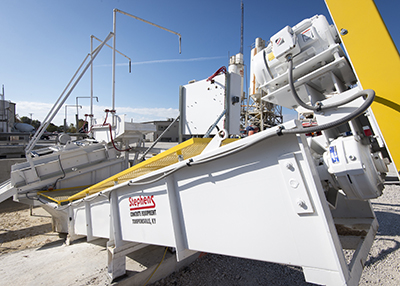 With 30-plus years in concrete reclaimer design and manufacturing, the company offers two different size classifiers and several different ways to handle cement fines, slurry and gray water. Both classifying units have special bearings that allow screw auger tail section to be lifted for service and maintenance.
The Stephens 24-in. reclaimer separates coarse aggregates on a vibrating screen before processing the fines through the washing screw. Because of their relatively small surface area per unit, coarse material is easy to wash with spray bars on a vibrating screen. Fine aggregates are conveyed to a different location for stock piling. Slurry water flows over adjustable weirs into settling ponds; clarified water is recycled for washing out mixer trucks. The 24-in. model has polyurethane replaceable shoes on the auger and uses a 4- x 8-ft. vibrating screen. The classifier is 1,000 gallons with a 24-in. auger. The collection hopper has washout stands for discharging two trucks at once. Unit includes a pump to recycle water, controls, starters and a main disconnect.
The Stephens 36-in. reclaimer is geared for extracting coarse and fine aggregate to be resold for fill material, or washed, separated, and stockpiled for recycling. Slurry water flows over adjustable weirs into settling ponds; clarified water is recycled to wash out mixer trucks. The 36-in. model has a 1,200-gal. classifier and 36-in. auger. Rock and sand are washed together and conveyed by auger. The collection hopper has stands for washing three trucks out at the same time. A vibrating screen to separate rock and sand is optional. Unit includes a pump to recycle water, controls, starters and a main disconnect. — Stephens Manufacturing Co., Tompkinsville, Ky., 877/626-0200, 270/487-6774; www.stephensmfg.com
---
Water Treatment Solutions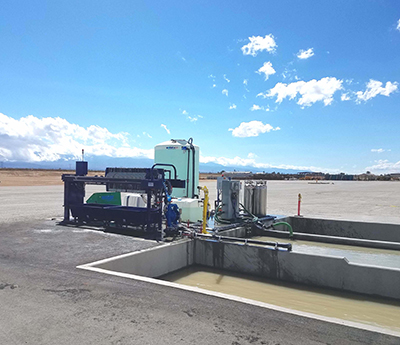 Manufacturer tailors water treatment, slurry dewatering, discharge compliance and water recycling systems to the needs of ready mixed, precast, coring, and block producers in the concrete industry. Engineers custom design, install and service filtration and recycling systems developed for the varied water needs of concrete producers and coring contractors.
The signature EnviroSystem offering, anchored by a filter press, includes design alternatives ranging from concrete slurry dewatering to pH-adjusted, 100-percent closed loop, zero discharge designs that meet all environmental regulations, coupled with an automated control package to minimize labor costs. Filtration and recycling technologies guarantee the production of crystal clear water for varying reuse purposes—all chemical free. — Water Treatment Solutions, Hampton, N.H., 603/758-1900; www.watertreatmentonline.com