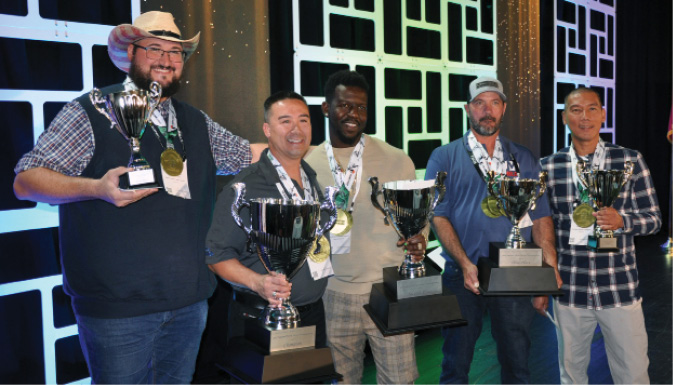 Jason Erickson, based at CPC Materials' Smokey Point Concrete plant in Arlington, Wash., won the 2023 National Mixer Driver Championship, held early last month in Nashville as part of the National Ready Mixed Concrete Association ConcreteWorks Conference. Taking the stage at a jam-packed Gaylord Opryland Resort ballroom, he praised his peers along with CPC Materials and CalPortland Co. management and colleagues. As top gun, Erickson earned a $5,000 prize from the Truck Mixer Manufacturers Bureau, NRMCA affiliate.
Placing second this year and earning a $2,000 check was Maschmeyer Concrete of Florida's Damion Wynter, Apollo Beach, besting his consecutive third place finishes the past two years. Rounding out 2023 Mixer Driver Championship leaders in third to fifth place, with TMMB prizes of $1,500, $1,000 and $500, were Greg Browne of Miles Sand & Gravel, Lacey, Wash.; Jerry Andrada of Holliday Rock Co., Upland, Calif.; and, Brandon Trent, Thomas Concrete, Cumming, Ga.
The NRMCA Safety, Operations and Environmental Committee programs the National Mixer Driver Championship around a written exam; Driving Course challenge, where participants are scored on their front discharge or rear discharge vehicle operating skills; and, Driver Ability challenge, gauging performance in vehicle walk around and delivery ticket inspections, reaction time test, and chute maneuvers from behind the wheel. This year's 101-member field marked a record for an event now in its 17th year. The SEO Committee opens National Mixer Driver Championship applications in late spring, primary candidates including winners of member producers' internal driving competitions or those of NRMCA State Affiliate events.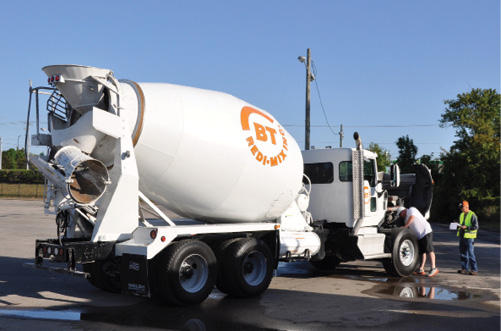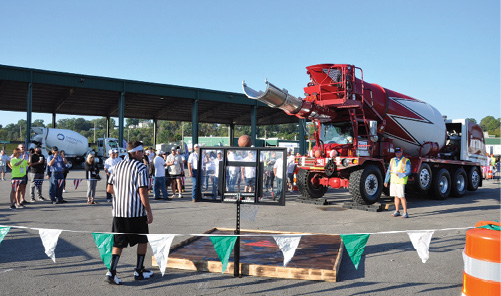 INDIVIDUAL AWARDS
Along with a salute to the top five finishers, this year's National Mixer Driver Championship awards banquet saw presentation of nearly 100 medallions for top performances in the Basketball Chute Hoops, Golf Hole-in-One, and Hockey Slap Shot Challenges. The top scorers of the "Closest to the Egg" station were Al Cleveland from Carew Concrete & Supply Co. and Cody Bartels from CS-MA Construction Service. The top scorers at the "Delivery Ticket" station were, tied for second: Cody Gill from Ernst Concrete Co. and (2023 third place finisher) Greg Browne from Miles S&G.
The popular "Bowling Station" returned to the competition for the 10th year, one driver standing above the rest with a strike: Jacob Freiderich of Lyman-Richey, a CRH company. Drivers were also tested to determine who had the fastest reaction time through computerized measurements. The top scorers were Christian Gillie from Thomas Concrete, Jeremy Nutting from Ozinga Ready Mix Concrete and—fastest of all—Alberto Aiello from Burnco Colorado. At the "Inspection Station," Thomas Concrete's Joey Melton (2022 champion) and (2023 second place finisher) Maschmeyer Concrete's Damion Wynter tied for second; Levi Fister of Lyman-Richey, a CRH company, took first place. Six drivers tied for highest, near-perfect score on the written exam and "Smartest Driver in the Room" title: Rustin Concrete's Kronnie Brooks; CalPortland's Perry Duvall; (2023 champion) Smokey Point Concrete's Jason Erickson; Mathews Ready Mix's Danny Hankins; Manatts' James Smith; and, (2023 second place finisher) Maschmeyer Concrete's Damion Wynter. Topping Driving Challenge Course performance, third to first place, were (2023 third place finisher) Miles S&G's Greg Browne; Ozark Ready Mix's Curtis Dodd; and, (2023 fifth place finisher) Holliday Rock's Jerry Andrada.