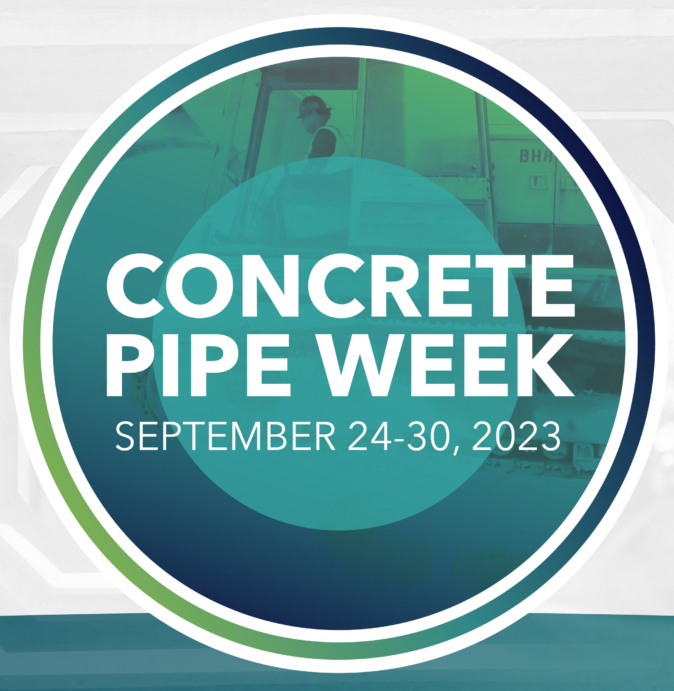 The American Concrete Pipe Association has designated September 24-30 as Concrete Pipe Week 2023. This year's theme, "Engineered Strength. Proven Resilience. Undeniable Sustainability," reflects the overall value, position, and benefit of both reinforced concrete pipe and box culverts. It also frames activities and outreach through which members, association staff and allied interests will spotlight the significance of concrete pipe and box culverts and affirms their contributions to building long-lasting, sustainable communities and infrastructure.
"Concrete Pipe Week celebrates the nation's resilient infrastructure," says ACPA President Steven Hawkins, AIA. "Like oxygen, the infrastructure hidden beneath the places we travel, work, and play, is largely taken for granted until the moment we don't have enough. Concrete pipe is central to the nation's infrastructure and has proven itself remarkably reliable for more than a century. We believe this is reason to celebrate the products our industry contributes to the nation's resilient infrastructure."
Concrete Pipe Week includes activities and events at the national, state or local levels that parallel this year's theme:
Concrete Pipe Plant Virtual Tour. In a visit to Diamond Concrete Products recently upgraded Savannah, Ga. facilities, attendees will gain insights into the production process and have a chance to see the engineered strength of a pipe firsthand.
Complimentary Webinars. Free September 25, 26, 28 presentations will cover Concrete Pipe – Engineered Strength, Concrete Pipe – Proven Resilience, and Concrete Pipe – Undeniable Sustainability, while a September 29 presentation, Finding Resources that Work for You, caps the schedule.
State Proclamations. Governors and other elected officials from around the country share their support and pride in concrete pipe by signing declarations of Concrete Pipe Week. Declarations, pictures, and public sentiments are shared leading up to and during this week.
Virtual tour and webinar registration, along with additional Concrete Pipe Week details, can be obtained by visiting www.concretepipeweek.org/activities. In addition to the online activities, ACPA members from across the country are hosting in-person plant tours, customer appreciation events, and offering educational opportunities.
"While Concrete Pipe Week allows us to take pride in our products, it goes beyond our members, too," observes ACPA Vice President of Marketing Michael Kremer. "We also celebrate the contributions of all our partners: from public work agencies, to DOTs, to contractors, to cement, steel, form, casting, sand, and rock producers, to the trucking industry that transports our products around. This week is about the entire value chain and pipeline of suppliers, producers, and installers who take pride in building a resilient and sustainable future."