Sources: Master Builders Solutions, Beachwood, Ohio; CP staff
Master Builders Solutions' new Concrete Now! app, available in desktop, plus mobile iOS or Android versions, equips concrete practitioners with fiber dosage, carbon footprint, surface evaporation, and mix temperature or volume calculator or estimator tools. 
"Producers have many facets of their business to manage each day, and we understand the intricacies of making small improvements for big impacts in concrete mixtures," says Master Builders Solutions, U.S. and Canada President Dr. Bruce J. Christensen. "The Concrete Now! app is the right tool to help make their work a little easier, allowing them to better respond to local conditions and attain their specific business goals."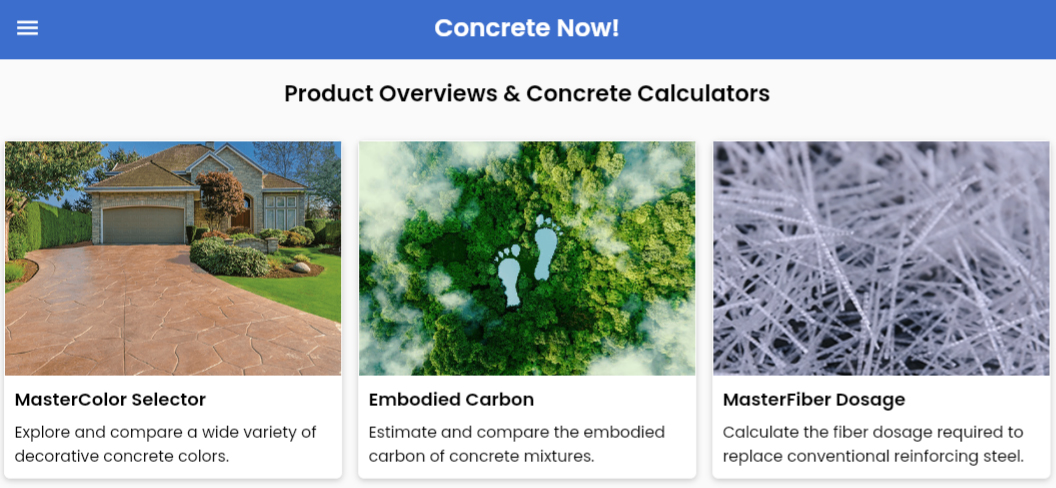 The MasterFiber Dosage Calculator assists replacement of conventional steel rebar or welded-wire reinforcement by calculating slab-on-grade and composite metal deck slab fiber requirements. The Concrete Now! Embodied Carbon Estimator, on the other hand, analyzes key metrics to provide a comprehensive view of carbon dioxide emissions associated with concrete production, thus enabling data-driven decision making. The app's Surface Evaporation Estimator determines plastic-shrinkage cracking potential by gauging concrete performance under anticipated weather conditions. The Concrete Temperature and Volume Calculators respectively consider the specific heat and mass of a load's ingredients to effectively address hot or cold weather concreting challenges, and augment material estimation for a specific project.