The North American concrete mixer truck fleet enters a new era with the migration of its most prevalent rear discharge model family to Revolution Concrete Mixers. McNeilus mixer trucks' new brand is adopted in the wake of a Q2 ownership change from Oshkosh Corp. to Right Lane Industries, a Chicago-based holding company. Right Lane has established a new headquarters and research & development facility in Rochester, Minn., but moved Revolution Concrete Mixers production to Ontario, home of the sister London Machinery brand acquired along with the McNeilus mixer truck portfolio.
"With a new name and the same solid reputation, no other manufacturer is more ready to lead the way toward the next evolution of concrete mixers," says Revolution Concrete Mixers and London Machinery President Robert Monchamp. "We are on a mission to deliver meaningful innovations in sustainability, efficiency and operator assurance that truly change what's possible for our customers."
"The first 50 years was just a warmup," adds Executive Vice President – Engineering, Innovation and Product Performance Bryan Datema. "Our team is excited to continue working alongside customers in the field to design innovative products that exceed their expectations." Among key products for which customers will soon see new names, he notes especially:
Insight Mixer System, formerly FLEX Controls, the only factory-direct software system for mixers;
GradeGuard, formerly McNeilus GradeMaster, equal to steep hill navigation; and,
R83 Drum, formerly M80 Series Drum.
Revolution Concrete Mixers is the sole source for McNeilus Mixer OEM and Genuine Parts, www.StreetSmartParts.com, through partner McNeilus Truck and Manufacturing. Oshkosh retains its namesake S-Series front discharge mixer line under the McNeilus business.
Report is posted at www.truckingresearch.org.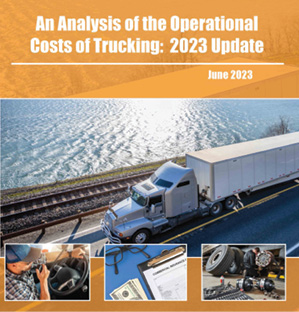 TRUCKING EQUIPMENT, WAGE COST SPIKE
A 2023 update to the American Transportation Research Institute's Analysis of the Operational Costs of Trucking finds motor carriers' marginal costs climbed to a new high in 2022 for the second year in a row, up 21.3 percent over 2021. Though fuel was the largest factor in the spike, as diesel prices averaged more than 50 percent higher year over year, multiple other line-items also rose by double digits, led by driver wages, up 15.5 percent. A record number of fleets participated in this year's ATRI survey, which gauges a variety of line-item costs, operating efficiencies, and revenue benchmarks by fleet size and sector. The 2023 report represents 2022 data encompassing nearly 170,000 truck-tractors and 500,000 trailers logging 13 billion-plus vehicle miles traveled.
Atypical market conditions posed unique challenges for acquiring and maintaining equipment in 2022. Truck and trailer payments increased by 18.6 percent to $0.331 per mile as fleet operators paid higher prices, largely due to equipment impediments in supply chains. Closely related, parts shortages and rising technician labor rates pushed repair and maintenance costs up 12 percent to $0.196 per mile. In response to rising costs, motor carriers initiated improvements in key operational efficiencies. ATRI finds that driver turnover and equipment utilization, for example, each improved across nearly every fleet size and sector during 2022. This year's report includes new metrics such as mileage between breakdowns and the ratio of truck drivers to non-driving employees. Despite falling rates throughout the year, average operating margins were at least 6 percent in all sectors. While larger fleets' average operating margins improved from 2021 to 2022, smaller fleets saw operating margins decline.