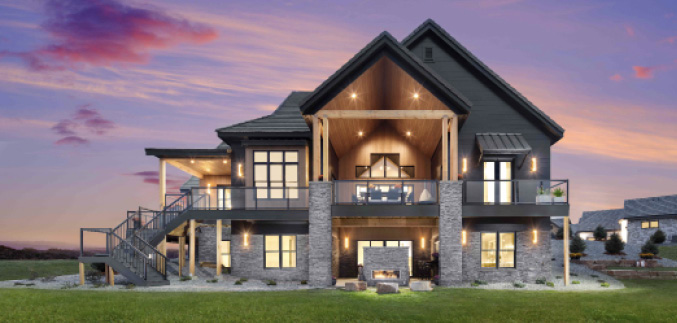 Residential siding products from Georgia-based Nichiha USA, a premier manufacturer of fiber cement cladding, were an integral part of the winning house on the recently completed fourth season of "Rock the Block," which airs on HGTV. Nichiha worked directly with Michel Smith Boyd, the victorious designer, donating products that would help him realize his vision for the project.
Boyd and partner Anthony Elle of Luxe for Less were one of four designer teams that competed in Rock the Block, staged this season in Berthoud, Colo. The show challenged the design teams to renovate a 5,000-sq.-ft. home for a budget of $250,000. As winners, the pair not only hold bragging rights, but they also have the block named in their honor.
Nichiha USA supplied VintageWood cladding in Cedar, as well as TuffBlock in Pewter. Both products were installed with matching corner pieces, a unique Nichiha offering. VintageWood and TuffBlock are part of the producer's Architectural Wall Panel series, whose thicker cladding options feature built-in rainscreens and install easily with the manufacturer's Ultimate Clip System.
"Michael's use of our VintageWood and TuffBlock is cutting edge in its incorporation of wood and concrete looks in a side-by-side layout," says Nichiha USA Vice President of Sales and Marketing Jason Monday. "His eye for design is certainly worthy of high praise, and it was a delight for Nichiha to collaborate with him in the winning home's façade.
"These particular products are an ideal blend of elegance and durability. Like the other options in our roster, VintageWood and TuffBlock are fiber cement interpretations of classic materials. But unlike the wood and cement cladding they mimic, these two products install more easily and require less maintenance."
"Using sustainable materials in the past, I always felt like I would be compromising my aesthetic," adds Boyd. "With Nichiha, I wasn't. I always loved a natural look, with the concrete and with stone. I love texture inside and out. So, the idea of having a more minimal exterior, but not compromising on the palette I would have chosen if it was natural wood or natural stone was incredible. I've got the look and I've got better durability. That's a win."