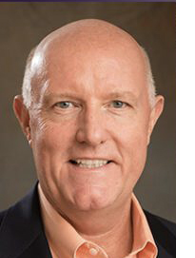 The Clemson University College of Engineering, Computing and Applied Sciences has named Marshall Brown, founder and chief executive officer of Georgia-based ACM Chemistries, to the Thomas Green Clemson Academy of Engineers and Scientists—the Upstate South Carolina institution's highest honor. Brown earned undergraduate and graduate Civil Engineering degrees from Clemson, and completed his doctorate in 1988. He has devoted many years of service to the advisory boards of the Glenn Department of Civil Engineering and the College of Engineering, Computing and Applied Sciences. Since 2017 he has been a vital member of the Clemson University Foundation Board of Directors.
"We will always cherish the fact that your Clemson University education contributed to your success," said College of Engineering Dean Anand Gramopadhye, recognizing Marshall and three other alumni named to the Thomas Green Academy. "On behalf of the Clemson family let me once again congratulate inductees for enriching our lives. As exemplary ambassadors of Clemson, we are eternally grateful to you."
The American Concrete Institute has enlisted Mahmut Ekenel to support development of certification and conformity assessment programs, primarily those of two ACI Centers of Excellence: NEU for Carbon Neutral Concrete and NEX for Nonmetallic Building Materials. He brings extensive experience in acceptance criteria for building material evaluation in accordance with the model building codes, plus a working knowledge of International Standards Organization (ISO) standards and quality control inspections.
An ACI Fellow, Ekenel arrives at the Institute after 17-plus years with the International Code Council Evaluation Service, most recently as senior staff engineer. He is a licensed civil engineer in California and licensed professional engineer in Ohio, Michigan, and Pennsylvania, and holds a PhD from the Missouri University of Science and Technology.
"His knowledge and skills significantly enhance our ability to expand conformity assessment and related code advocacy activities, and further complement robust personnel certification program development capabilities," says ACI Senior Managing Director, Certification and Chapters John Nehasil. "We're better equipped to assist in advancing the Centers of Excellence and supporting ACI Certification."
A key player in outdoor living design and hardscape unit installation, California-minted System Pavers, is set to open a Texas office. "We are excited to bring our first-class service to the Houston market and enable homeowners to realize their vision of transforming spaces into beautiful, personalized outdoor living environments," says Director of Operations Joe Kauffman. "We look forward to serving the Houston community and providing an unparalleled homeowner experience, from initial design to final installation and finishing touches."
"Houston is an extremely logical next step for us as we continue to expand rapidly in Texas," adds Chief Growth Officer Brent Schaefer. "Houston is the second largest city in the southern U.S. and the seventh largest economy in the country. The market has tremendous potential due to its size, demographics, and the ability to enjoy outdoor living year-round."
Schaefer and Kauffman are leading System Pavers' expansion effort. Over the next five years, they plan to hire more than 75 qualified employees to serve accounts across the Houston market, including the surrounding suburban areas of Katy, Spring, Sugar Land and The Woodlands.
"For more than 30 years we've built our reputation on creating beautiful spaces that add lasting value to homes," notes System Pavers CEO Syed Zaidi. "We take pride in delivering a homeowner experience like none other and are very excited to bring our expertise and passion to the Houston area as we help even more families in Texas make the most of their outdoor living."
Kentucky-based prestressed concrete tank design and construction specialist Preload LLC has named the Utah Department of Natural Resources 0.2 Million Gallon Water Storage Tank, located in Coalville, as its 2023 Concrete Decision Tank of The Year. The structure topped an online campaign during which Preload registered 700-plus votes for 15 tanks from across the United States. Other project owners and structures recognized this year are the City of Irving, Texas, 5.0 Million Gallon Clearwell Water Storage Tank (second place), and West Travis County (Texas) Public Utility Agency's 0.5 Million Gallon Water Storage Tank (third place). Preload is donating $3,000 to Water for People on behalf of the Utah Department of Natural Resources and $1,500 donation on behalf of the first-runner-up, Irving.
"We want to congratulate the Utah Department of Natural Resources on the incredible engagement and support throughout the campaign," says Preload CEO Ryan Harvey. "We also want to thank all of the individuals from Irving, Texas and communities across the country who participated and voted for the tanks in their communities. One of our goals with the Concrete Decision Campaign is to make water infrastructure a point of pride for communities, and the response this year absolutely showed that people care a great deal about the tanks in their cities and towns across the country, regardless of the tank size."
In addition to the donations to Water for People, a global non-profit organization that promotes the development of high-quality drinking water and sanitation, each community will have an exclusive jacket patch featured by The Water Buffaloes, a charitable organization that raises funds and awareness for water projects through motorcycle events.
"We are excited about the momentum built with The Concrete Decision Campaign over the past few years," Harvey affirms. "Preload looks forward to continuing our partnership with great organizations like Water for People and The Water Buffaloes to keep driving our mission forward year after year!"
The 6th Annual World Cement Association Conference and Exhibition will take place October 24-25 at the Emirates Towers in Dubai. The event is an opportunity for global industry leaders to come together and discuss the most pressing issues that the cement and wider hard-to-abate sectors face, share their expertise, and shed light on any missed opportunities. This year's theme, "Improving Profitability in a Time of Multiple Global Crises," will be a crucial point of discussion for cement industry stakeholders, as the sector continues to face rising energy prices, supply chain disruptions, increased market competition, and the ever-increasing pressure to reduce carbon emissions. Attendees will be able to participate in a broad range of discussions and listen to presentations on improving cost efficiency, advances in new technologies targeting the reduction of energy intensity and CO2 emissions, new products and materials, and changes in global market conditions .
"In the past year the cement and concrete industry has been severely affected by various external factors," says WCA CEO Ian Riley. "As customer requirements are shifting and regulatory standards are evolving, innovations in digital technologies and opportunities to reduce clinker factor are showing particular promise in terms of helping tackle some of these issues. Coming together to learn about new innovations, discuss strategy and share best practices is more crucial than ever, which is why we have chosen this focus for this year's annual conference to help the sector advance." — www.worldcement.org
Tarlton Corp., a St. Louis-based general contracting and construction management firm, was named 2023 General Contractor of the Year by the American Subcontractors Association Midwest Council. "This honor reflects how embracing our core values of workplace safety, diversity and effective communication on each construction project we undertake forges successful collaborations with our important partners in the subcontracting community," says Tarlton Executive Vice President Dirk Elsperman. "We are especially proud that Tarlton won in this category in 2021 and has the distinction of being a finalist year after year."