The board of North Dakota-based MDU Resources Group closed May with a distribution of Knife River Holding Co. shares, finalizing a 10-month spinoff process of the concrete, aggregate, cement distribution and construction business from the utilities operator flagship. MDU Resources and Knife River are now independent, New York Stock Exchange-traded companies with distinct investment identities, business operations, customers and geographic markets. Investors received one share of Knife River Holding Co. stock for every four MDU Resources shares held. MDU Resources continues to trade under its namesake ticker, Knife River under KNF.
"We started our construction materials business with a single aggregate company acquisition in 1992," says MDU CEO David Goodin. "We have successfully grown Knife River Corporation in 31 years to be one of the Top 10 sand and gravel producers in the nation, substantial enough to stand on its own as a publicly traded company."
"We are in this great position because of the hard work of our 5,700 team members and the generations of Knife River employees who helped build our company into what it is today," adds Knife River CEO Brian Gray. "We have grown our aggregates-based business from a $50 million company in 1992 to $2.5 billion in revenue last year. We are well established, confident about our future, and just getting started."
Heidelberg Materials has completed the purchase of SEFA Group Inc., the largest recycler of fly ash sold for use in concrete products in the United States. Based in Lexington, S.C., SEFA Group spans five business units, five utility partners, 20 locations and more than 500 employees. It presently supplies quality fly ash to more than 800 concrete plants in 13 states. The acquisition further strengthens the suitor's cementitious footprint in the key Southeastern U.S. market and provides a solid platform for growth. Heidelberg Materials likewise reaches another milestone in its continued focus on portfolio optimization, and proceeds as the front runner on the path to carbon neutrality and circular economy in the construction materials industry.
"We are pleased to complete this important acquisition and we welcome the SEFA Group and its employees," says Heidelberg Materials North America CEO Chris Ward. "The SEFA Group is an exciting addition to our businesses in North America and we look forward to the possibilities ahead."
The Swiss parent of Holcim (US) and Lafarge Canada has launched ECOCycle, a proprietary circular technology platform to recycle construction demolition materials into new building solutions. With ECOCycle, Holcim Ltd. can recover up to 100 percent of content across a broad range of applications, from decarbonized raw materials in low-carbon cement formulation to aggregates in concrete and fillers in road construction.
"Across all metropolitan areas where we operate, we are at the forefront of driving circular construction to build new from the old," says Holcim CEO Jan Jenisch. "With our ECOCycle technology we can build cities from cities, recycling construction demolition materials into new solutions, so everything gets reused and nothing gets lost. With our world's growing population and urbanization, circular construction is essential to build a future that works for people and the planet."
Holcim is deploying its ECOCycle technology across its range of material solutions to scale up circular construction, reducing its use of natural resources. Its technology enables concrete, cement and aggregates to contain from 10 percent to 100 percent ECOCycle recycled construction demolition materials inside with no compromise in performance, while reducing their environmental footprint. The technology platform is enabled by efficiently distributing, processing, grinding and recycling construction demolition materials.
As a pioneer in circular construction, Holcim Ltd. launched the world's first cement with 20 percent recycled construction demolition materials content in Switzerland. Building on this expertise, the producer is now rolling out the solution across Europe with cement containing ECOCycle-processed materials. In France, Holcim is building the world's first affordable housing complex with 100 percent ECOCycle recycled concrete. In the U.K., it is building a residential area with 50 percent ECOCycle Aggregates content.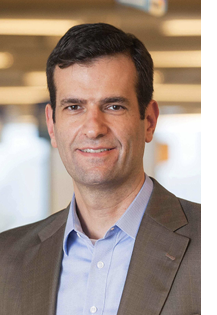 After more than four years at the helm of Sao Paulo-based Votorantim Cimentos, Marcelo Castelli is leaving his position as global chief executive officer to join the board of directors. An executive with more than 35 years of experience, including 26 years at Votorantim S.A.'s VCP and Fibria portfolio companies, he became the CEO of Votorantim Cimentos in February 2019, following the conclusion of the transaction between Fibria and Suzano.
Under his leadership, Votorantim Cimentos grew and innovated; made important investments in Brazil; expanded internationally; advanced its go-to-market strategy; strengthened its adjacent businesses; set bold decarbonization targets; improved safety indicators; overcame disruptions rooted in the Covid-19 pandemic; built a new 2030 strategy; renewed company branding; and, evolved operational and financial performance, increasing return on capital.
"I will continue to follow Votorantim Cimentos and celebrate with them, now in a new role," says Castilli. "And there is nothing like leaving a legacy and being part of a solid succession process. My successor will be an in-house talent. Believing in internal talent has always been my hallmark and I am happy to, once again, reaffirm my conviction."
His successor is Chief Operating Officer Osvaldo Ayres Filho, who has worked for companies such as Avon, Fibria and Ciba Chemicals. Since joining Votorantim Cimentos in 2012, Filho has held the positions of financial director for the Europe, Asia and Africa region; operations director for the Southeast region in Brazil; financial director for the Brazilian business; and, global chief financial officer and investor relations officer. As COO since April 2021, he has been responsible for the cement, logistics and adjacent businesses.
"Together with our team of more than 13,000 employees, in Brazil and in the other 10 countries where we operate, we will work to make Votorantim Cimentos an increasingly better and more admired company," notes Filho.