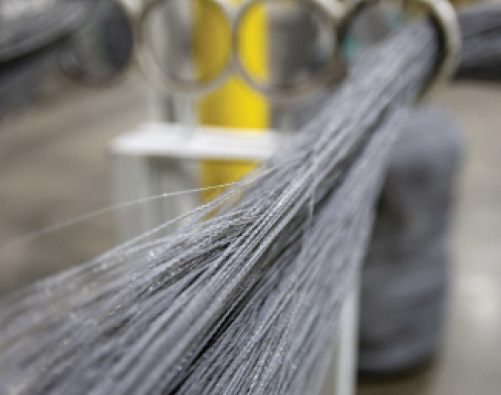 New extrusion and packaging lines at the Sika Corp. plant in Chattanooga, Tenn. spell an increase of up to 4 million pounds of concrete reinforcing fiber capacity. Investment in the facility emphasizes a commitment to customers in the region and positions the operation for timely SikaFiber production to meet demands of a growing market.
The new extrusion line is approximately 30 percent more energy efficient than legacy lines, owing to higher output and lower power requirements. The energy efficiency gains equate to lower carbon dioxide emissions associated with SikaFiber and further a corporate commitment to sustainability. Among key features of the new Chattanooga extrusion and packaging lines:
State-of-the-art controllers
Energy-efficient motors
Automatic temperature controls
Complete insulated ovens with direct air passage
In addition, the lines have advanced safety features to ensure employee wellbeing. New features include a completely enclosed guarding system around godet rolls with safety interlocks; thread guide rolls for easy machine startup, which prevents access to pinch points; two-hand safety switch for the oven system; and, quench tank upgrades that improve ergonomics on thread-up. Enhancing these systems furthers Sika's mission to make certain employees remain safe and is consistent with management's eye on worker protection.
Sika continues to search for alternative concrete reinforcement solutions that are safe, effective, sustainable, and promote long-term durability. SikaFiber holds potential to replace traditional steel reinforcement, production of which is carbon intensive. SikaFiber includes other benefits such as concrete toughness, three-dimensional reinforcement, and lifetime protection from corrosion and corrosion spalling.