Looking for true savings? Transition from "keep full" to "don't run out."
U.S. ready mix concrete (RMC) production in 2023 should be just north of 400 million cubic yards, a recession notwithstanding. Based on an average five-bag mix, that means at least 27.5 million equivalent truckloads of aggregates and 4.75 million equivalent truckloads of cementitious materials will be required.
Bulk material supply interruptions are inevitable, causing fulfillment delays or, much worse, interrupted orders. To better understand the problem, we need to put ourselves in two distinct personas: concrete operations and bulk transport.
If you are in concrete operations, then you have experienced cement rationing over the past 18 months. Regardless of the root causes, the results are higher material prices and forfeited business opportunities. This type of interruption is undesirable and chronic—yet you can schedule around it, making it outside the scope of this article.
The other type of interruption for concrete operations is an acute material shortage, which means a scheduled material receipt simply did not happen. These result from issues on the material supplier's end, which can include broker diversions, loadout problems at the origin, traffic and mechanical problems, and in certain regions, theft. When an acute issue impacts an order in progress at a plant with small bin capacity and high traffic congestion (i.e., urban), the remedy is almost always expensive. There is the real cost of deadheading and rerouting trucks from a more distant plant, not to mention potential back charges from a cold joint, finishing crew time or structural impairment.
Estimating back charges is a fool's errand, but we can put a box around extra truck time costs. Assume one out of every 400 orders is acutely impacted, and one load on the average 28-cubic-yard order requires an adjustment that results in 60 minutes of extra truck time. Per the National Ready Mixed Concrete Association's Performance Benchmarking Survey 2020 (which we will use for this column), truck time is about $1.28 per minute. Those 60 minutes amount to $77 in extra truck time costs. For a 1 million-cubic-yard producer, that would total $6,850, which cannot be passed onto the customer.
Back charges aside, $6,850 is not a big number in the "cost of doing business" category. But wait! The real value lies in the bulk delivery perspective, as pointed out by my sage friend Doug Smith, president of Smith Ready Mix in Valparaiso, Ind.
The ratio of shipping costs to product is higher for aggregate than ready mix. Thereby, reducing the transport time of aggregate generates a disproportionately large savings in shipping costs, which is directly passed onto the RMC producer through competitive shipping rates. The RMC producer, as the bulk material purchaser, can help reduce the delivered material costs through optimized scheduling of delivery times to plants.
"The value of tying real-time material use, order horizon demand, plant inventory and rolling inventory to an automatic reorder process is HUGE," says Smith. "That is where the time-based savings is found."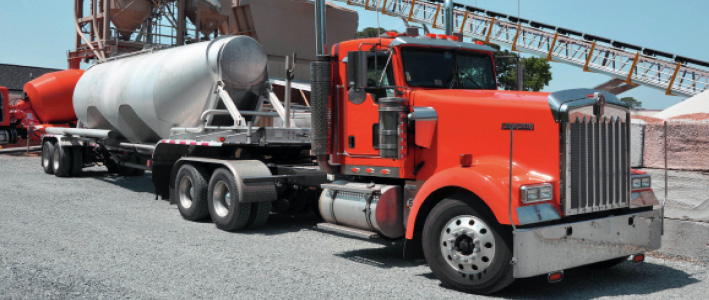 THE ROI OF INTEGRATED MATERIALS MANAGEMENT
"A highly skilled person is required to balance all the needs of material replenishment, and even that person is prone to insight limitations," says Smith. 
Consider two painful truths: (1) Acute disruptions are often self-induced, and (2) concrete operations folks are almost always obsessed with a "keep full" mentality when all they really need to do is not run out of material. Savings are found by tying all inputs together to determine the amount of material needed to "not run out" and minimize bulk trucking costs. This can be accomplished by introducing artificial intelligence-assisted dispatch suggestions to optimize scheduling.
Using our 1 million-cubic-yard producer, ~78,000 bulk loads for aggregate and cement will be required per year. Cement and aggregate have different transport cost structures, but squinting a bit, let's say better-integrated material replenishment could shave at least 0.5 percent off delivered material costs, if not more. Remember that deliveries optimized for lower traffic-congestion times—primarily by transitioning from "keep full" to "don't run out"—will reduce costs. At an average delivered price of $18.5 per ton for aggregate and $145 per short ton for cement, that adds up to $369,631 in savings. Now we are in the money!
Despite the sincerest belief of software providers, the concrete operations perspective does not see much financial benefit from better-integrated materials replenishment—other than mitigating the unknown liability of back charges due to order interruption. But when we walk in the shoes of the bulk transport world, tangible and significant savings clearly make this trip worthwhile.
Craig Yeack has held leadership positions with both construction materials producers and software providers. He is co-founder of BCMI Corp. (the Bulk Construction Materials Initiative), which is dedicated to reinventing the construction materials business with modern mobile and cloud-based tools. His Tech Talk column—named best column by the Construction Media Alliance in 2018—focuses on concise, actionable ideas to improve financial performance for ready-mix producers. He can be reached at [email protected].