On the heels of surveying the vehicle-laden ConExpo-Con/Agg and World of Concrete 2023 shows, we examine the latest in OEM, body builder and component manufacturer offerings for mixer, dump, bulk tanker and day cab/tractor trailer fleet operators.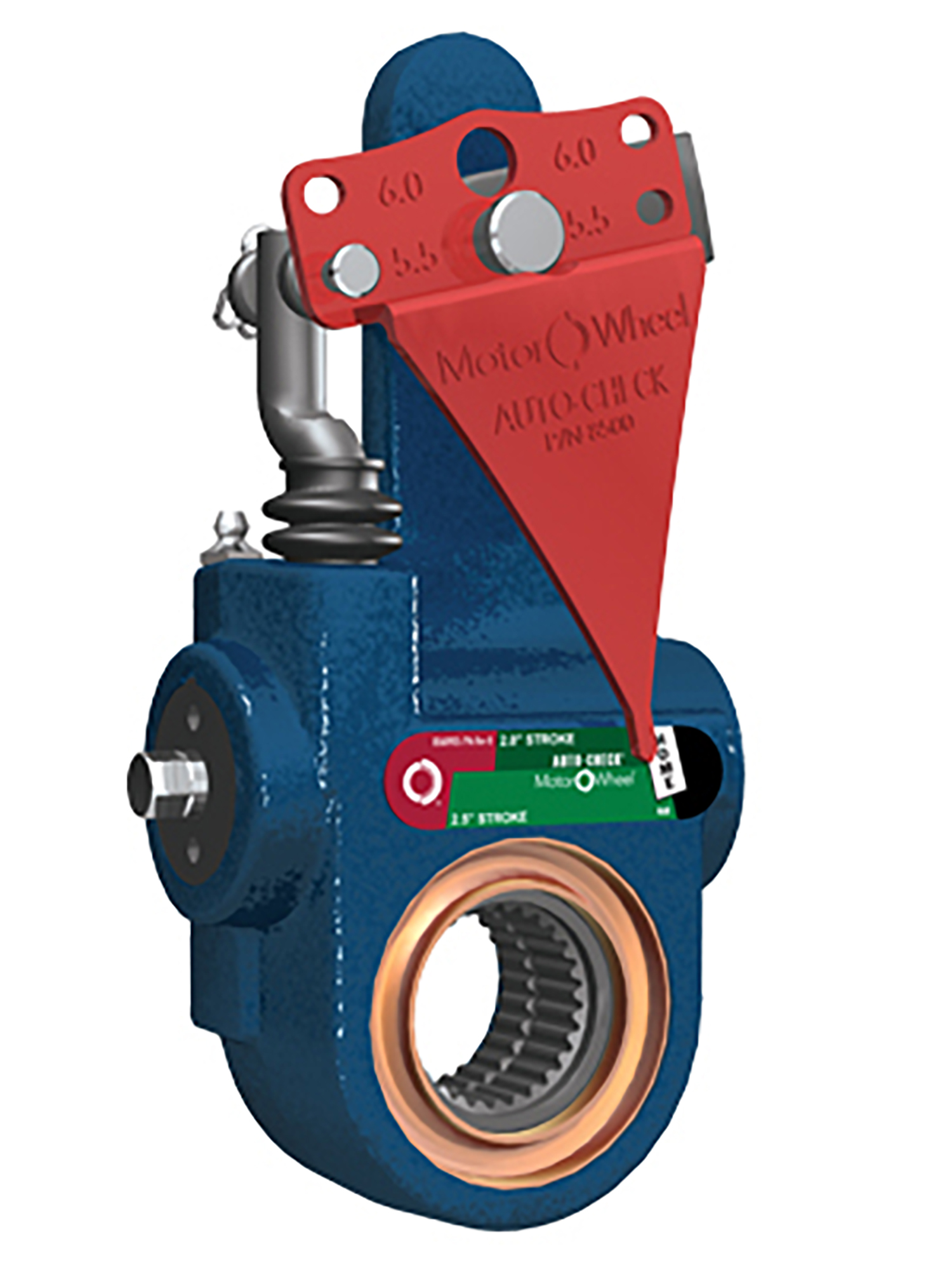 MOTOR WHEEL | AUTOMATIC BRAKE ADJUSTER
Hendrickson International's Motor Wheel business has rebranded the Crewson automatic brake adjuster product line under the Motor Wheel name. The change is seamless to customers but aligns brake adjuster products with the reputation that the industry has come to expect from Motor Wheel and Hendrickson. Along with the rebranding, a few changes are being implemented to enhance the product experience:
AutoCheck pointer color is changing to red to bring attention to its position;
AutoCheck pointer geometry, along with the clevis pin kits, are redesigned to improve functionality and versatility;
The grease fitting is switching from a 90-degree to straight fitting to improve accessibility; and,
Proprietary internal modifications improving performance and durability.
Motor Wheel brake adjusters will utilize the same assembly part numbers and numbering scheme. As the manufacturer of CentriFuse brake drums and namesake automatic brake adjusters, Motor Wheel is known to deliver highly engineered products that provide lightweight durability to help improve fuel efficiency, reduce maintenance and meet the demand for frequent braking. — Motor Wheel LLC, Chattanooga, Tenn., www.hendrickson-intl.com
HENDRICKSON HAULMAAX EX EQUIPS FREIGHTLINER SD-PLUS, M2 MODELS
Hendrickson Truck Commercial Vehicle Systems' next generation, heavy-duty rear rubber suspension system is among new features for Freightliner SD, SD Plus and Vocational M2 trucks. The Haulmaax EX suspension provides the versatility needed for trucks operating both on-and off-highway. Its equalizing beams distribute the load evenly between both axles to maintain traction in off-road and uneven terrain conditions. An integrated jounce stop protects the spring system from over compressing, helping to extend component life and reduce maintenance costs. When paired with Hendrickson Traax Rod torque rods, Haulmaax EX stability and articulation increase for improved on/off-highway operation.
"EX exceeds customer expectations by expanding on the capabilities of the original Haulmaax design, with up to a 70,000-pound job site rating for the 46,000-pound capacity suspension," says Hendrickson Director of Engineering Ashley Dudding. "Haulmaax EX is extremely rugged, supporting demanding vocational applications and offering capacities of 40,000 pounds, 46,000 pounds, and now 52,000 pounds. We utilized our industry-leading analysis and validation techniques to ensure Haulmaax EX would meet rigorous demands, minimize maintenance requirements, and deliver an advanced, lightweight vocational suspension." — Hendrickson Intl., Woodridge, Ill., www.hendrickson-intl.com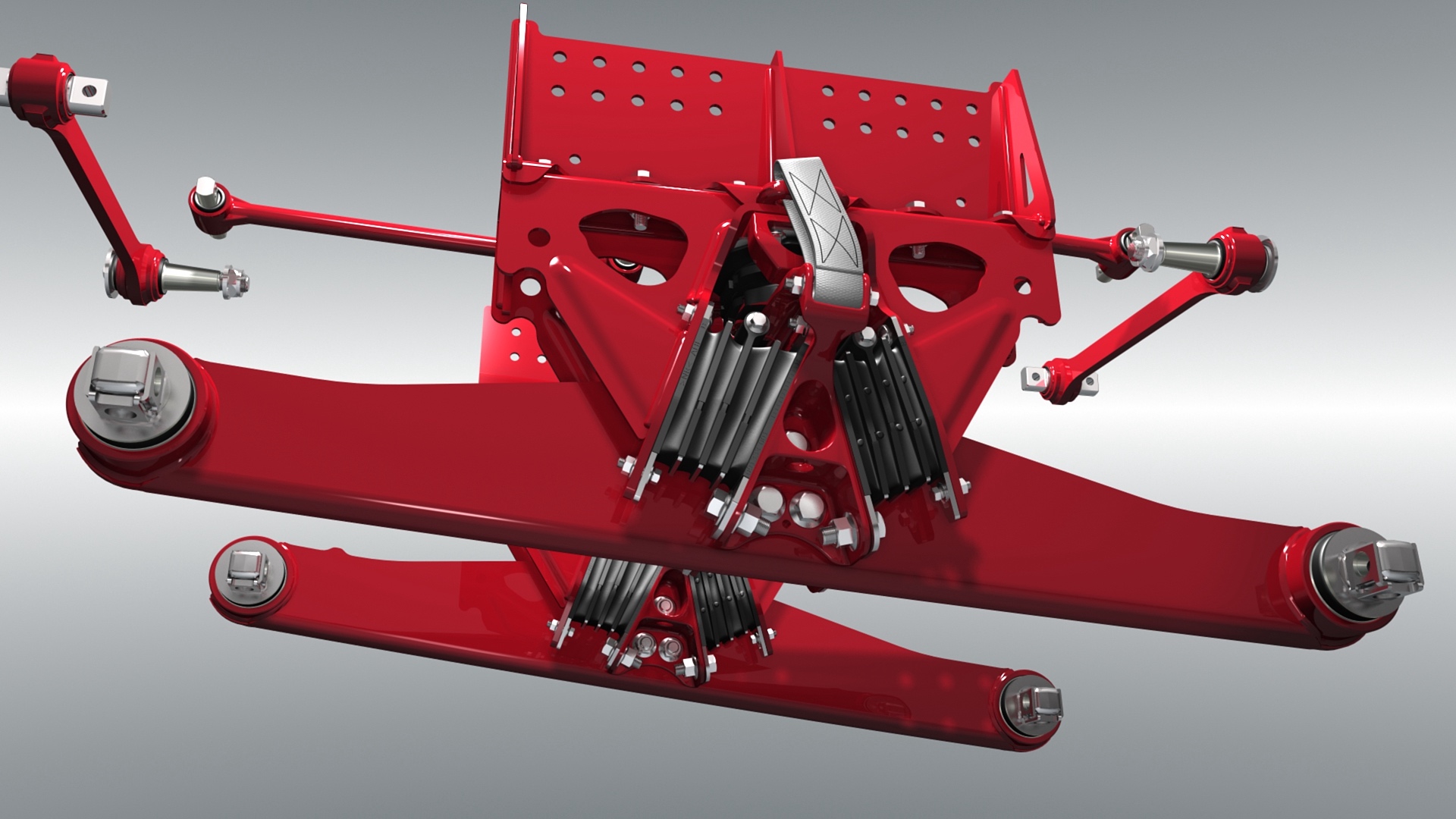 ---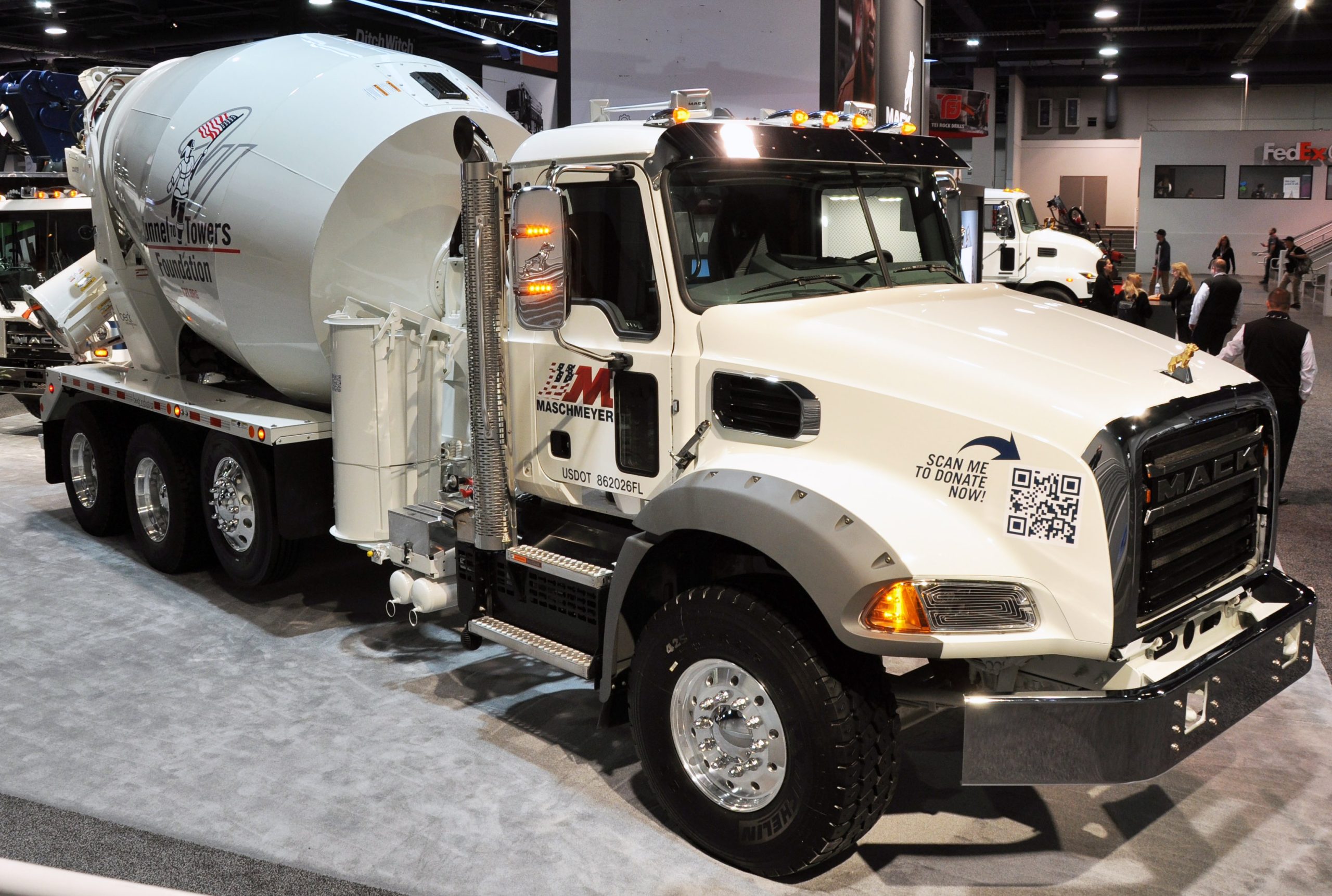 MACK TRUCKS | GRANITE UPDATES
Granite models at World of Concrete and ConExpo-Con/Agg featured a new, more modern fascia with an updated chrome grille, plus self-heating LED headlamps offering brighter illumination, along with forward and peripheral visibility improvements upward of 30 percent and 50 percent, respectively.
"Our brand is focused on building reliable, safe and comfortable products that help businesses maximize productivity," says Mack Trucks North America President Jonathan Randall. "The Granite refresh is an evolution of that DNA. The updated fascia not only looks great, but it also helps make the Granite safer to operate in a myriad of conditions and reduces strain on the operator."
New grille and air intake designs modernize the look of the Granite, and the choice of two grille treatments offers owners another way to customize their vehicles. The standard grille features blacked-out cross bars surrounding the chrome Mack badge, the optional grille all chrome. Self-heating LED headlights round out the updates and add to the suite of Granite series safety features. Integrated heating elements automatically sense the ambient temperature and turn on to keep ice and snow from building up in colder environments; an anti-fog coating prevents condensation in warmer, humid environments to improve visibility. The LED technology is engineered to fully illuminate the road and jobsite, including areas along the driver and passenger sides, enabling operators to detect objects sooner and reducing eye fatigue.
Safety is also improved through new, integrated amber daytime running lights that double as turn signals, making the truck more visible to oncoming traffic and on the jobsite. The LED headlights are designed to be long-lasting through their high-impact polycarbonate lenses with additional hard coating protection to prevent cracking, scratching or damage to the headlight from road or jobsite debris. In the event of damage, the headlight assemblies are designed to be easily replaced and are also backwards compatible with earlier truck models if current Granite owners choose to upgrade. — Mack Trucks North America, Greensboro, N.C., www.macktrucks.com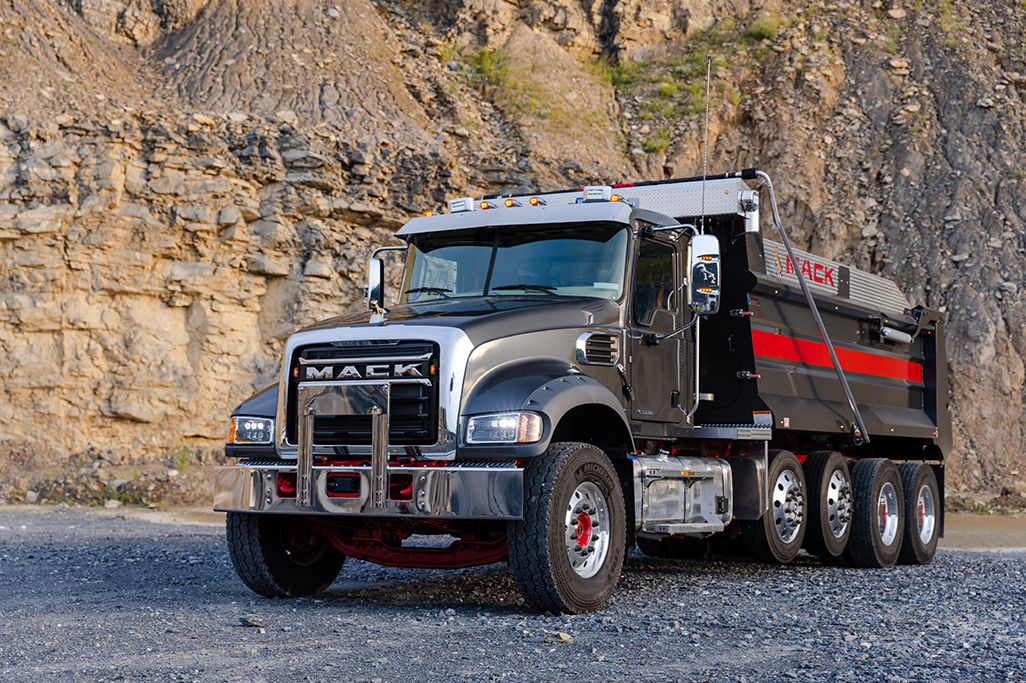 ---
PETERBILT MOTORS | PLATFORM SCIENCES' VIRTUAL VEHICLE
The manufacturer plans to develop an ecosystem of connected products for its heavy- and medium-duty vehicles. The initiative will be under the umbrella of a recently finalized cooperation agreement between Platform Science Inc. and parent company Paccar Inc. New services will leverage Platform Science's Virtual Vehicle program, which enables customers to access fleet management functionality, ELD capabilities, truck-specific navigation and third-party applications directly from their vehicles. Peterbilt envisions an industry-leading ecosystem and taking its connectivity services to the next level.
"Today's customers demand the highest level of uptime and complete integration with their existing fleet management solution," says Peterbilt General Manager Jason Skoog. "SmartLINQ and the Paccar Solutions portal have provided a solid foundation to build this next-generation solution."
"With Virtual Vehicle, truck buyers can eliminate barriers to innovation, production, and safety and customize in-cab experiences with technology solutions that best meet their needs," adds Platform Science Co-Founder and CEO Jack Kennedy. "For more than 80 years, Peterbilt has built world-class vehicles that maximize safety, performance and uptime, combining innovative technology with enduring craftmanship. We are proud to collaborate with their team to integrate the Virtual Vehicle platform into their trucks and deliver the most cutting-edge truck technology to meet their customers' every need."
The Platform Science ecosystem will eventually allow for third-party apps to be downloaded and managed remotely or directly on the truck interface, eliminating the need for costly and time-consuming after-market hardware wiring and installation. "The new services will leverage the existing connectivity solutions of our heavy- and medium-duty truck platforms," notes Paccar Senior Director, Global Connected Services Bart Lore. "Thanks to the new app ecosystem, Peterbilt vehicles will take a quantum leap integration to existing fleet management solutions." — Peterbilt Motors Co., Denton, Texas, www.peterbilt.com; Platform Science, San Diego, 844/475-8724; www.platformscience.com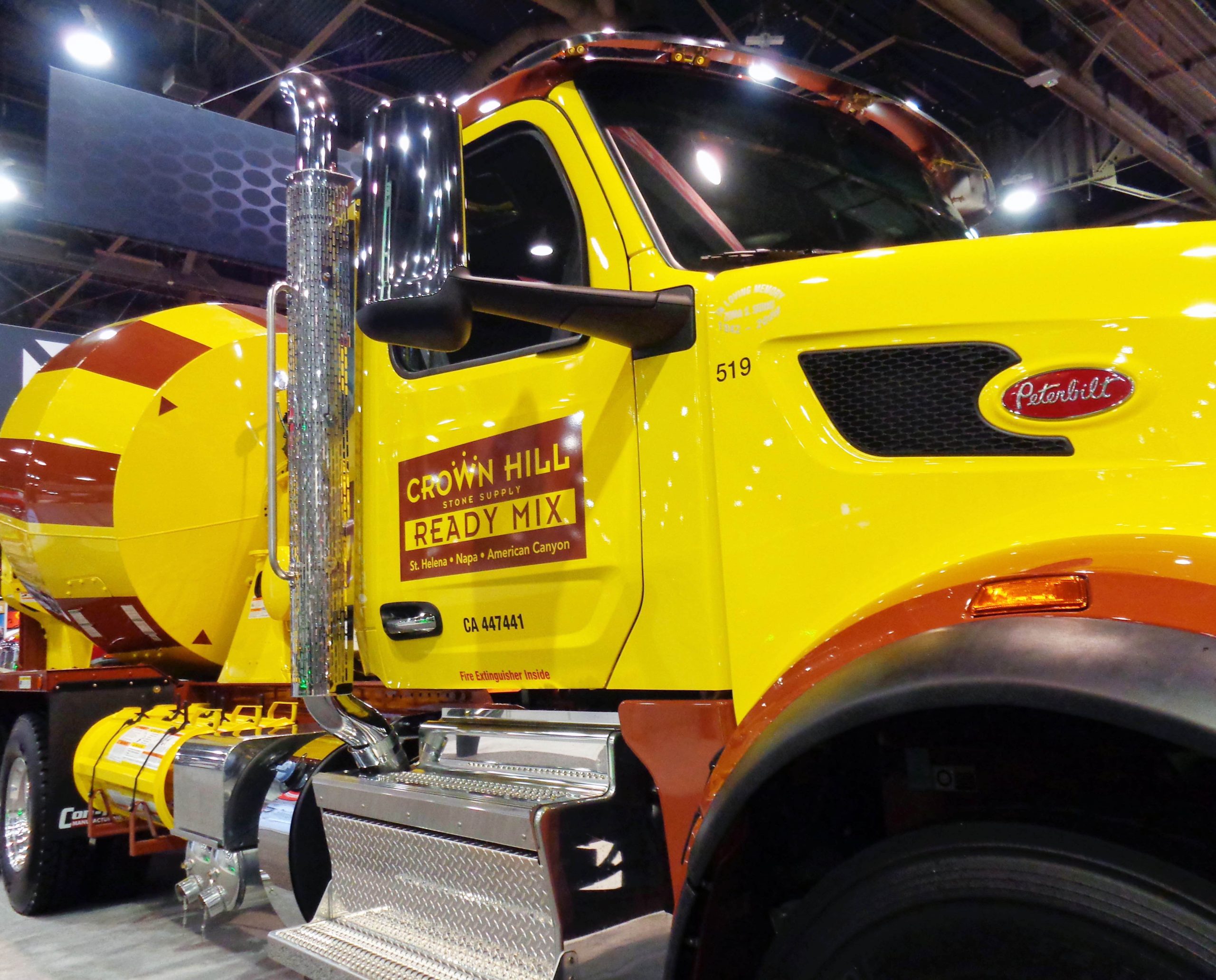 ---

BAY AREA'S BAUMAN LANDS MILESTONE CEMEN TECH MACHINE
Cemen Tech opened 2023 with production of its 5,000th volumetric concrete mixer, a Peterbilt 567-mounted C Series model delivered to San Francisco-based Bauman Landscape and Construction, following a Las Vegas stop for World of Concrete 2023.
"This is a true testament to the growing use of volumetric concrete mixers and how much value they add to a construction business," says Cemen Tech CEO Connor Deering. "For decades we have held a reputation for building accurate, durable, long-lasting volumetric concrete mixers and forming enduring relationships."
The C Series is the top selling fully automated volumetric concrete mixer in the world, he adds, allowing jobs to be batched, measured, mixed, poured, recorded and analyzed all in one unit. Each model is equipped with an electronic touch interface for a fully automated concrete production solution—repeatable with precision. — Cemen Tech, Indianola, Iowa, www.cementech.com/c-series/
The Mini-Mix MM300 combines a Viatec SmartPTO power unit and International eMV Series electric chassis. The mixer is equipped with a 7.5-gal. non-pressurized water tank; 7-gpm electric water pump; and, PMP 121.6.1 planetary drum drive. A rear panel harbors barrel charge, discharge, speed and emergency stop controls; charge hopper flip and retreat; and, main chute.
---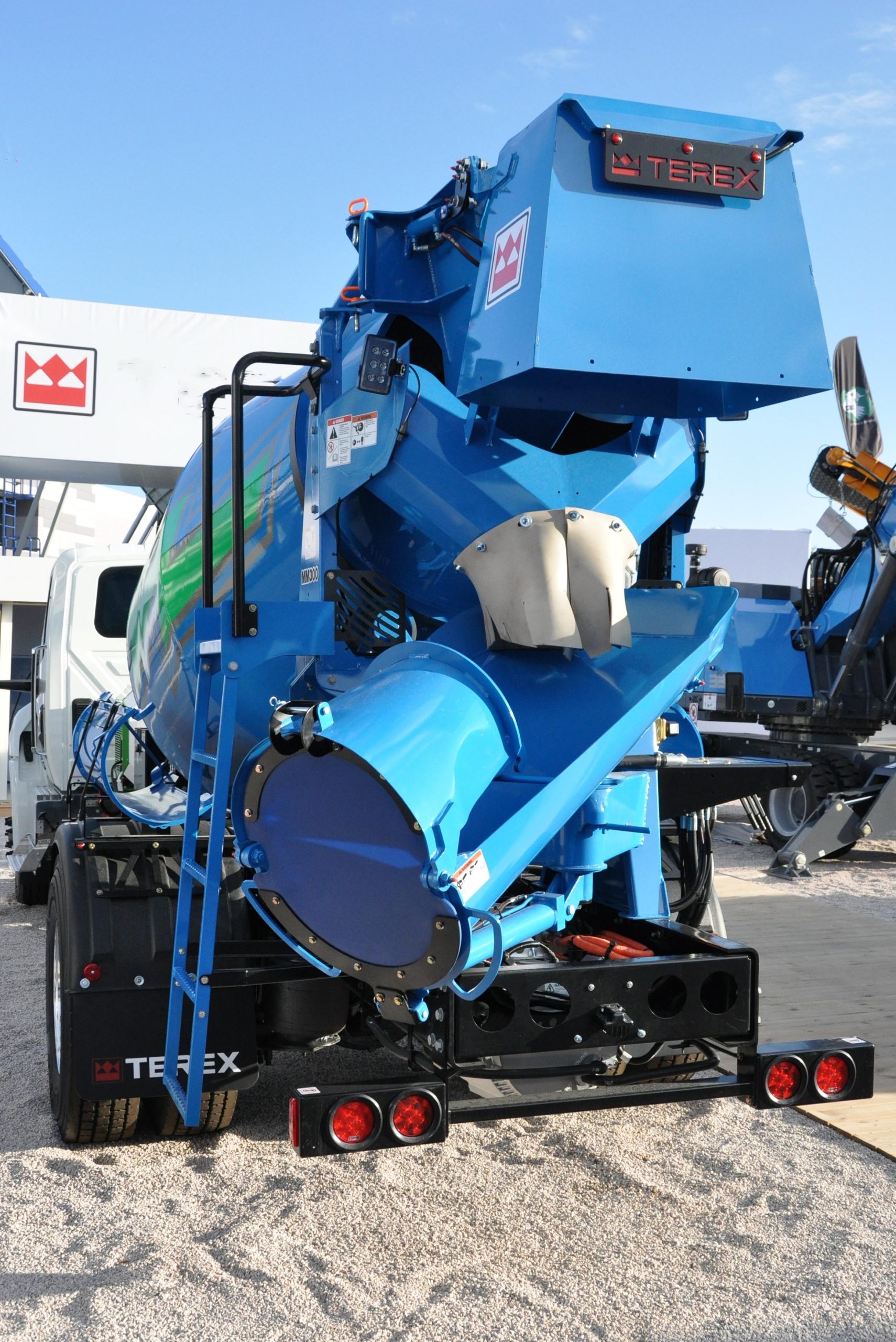 TEREX ADVANCE • INTERNATIONAL | ELECTRIC MINI-MIX
The mixer truck Terex Corp dispatched to its sprawling Las Vegas Convention Center Silver Lot exhibit was not quite the four- to seven-axle, front discharge model customers have come to expect for a ConExpo-Con/Agg production. Those visiting the manufacturer this year saw the premier of the all-electric Terex Advance Mini-Mix model, geared especially for short loads and space-constrained sites or conditions.
"This is our foray into zero-emission concrete mixer trucks as we strive to reduce our carbon footprint and provide highly efficient delivery trucks to support the growing needs of our expanding customer base. Not only does our electric mini mixer produce zero carbon emissions, but it also operates at a very low noise level," says Terex Advance General Manager Dave Grabner. "As configured on a 33,000-lb. GVWR International eMV, the barrel carrying capacity is 3 cubic yards. Coupled with the Viatec SmartPTO, this provides an approximate 135-mile range and up to two pour cycles between charges."
"Navistar is committed to a zero-emission future, and we proudly support Terex in their leadership of electric vehicle adoption," adds Navistar Vice President, Medium Duty Truck Business Debbie Shust. "This partnership demonstrates the success of collaboration and technology integration in the vocational space to provide an electric concrete mixer that offers customers the performance they need while they work to meet their own sustainability goals." — Terex Advance, Ft. Wayne, Ind., www.terex.com/advance; Navistar Inc., Lisle, Ill., www.internationaltrucks.com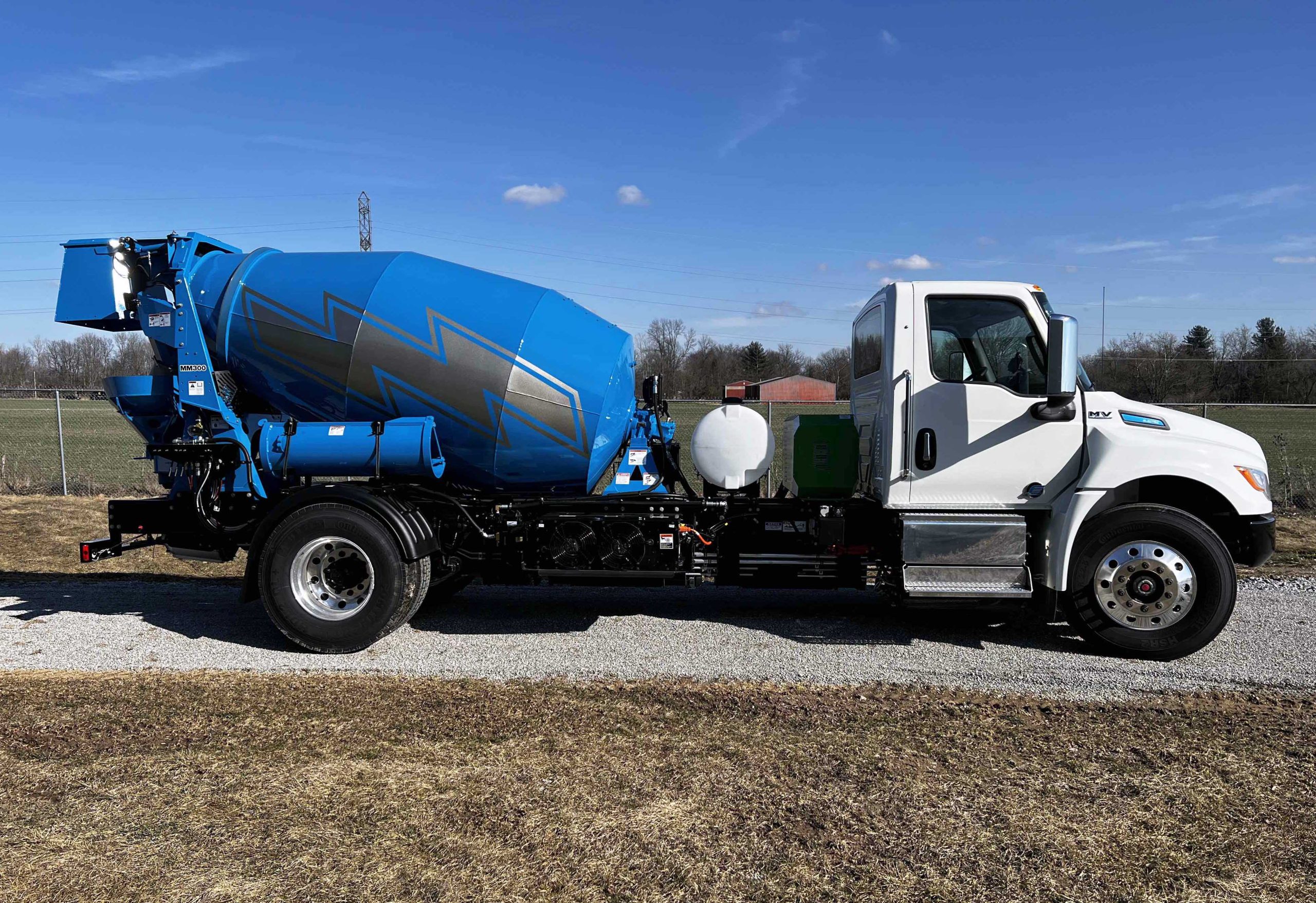 ---
NAVISTAR INTERNATIONAL | S13 INTEGRATED POWERTRAIN
The International S13 topped all ConExpo-Con/Agg 2023 equipment introductions for mixer, dump, tanker and day cab tractor-trailer operators. Navistar International Corp. continued rollout of its S13 Integrated Powertrain program in Las Vegas, unveiling a vocational or on/off-highway companion to the on-highway version that debuted in August 2022 for International LT and RH Series models.
Developed in collaboration with sister Traton Group brands Scania, MAN and VW Bus & Truck, the new powertrain suits International HX Series trucks and, company engineers note, sets a foundation for the next generation of vehicles, technologies and comprehensive ownership solutions. "The S13 is the most advanced powertrain we've ever produced and the lightest vocational powertrain available on the market," says Navistar Vice President, Vocational Truck Business Mark Stasell. "It will benefit vocational customers by achieving stellar performance, simplicity and serviceability, and superior operating economy."
The 13-liter International S13 engine achieves advanced fuel efficiency and performance through a clean burn combustion strategy and a reduction of friction and pumping losses. It is the first Navistar power unit designed with selective catalytic reduction (SCR) as the primary emissions management device. The absence of an exhaust gas recirculation (EGR) cooler allows for nearly 100 percent of exhaust to flow to a fixed geometry turbocharger, equating to more power and improved engine performance. Additionally, the S13 operates on low revolutions and high torque, which equates to fewer fuel injections and less fuel consumption. Since an EGR cooler was eliminated from the combustion process, less soot and particulate matter are generated. The cleaner combustion cycle allows for extended service intervals and eliminates the need for the diesel oxidation catalyst and active regeneration.
"Vocational trucks often spend quite a bit of time idling on a job site, which has historically required more frequent active regens," Stasell observes. "The aftertreatment system of the S13 Integrated Powertrain, combined with the engine combustion strategy, vastly reduces the need for both active and parked regens."
The S13 Powertrain's 14-speed International T14 automated manual uniquely combines low range and six reverse gears through the use of a planetary gear set. Two deep crawler gears and a wide 26.7 overall ratio provide slow-speed maneuverability, exceptional startability and enhanced performance running to and from the job site. The T14's vocational-specific off-road, manual and paver drive modes combine with other on/off-highway vehicle functionalities, such as split-shaft and rocking modes, which break the truck free when stuck.
As part an S13 Integrated platform clean sheet design, T14 shifting logic and integrated software controls maximize efficiency and performance, whereby gear shifting is perfectly matched to engine revolutions. The transmission also uses an electronic clutch actuator with engine-integrated controls to deliver faster, smoother shifting. Multiple spec'ing options are available for various vocational customer applications, including front- or rear-engine power take-off, as well as single and dual output transmission PTOs, all factory-installed at the Navistar Integrated Powertrain Plant in Huntsville, Ala. — Navistar Inc., Lisle, Ill., www.internationaltrucks.com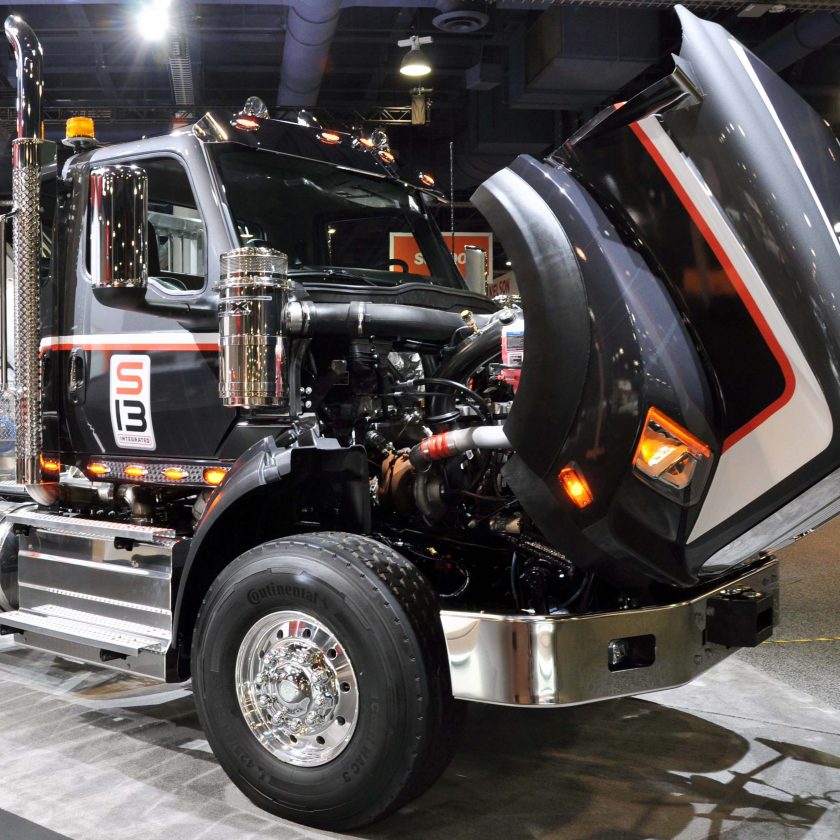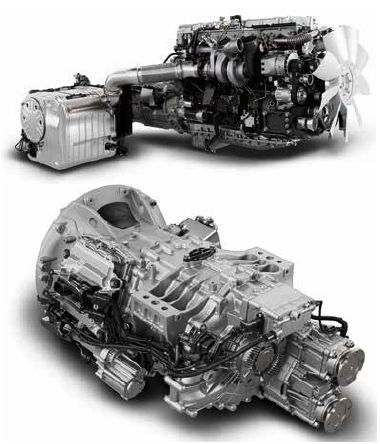 Engineered for the International HX Series, the S13 Integrated Powertrain consists of three distinct components: engine rated at 370-510 hp, T14 automated manual transmission, and single-box aftertreatment system—all designed concurrently to ensure maximized compatibility and integration. The S13 Dual Stage Aftertreatment affords easy access for serviceability, as well as significantly improved emissions control and fuel efficiency. To keep temperatures at an optimal range and extend service intervals, it includes a dual-stage SCR catalyst system in a one-box design. Diesel particulate filter service intervals are extended due to the engine producing less soot.
---
TRAIL KING | SIDE, BOTTOM DUMPS
The manufacturer has updated two of its bestselling material hauling trailers. The tub of Steel Side Dump model affords a fast, stable unloading process, ensuring materials are dumped farther away and eliminating carry back. Main frame I-beams, constructed of one-piece web and flange material, result in a trailer with the rugged strength and durability to stand up to the toughest loads. The abrasion-resistant, two-piece rolled tub is constructed of 6-mm Hardox 450 and fabricated with few weld seams to minimize likelihood of cracking. Engineers have added an extra center tub pivot to provide a smoother dumping process and increased stability, with no wheel hop at the end of the dump cycle while maintaining a 41-deg. body angle. The standard removable drop-in kingpin, greaseless bushings, remote cylinder grease lines and bolt-on parts provide ease of maintenance. The new tub geometry drastically increases tub-to-truck clearance when dumping, improves cycle stability and provides better rear-view visibility and component protection.
The Trail King Bottom Dump is engineered to be lighter than ever before, yet rugged and strong. Its lightweight cross-bracing and gusset design minimizes the twisting and flexing in critical stress areas while delivering maximum weight savings. A spherical full oscillating fifth wheel plate with chrome bushed design reduces trailer stress and extends tractor and frame service life. Bolt-on parts including the windrow deflector, fender backets and light boxes ease maintenance.
The addition of a 60-gal. air reservoir equals faster operation and more capacity for the gate. The large 11.5-ft. clam with overlapping knife edge ensures full closure of the gate. Continuous hopper slopes with a 54- x 99-in. hopper opening deliver complete dumping and reduce areas of material build up. The heavy-duty gate stop increases productivity and output with fast cycle times, recently modified limit setting, and six adjustable locations. The sloped top rail allows material to shed, reducing areas of buildup and lowering corrosion potential. The one-piece unitized hopper and frame design ensure thorough cleanout. — Trail King Industries Inc., Mitchell, S.D., 800/843-3324; www.trailking.com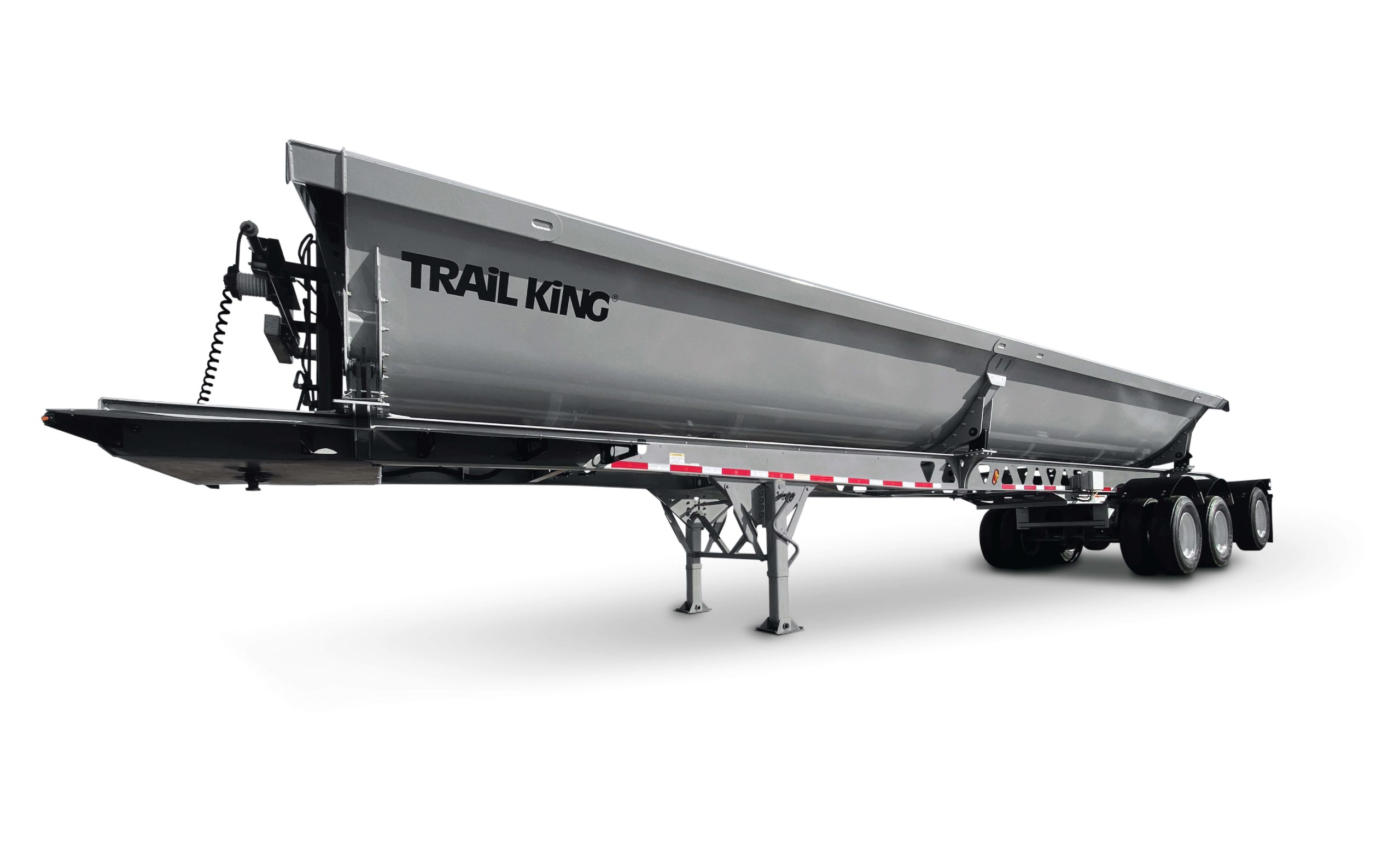 ---
CVSA ROADCHECK-READY CARGO SECUREMENT
J.J. Keller & Associates recently expanded its line of cargo securement devices with additional namesake straps and Doleco devices, including tow and recovery straps. The expansion dovetailed this month's Commercial Vehicle Safety Alliance Roadcheck, whose focus areas include cargo securement. During Roadcheck 2022, CVSA officials logged 1,935 violations related to cargo securement, or just over 10 percent of the event's out-of-service vehicle violations.
"Our expanded selection of cargo securement straps and supplies will allow us to keep costs lower for customers and better ensure supplies are available when they need them," says J.J. Keller Senior Portfolio Leader Kevin Kucksdorf. "Our goal is to provide an unmatched product range along with the best customer service in the industry."— J.J. Keller & Associates Inc., Neenah, Wis., www.jjkeller.com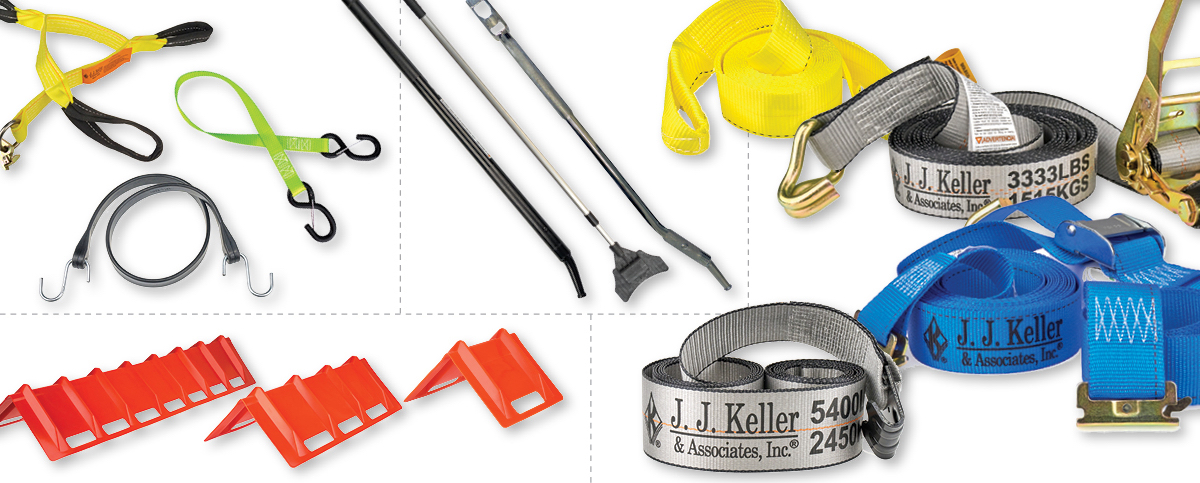 ---
ERNEST INDUSTRIES • ISUZU MOTORS | SHORTSTOP 2 mixer
Ernest Industries teamed with Isuzu Motors America for a ConExpo-Con/Agg & IFPE debut of the Shortstop 2 Concrete Mixer. Mounted on a Class 5 Isuzu NRR cabover, the 2-yd., 19,000-lb. GVW model is configured for ready mixed producers, concrete contractors or municipalities seeking to economize small load deliveries. The Shortstop 2 has an 8.5- to 9-ft. charge height, with optional extension for loading at a ready mixed plant; 25- x 22-in. charge hopper; 24-in. discharge chute with one fold over for 7-ft. reach; 80-gal. water tank; and, 20-hp gasoline engine powering a hydraulic motor and pump for a 22:1 planetary drum drive. — Ernest Industries, Springfield, Ohio, 937/325-9851; www.ernestindustries.com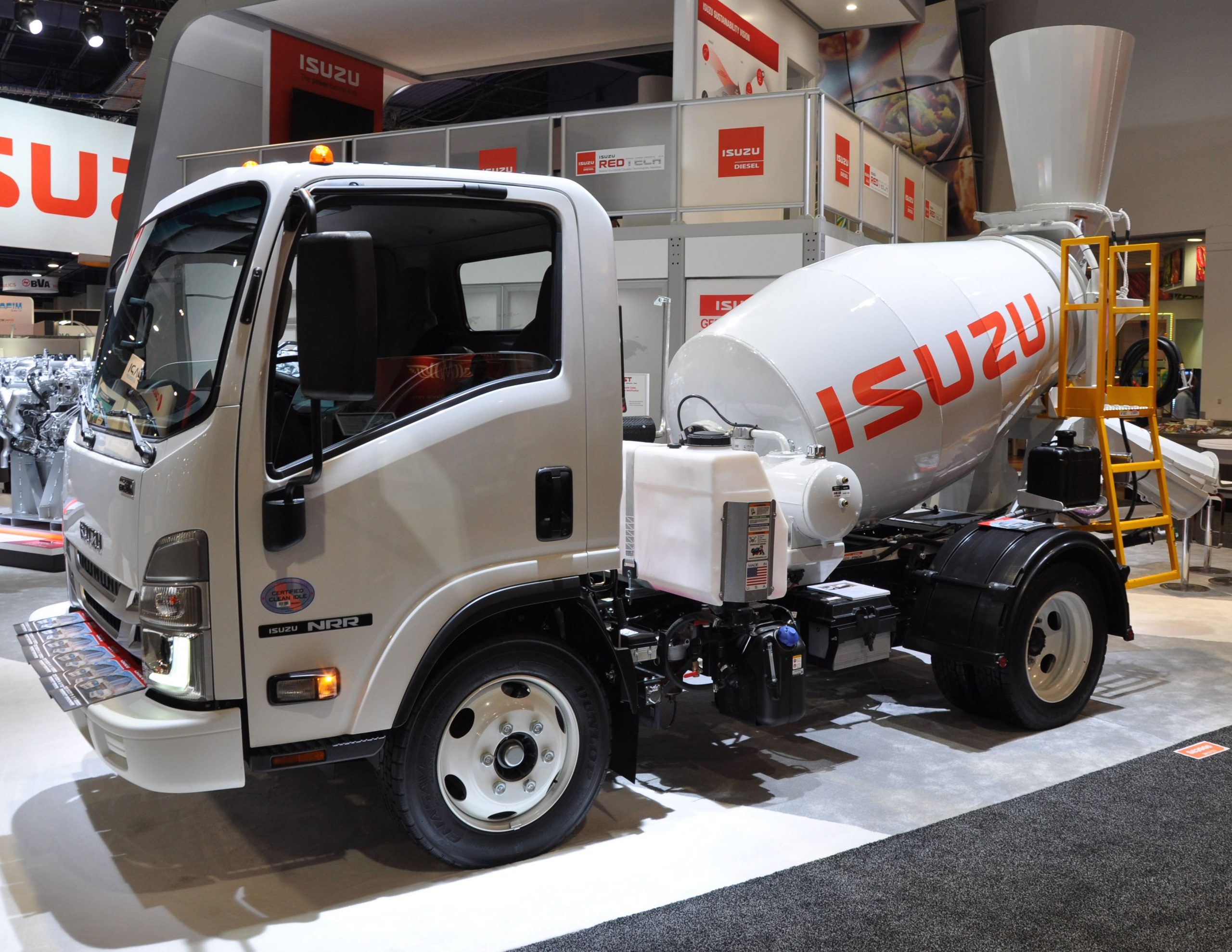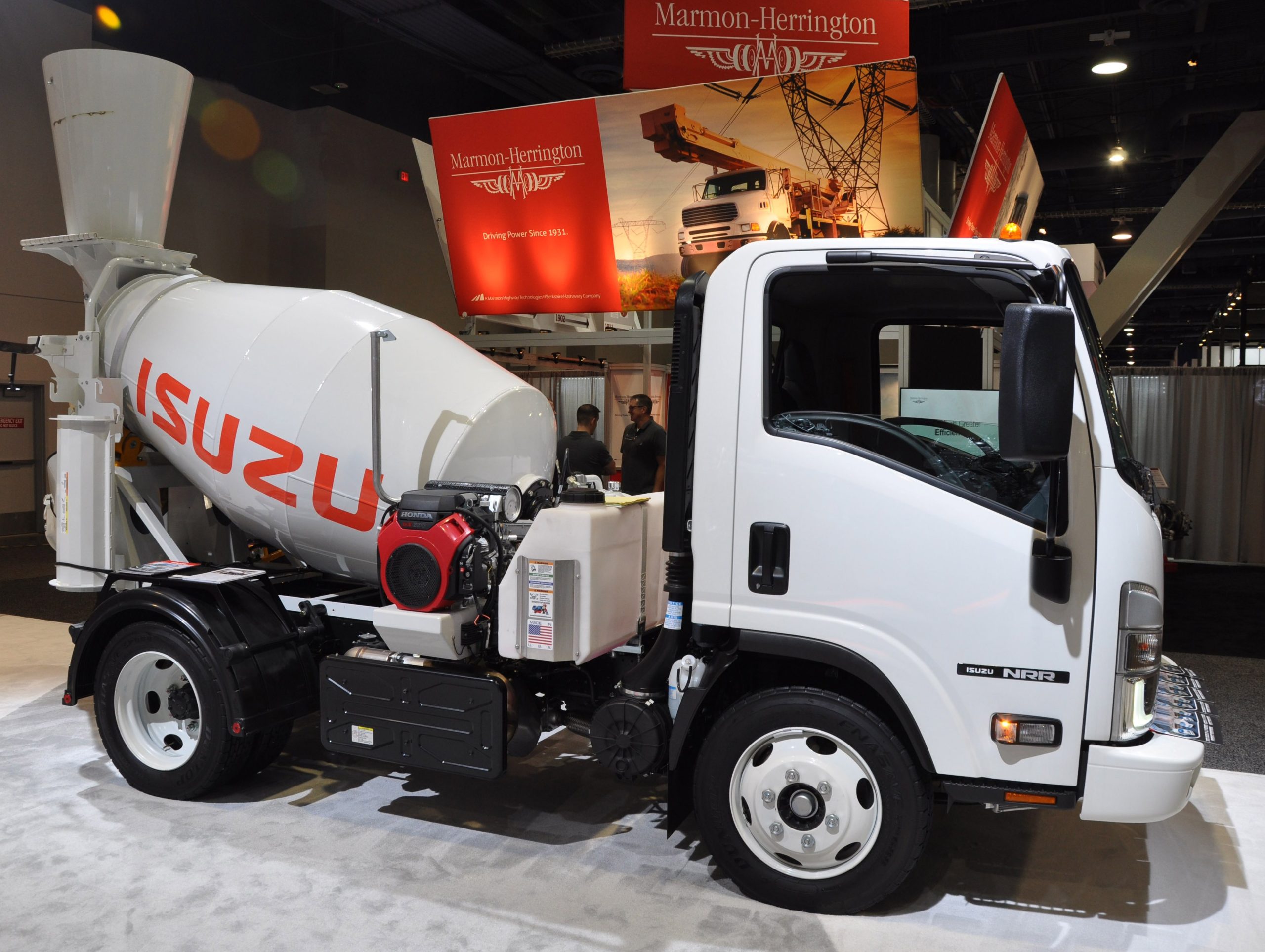 The Isuzu Motors-hosted Ernest Shortstop 2 was the sole road-ready vehicle among booths at International Fluid Power Exposition, ConExpo-Con/Agg's companion event at the Las Vegas Convention Center.
---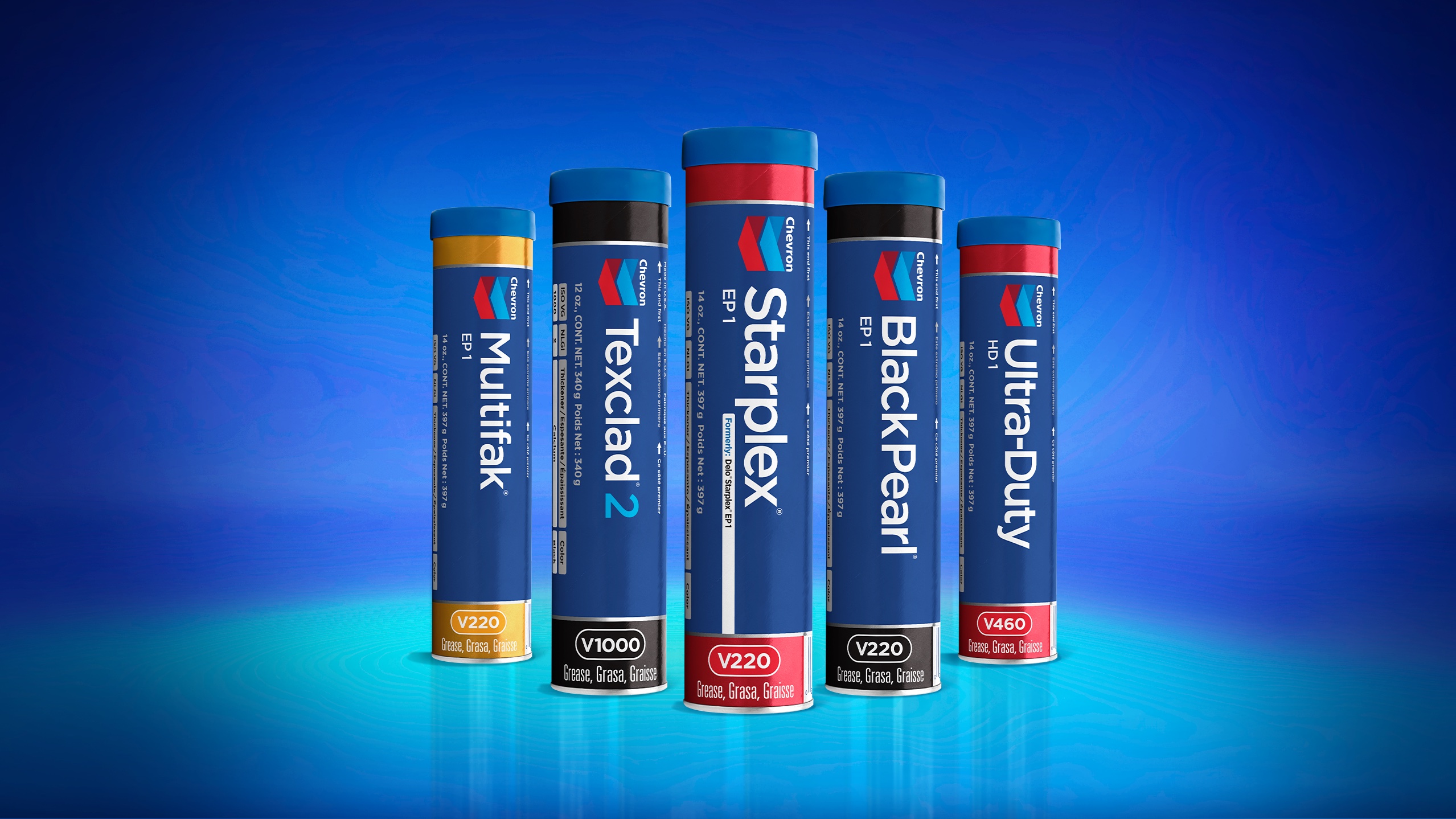 CHEVRON LUBRICANTS | GREASE SERIES
New product line naming and packaging are aimed at making the grease selection process more seamless. To address continuously evolving industry shifts, Chevron grease products will feature new package designs with a simplified naming structure. New packaging also provides key product details and a QR code for easy access to more information, helping customers readily identify the right product based on their needs. The restructured grease portfolio categorizes products by different thickening agents:
Simple Lithium, including Multifak and Ultra-Duty, heavy-duty multi-purpose greases for extreme-pressure applications;
Lithium Complex, featuring Starplex grease, good for extra-duty, heavy-duty and extreme pressure applications;
Polyurea, including the Black Pearl product line, for filled-for-life and high-speed motor applications; and,
Specialty, including premium Texclad grease, an extra-duty product for sprayable applications.
"By reinvigorating our line of grease products, we believe it will be easier for customers to understand our product portfolio," says Chevron Lubricants Industrial & Services Sector Specialist Zach Sutton. "Long term, we believe having a diverse portfolio across thickener types will meet the needs of our customers for all of their applications, both now and in the future."
Overall, the company's portfolio of greases will be streamlined to simplify the product selection process. Chevron plans to add a Rykon-branded Calcium Sulfonate Complex category later this year, with a focus on increasing equipment longevity, extended lubrication intervals, and reducing the total consumption needed to keep an operation up and running. — Chevron Lubricants, San Ramon, Calif., www.chevronlubricants.com
---
DRAGON PRODUCTS | RANCO STORAGE SILO
Ranco Trailer dealer Dragon Products arrived at ConExpo-Con/Agg with a customized SP 55-4100 Guppy Bottom Dump, splashed with horizontal cement storage nomenclature. The 23,500-lb. trailer is equipped with a 20-in. aluminum cast pressure cover, six hopper bottoms, plus one 5-in. discharge and two 4-in. blow down lines. Equal to 4,100 ft.3 of cement storage, the 54-ft., single-axle vessel also features canvas pad aerators and electric or diesel blowers. — Dragon Products, Beaumont, Texas, 800/231-8198; www.dragonproductsltd.com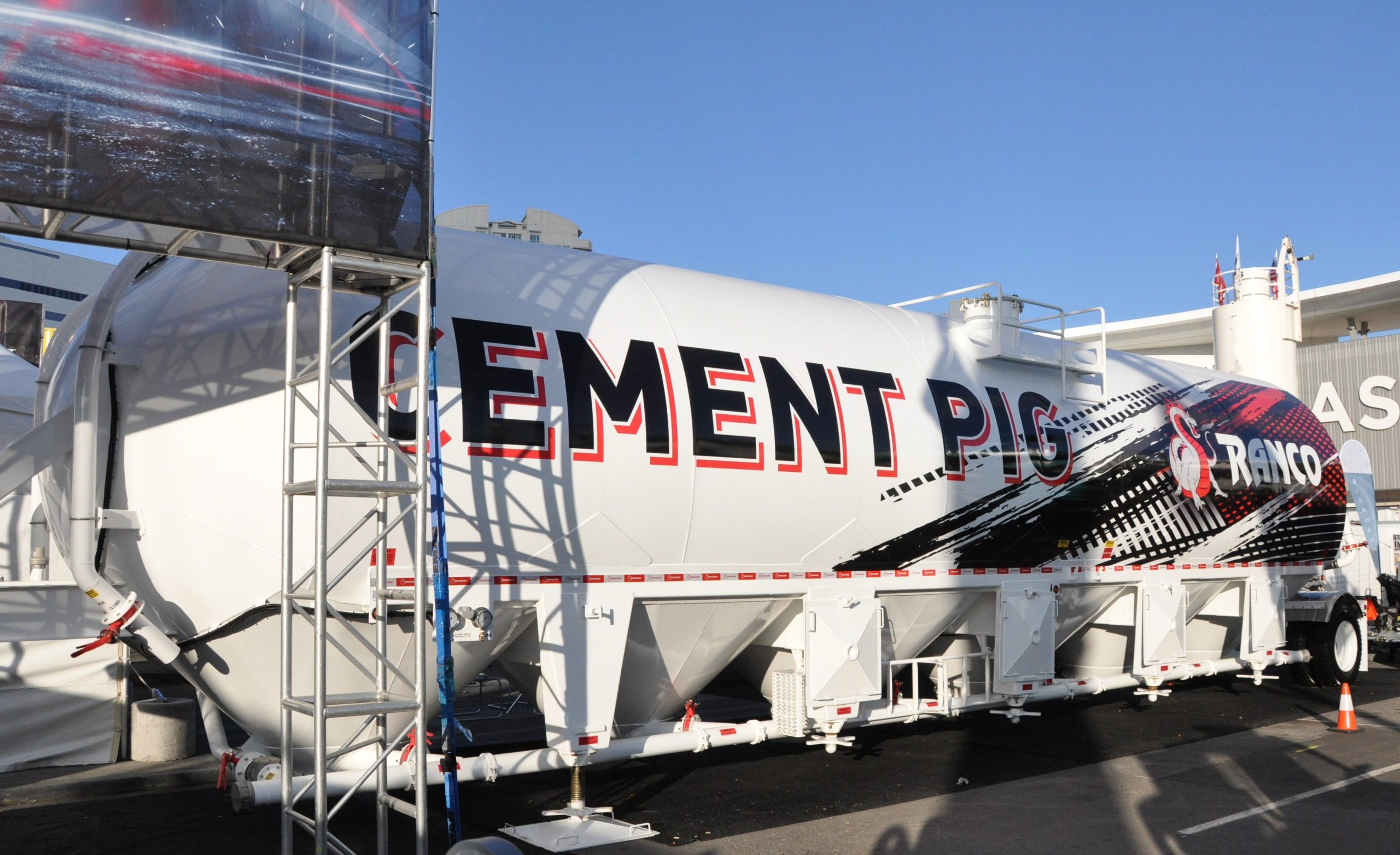 ---