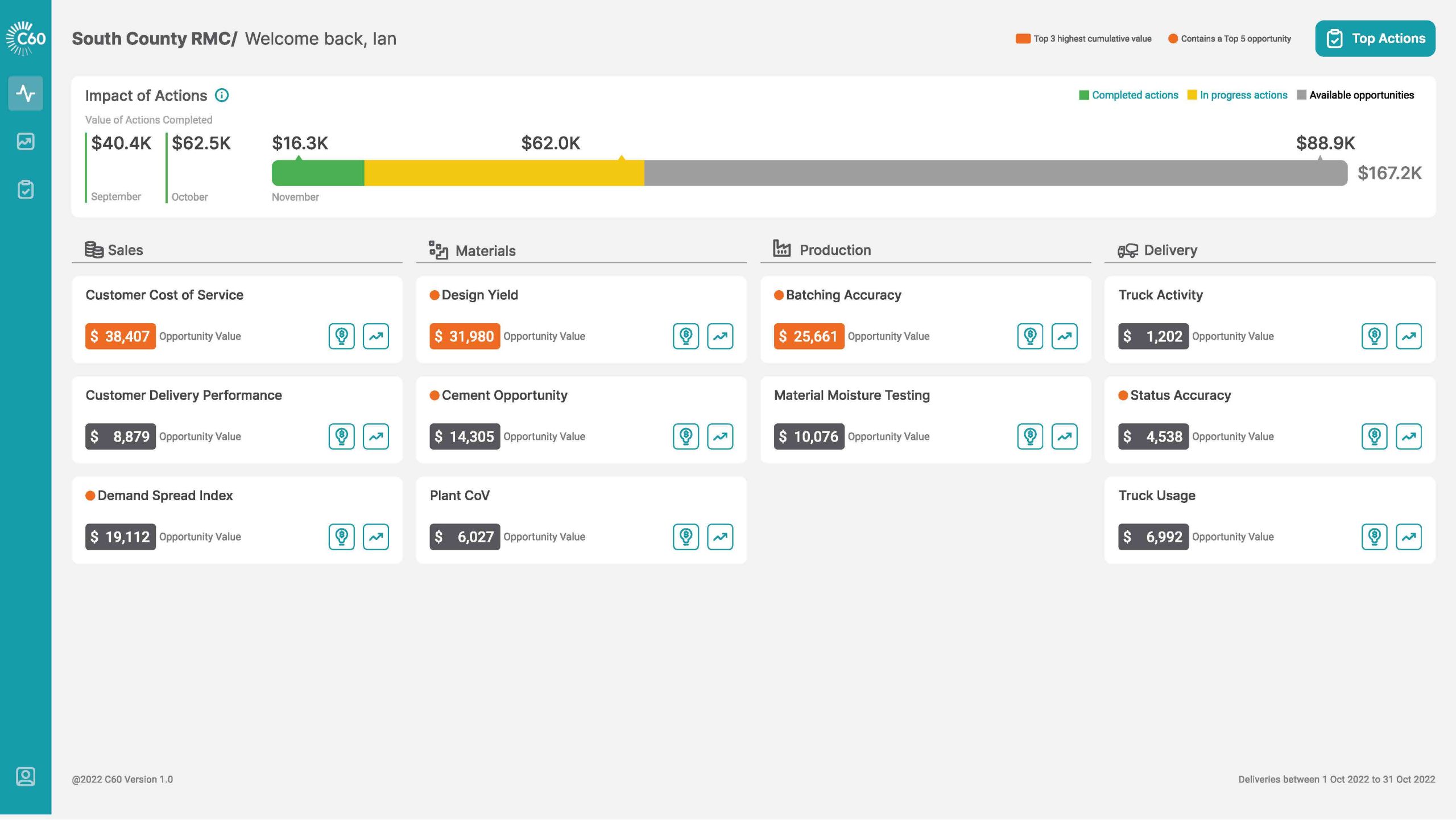 The pressure is on for concrete producers. Demand is high, especially with the passing of the U.S. Infrastructure Investment and Jobs Act, but the market is more challenging than ever.
Construction costs rose 14.1 percent year over year by the end of 2022, according to CBRE's Construction Cost Index. Recruiting skilled labor continues to be difficult as many industry veterans reach retirement age and fewer young people enter the industry. Additionally, stricter regulations for carbon dioxide emissions associated with concrete production, acquisition and use loom as the White House looks to reduce America's carbon footprint. These pressures, compounded by increasing demand, mean concrete producers need to streamline every aspect of their business. There's no room for unnecessary spending, material waste or business inefficiency.
WHY IS IT COMPLICATED?
According to Ernst & Young, 98 percent of engineering and construction companies agree that digital solutions are critical to the future viability of their company. This shows that traditional levers to productivity have been exhausted and ready-mix producers must turn to digital as the answer.
The answer to next-level profitability improvement lies in data and digital solutions. New trends in concrete technology like the C60 Opportunity Platform (C60) allow leadership at concrete producers of all sizes to gain a holistic view of company operations to determine the most valuable ways to optimize business performance. The software leverages data from telematics and sensors to track metrics that allow producers to use up-to-date data to make informed business decisions. These dollar-quantified insights include specific improvement actions in areas such as batching, quality control, delivery and cost of service.
The result is more than 50 million cubes of ready-mix volume could be impacted and $1 to $5 or more in potential savings opportunities per cube. These cost efficiencies were translated into algorithms in C60 that can be leveraged by ready-mix producers.
OPTIMIZING A READY-MIX BUSINESS: CONTINUOUS IMPROVEMENT EXERCISE
C60 reverses the typical, time consuming processes many producers use, freeing up time to act on areas that present opportunities for savings. C60 allows leadership to view performance across all departments in all plants in one minute or less. Data can be measured and tracked to ensure efficiency for the long term. Information is intuitive and easy to follow, allowing producers to instantly review business operations. And, C60 connects to existing, well-known industry systems already serving most concrete producers.
Opportunity to action. By proactively addressing inefficiencies across key areas of a business in real time, owners can identify improvement opportunities that add up to big dollars. When all aspects of business operations—from production to client management—are streamlined, money saved adds up quickly. C60 allows leadership to track those savings.
For example, a ready-mix producer can estimate savings by multiplying their annual production by $1 per cubic yard. Direct savings from using C60 include pricing improvements, fleet optimization and reduced material leakage. Indirect savings include cost avoidance from catching problems before they materialize, optimizing mixes, increasing consistency in operations, improving the customer experience, and reducing time spent in the office building reports.
Sales. C60 pulls information from dispatch, telematics, sales and invoicing software to provide an accurate cost of service for each customer in dollars per yard, allowing them to visualize and sort the client list with graphical tools to determine which clients perform better at each stage of the delivery cycle. This kind of insight allows leaders to make decisions about customer relationships to improve overall profitability.
There are major differences among the service costs of customers, even if those customers purchase similar volumes of concrete. Because tracking and evaluating those costs historically have been difficult, pricing in the ready-mix concrete industry often is driven by volume instead of efficiency. This means producers are susceptible to working for unprofitable clients if they are unable to fully evaluate each client for efficiency in addition to overall purchase volume.
Gaining a clear understanding of clients that are easier to service by booking ahead, starting on time, requiring short travel distances, taking predominately full truckloads, unloading quickly on truck arrival, and taking close to the originally ordered volume can make a significant impact on the bottom line.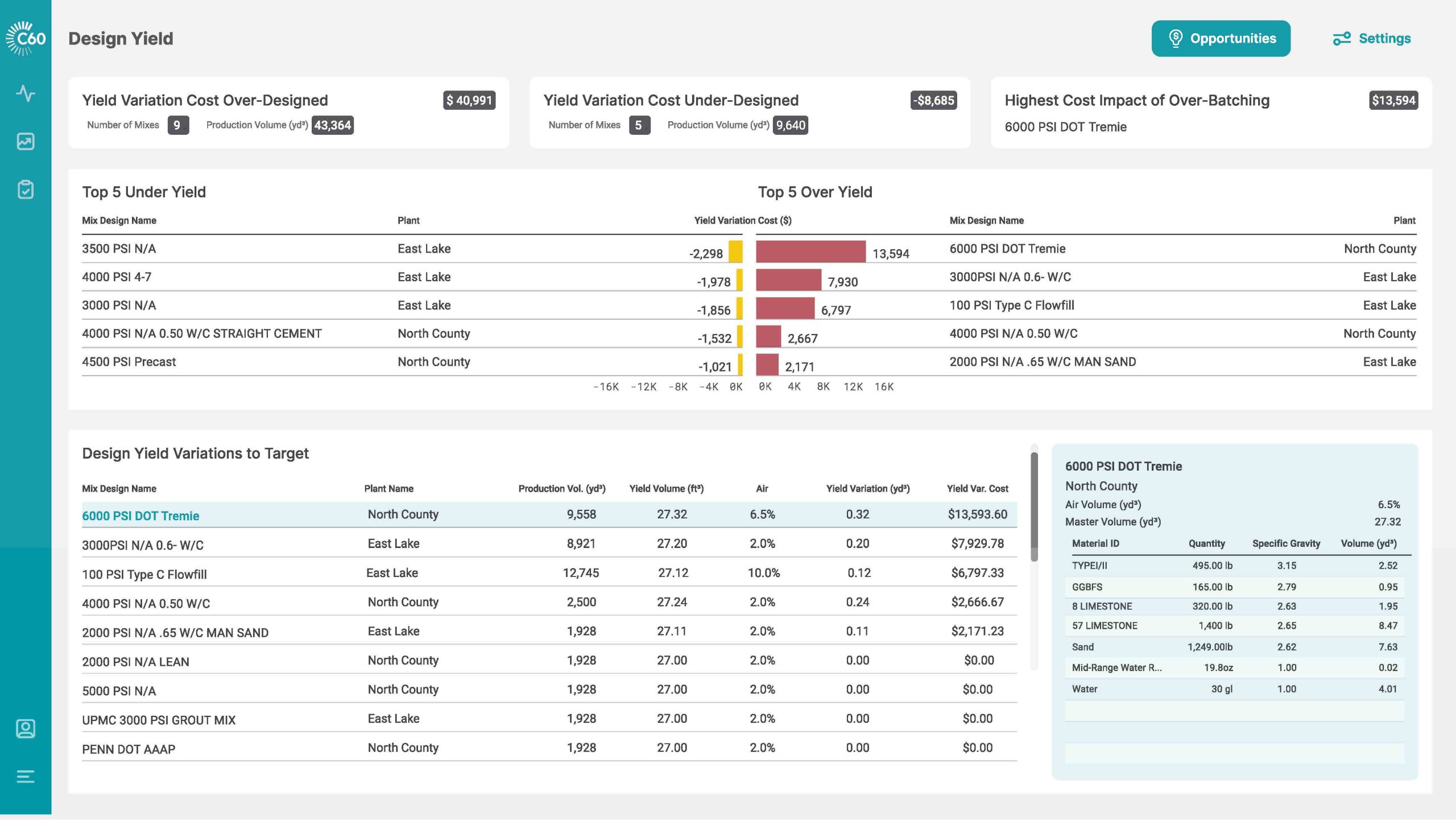 Materials. C60's analytics dashboard continuously reviews mix designs and recipes in conjunction with performance reports to ensure mix designs are accurate. It offers suggestions on how to save cement content and prevent over performing, as inaccurate mixes are the main contributors to profit leakage and the largest line item in a producer's costs. It also identifies potential business liability due to underperforming mixes.
Ready-mix concrete producers can optimize the use of cement to reduce CO2 emissions and reduce the environmental impact of concrete. Efficiencies gained in concrete production can help lower overall carbon emissions. By looking at all aspects of a ready-mix concrete plant, improvements and changes can be identified to help with industry environmental goals of reducing CO2 emissions levels by 2030 and beyond.
Production. Using C60, producers can review all plants at one time to identify problem areas in production. They can dial in on accuracy to ensure plants batch all materials quickly and accurately, taking ongoing effort to monitor and manage batch panel settings and mechanical consistency. The software helps management identify materials with the poorest batch averages and what those losses cost annually to determine which plants have the most batching errors, the highest variability of batching accuracy, the lowest operational capacity and other cost drivers. Users can track individual and overall plant performance by the dollar, percentage or straight numbers, allowing them to make alterations as needed.
For example, one plant may experience over batching on 50 cents per cubic yard or meter. Though that number sounds low, it could add up to $25,000 per year in profit losses. C60 provides trend lines for each plant's production and profitability in ways that are intuitive and easy to understand. A dark red rectangle on the dashboard shows the material and plant causing the biggest problem so managers can take action and find solutions.
Delivery. C60 shows producers how to use assets most effectively. Trucks represent high fixed costs even if they are paid for, including factors like insurance and maintenance. C60 determines whether a producer needs their entire fleet, or if they could optimize operations with fewer vehicles.
For example, producers may think they need 100 trucks to accommodate a peak delivery time for all customers. However, costs associated with the number of trucks required to make peak deliveries for all customers may not be profitable. It may cost producers $500,000 per year in fleet-related outlays to make just a few customers happy. Unless those customers are the most profitable to the producer, it may not make sense to keep extra fleet vehicles on hand to serve the peak delivery time for the entire client portfolio.
C60 quantifies the dollar impact of the demand spread index. It allows producers to make informed decisions on fleet size, which trucks they run and when, and which trucks should service which plants and customers.
By proactively addressing inefficiencies across key areas of a business in real time, owners can identify many improvement opportunities that add up to big dollars. When all aspects of business operations—from production to client management—are streamlined, money saved adds up quickly. C60 allows leadership to track those savings and watch profits increase due to efficiencies gained in various business operations. — C60 sales, 312/404-3438; www.c60.ai