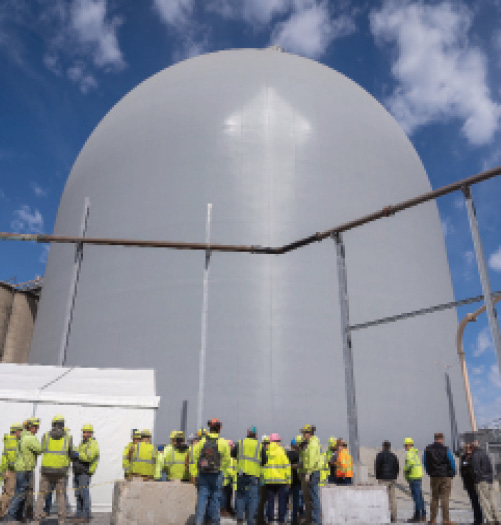 Summit Materials Inc. has officially opened a 125,000-ton storage dome at Missouri subsidiary Continental Cement's Davenport plant, located in Buffalo, Iowa along the Mississippi River. The largest structure of its kind in the North America, the 165-ft. diameter, 171-ft. tall dome will lower costs; substantially reduce the need for winter storage barges; and, support a safer, more efficient operation.
Idaho-based Dome Technology built the structure over a safety incident-free, 18-month window. Crews employed standard dome practice, spraying concrete over rebar bearing on inflatable formwork. Mixes were designed with portland-limestone cement, a lower carbon alternative to clinker-only binder and the grade to which Continental has migrated all finishing capacity at Davenport and its Hannibal, Mo. sister operation. The investment in the project reaffirms a long-term Continental commitment to the State of Iowa, City of Buffalo, (Illinois-Iowa) Quad Cities, and Davenport plant's 100-plus team members.
"We are proud to open the Davenport Cement Storage Dome and celebrate this milestone achievement with our valued customers, suppliers, employees, and community stakeholders," says Summit CEO Anne Noonan. "This dome helps strengthen our enduring and trusted customer relationships in all markets, particularly in Iowa and Missouri, where we have our major production assets. Our use of lower carbon cement both in the construction of the dome and to be stored within the dome exemplifies Summit and Continental Cement's commitment to sustainability and the path to carbon neutrality." Along with the switch to Type IL powder, she adds, Continental is extending carbon management practices at Davenport with a $30 million-plus recycling investment enabling the plant to replace more than 50 percent of fossil fuel powering the kiln with non-hazardous waste.