Sources: Heirloom Carbon Technologies, Brisbane, Calif.; CP staff
San Francisco Bay Area leader Central Concrete Supply has joined partners Heirloom Carbon Technologies and CarbonCure Technologies in a first for ready mixed concrete: Permanent storage of carbon dioxide gas extracted by the Direct Air Capture (DAC) method.
A February 1 demonstration at the Central Concrete San Jose headquarters operation saw CO2 from a pilot DAC assembly at Heirloom's nearby northern California headquarters injected in a reclaimed process water tank piped to the batch plant for a load of ready mixed. The injection triggered calcium carbonate formation/mineralization, assuring permanent storage of the gas in hardened concrete. CarbonCure Technologies developed the process water tank as an extension of the liquified-CO2 injection systems it has proved with more than 100 North American concrete producers during the past decade.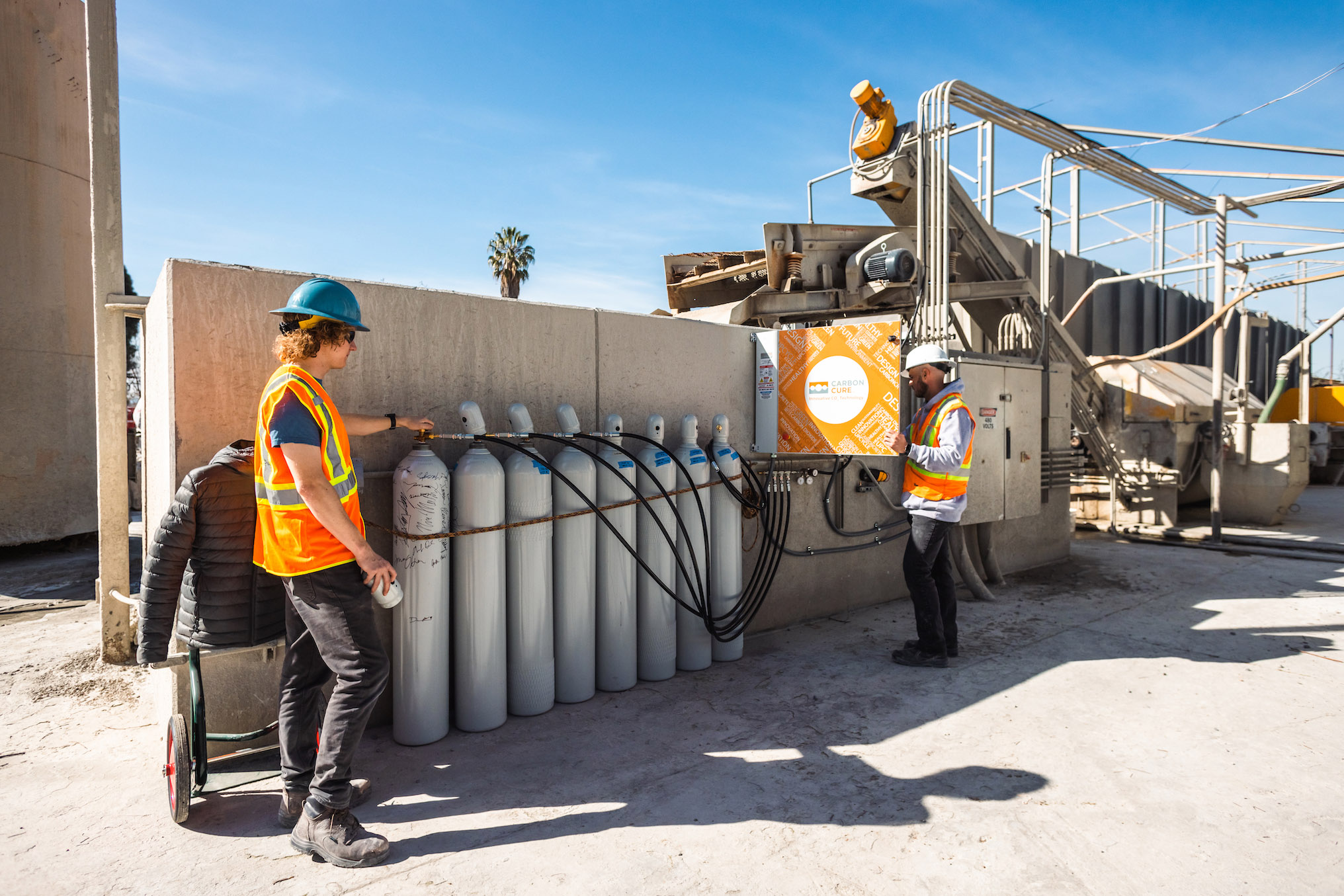 Heirloom cites America's only operational DAC facility. It uses graded limestone to pull CO2 from the air. Harnessing a cyclic process, the limestone is broken down into calcium oxide rock and CO2 gas using heat from a renewable-energy powered, electric kiln. Spread onto vertically stacked trays, the calcium oxide acts like a sponge, pulling CO2 from the air before it is returned to the kiln to repeat the process. The captured compound is then permanently stored underground or, in the case of the San Jose demonstration, a finished slab or structure.
"This project is a global milestone for carbon removal technology that confirms concrete's enormous potential as a climate solution that can permanently store carbon in our most essential infrastructure—from roads and runways to hospitals and housing," says CarbonCure Technologies CEO Robert Niven.
"In order to reach climate goals we must remove billions of tons of already emitted carbon dioxide from the atmosphere each year," adds Heirloom CEO Shashank Samala. "This is an important step toward that future and shows the promise of DAC technologies combined with smart, permanent methods of sequestration."
Related articles
Glenwood Mason Supply taps Big Apple towers' CO2 for CarbonCure process
CarbonCure carbon credit purchase agreement: $30 million over 10 years