Nova Scotia-based CarbonCure Technologies has signed a pioneering carbon credit purchase agreement underpinned by the company's process of mineralizing and storing carbon dioxide in ready mixed or manufactured concrete. Valued at $30 million over a 10-year window, it entails majority and minority funding partners, Invert Inc. of Calgary and Ripple Inc. of Ottawa, providing up front capital in exchange for hundreds of thousands of credits for verifiable CO2 storage.
CarbonCure measures and tracks CO₂ from the point of capture to mineralization, allowing credit buyers to trace precise deployment dates and points of the CO₂ they pay to store. The company closed 2021 noting how North American and overseas operators had delivered 15.5 million yd. of CarbonCure-processed concrete since 2013, equating to 132,000 metric tons of CO2 stored.
Invert is a specialized greenhouse gas emissions reduction and offsetting service provider, Ripple is a developer of blockchain solutions expediting financial transactions. Billed as the largest to date in durable, verifiable CO2 mineralization and storage, their investment will facilitate expanded CarbonCure research and development; rapid scaling of its existing patented technologies across new sites and geographies; and, significant reduction and removal of greenhouse gases from the atmosphere. Carbon credits will continue to emanate from the company's 500-plus CO2 injection and mineralization equipment installations across the globe.
The CarbonCure partnership, says Invert Chairman Mark Zekulin, "Is an investment to catalyze positive change and remove significant amounts of greenhouse gases from the atmosphere. We recognize that long-term removals are critical to achieving the world's net-zero objectives, and Invert is focused on investing meaningfully to support developers and technologies in this space. Concrete offers massive global capacity and an immediate opportunity for permanent storage of captured carbon dioxide to meet the world's climate goals. CarbonCure is uniquely positioned to tap into that capacity with its rapid scale around the world and innovative portfolio of technologies operating now."
"This investment will accelerate active scaling and help us achieve our mission to reach 500 million metric tons of annual CO₂ reduction and removal by 2030—equivalent to removing 100 million cars from the road each year," adds CarbonCure Founder and CEO Robert Niven.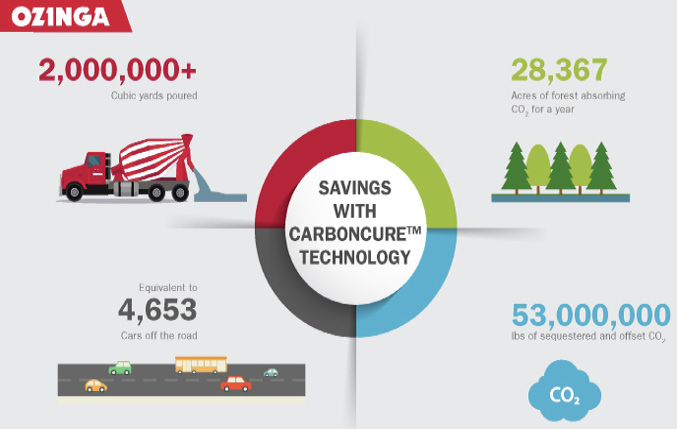 ---
SHOPIFY SUSTAINABILITY FUND FINDS CARBONBUILT CREDITWORTHY
Manufactured-concrete technology developer CarbonBuilt, Los Angeles, has entered into a carbon removal purchase agreement with Shopify Inc., Ottawa-based provider of essential internet infrastructure for commerce. Anchoring the agreement are 5,200 metric tonnes of carbon dioxide that will be sequestered in concrete masonry units molded and finished in plants adopting the CarbonBuilt process. The purchase is supported through the Shopify Sustainability Fund, which contributes $5 million or more annually to support tech-driven entrepreneurs and their solutions to reverse climate change.
"This selection by Shopify, after evaluating hundreds of potential solutions, is a powerful signal for the quality of our technology, team and approach to the market," says CarbonBuilt Head of Product Cindy McLaughlin. "The revenue certainty provided by multiyear contracts like this will accelerate adoption of our technology by concrete manufacturers."
"When we learned how important the carbon credit revenue stream is for driving adoption of CarbonBuilt's technology in this traditionally risk-averse industry, it was clear we had to create a strong demand signal, both to concrete producers and to other credit buyers," adds Shopify Head of Sustainability Stacy Kauk. "This is a technology that needs to scale quickly in order to reverse climate change because of the carbon-intensity of concrete, and we're thrilled to be part of CarbonBuilt's journey."
The patented CarbonBuilt process brings together widely available, low-cost and low-carbon materials, replacing portland cement—a product of energy intensive kilns and grinding mills—with CO2 taken directly from industrial, biomass or direct air capture sources. The CO2 chemically reacts with the mixture and becomes permanently stored in the resulting concrete. Each 30-lb. concrete block made with CarbonBuilt technology stores more than 1/2 lb. (.27 kg) of CO2, while another 2.5 to 3 lbs. (1.1-1.3 kg) of CO2 emissions are avoided because of the reduced use of cement.
"Concrete is one of the few industries that can truly play a significant role in carbon removal," said Chris Neidl, cofounder of Open Air Collective, a volunteer-led network that aims to advance, accelerate and co-invent CO2 removal in the real world. "Combine the chemistry of concrete, which allows it to effectively sequester carbon for millennia, with the sheer volume of concrete produced annually, and you get a gigatonne-sized carbon sink, which we can start filling today thanks to companies like Shopify and CarbonBuilt."