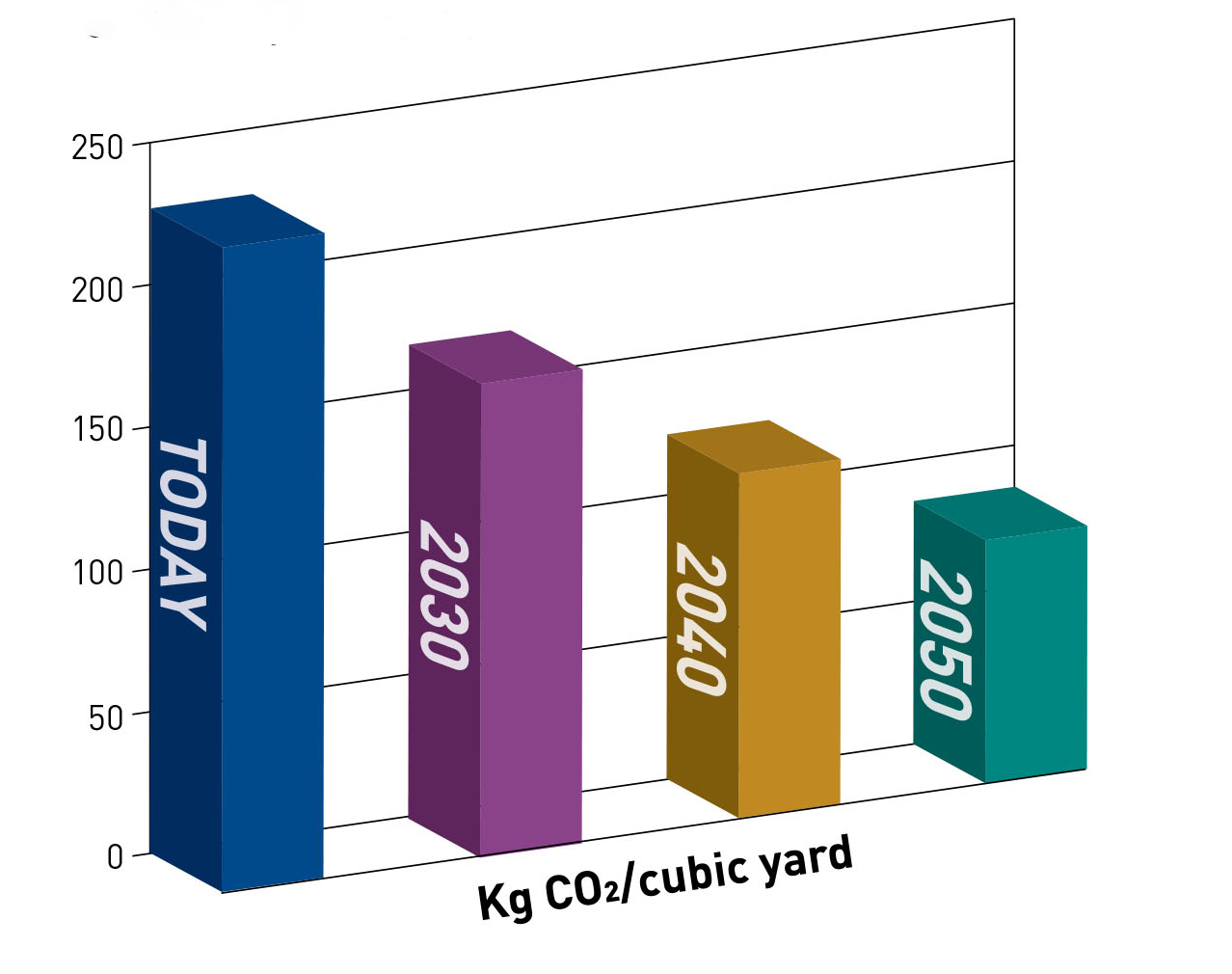 Portland Cement Association members marked the first year of their Roadmap to Carbon Neutrality by 2050 by highlighting key deliverables for public and private construction market stakeholders. Released in October 2021, the Roadmap outlines strategies in a value chain—Clinker, Cement, Concrete, Construction, Carbonation—through which cement producers and their downstream partners can attain carbon neutrality in finished structures or slabs over a three-decade horizon.
"We are creating a built environment that is durable and sustainable," says PCA Chairman Ron Henley (GCC of America). "Through this Roadmap, we are demonstrating that the cement and concrete industry can reduce greenhouse gases and eliminate barriers restricting environmental progress."
Leading Roadmap deliverables to date especially address the first three value chain links: Multiple pilot carbon capture, utilization and storage projects poised to control clinker phase carbon dioxide emissions; securing 44 state transportation authorities' approval of portland-limestone cement, where finished blends of 85-95 percent clinker and 5-15 percent finely graded limestone reduce the concrete binder CO2 emissions factor by 5-15 percent; and, low carbon concrete mix designs' growing acceptance among sustainability-minded public or private project principals.
"We've made progress on a bold yet achievable pathway to carbon neutrality," affirms PCA President and CEO Mike Ireland. "We are creating a win-win scenario to meet demand for durable infrastructure that also has a low carbon footprint, which will result in a more sustainable and resilient world for the next generation."
The industry is pushing innovation and calling on stakeholders for more collaboration, he adds: As legislators and regulators have a role to play in the Roadmap, PCA is working with Congress and federal agencies to maximize Infrastructure Investment and Jobs Act and Inflation Reduction Act funding provisions for technologies the cement industry requires to reduce CO2 emissions. PCA is also advocating for modernization of existing statutes, including the Resource Conservation and Recovery Act, to accelerate the cement and concrete path to carbon neutrality. A comprehensive approach will allow cement producers and their customers to continue aligning with private partners, government, industry and technology leaders on solutions, regulations and policy changes.