Sources: Dodge Construction Network, Hamilton, N.J.; Versatile, Los Altos, Calif.; CP staff
A new report from Dodge Construction Network and Versatile, Silicon Valley construction technology developer, finds that using data-backed measurements and benchmarks is the most effective way to advance site organization efforts for cast-in-place concrete, precast or structural steel work. Such efforts maximize utilization of the crane, an expensive resource functioning as "the heart and metronome of the project, setting the pace for the efficiency and productivity of each site."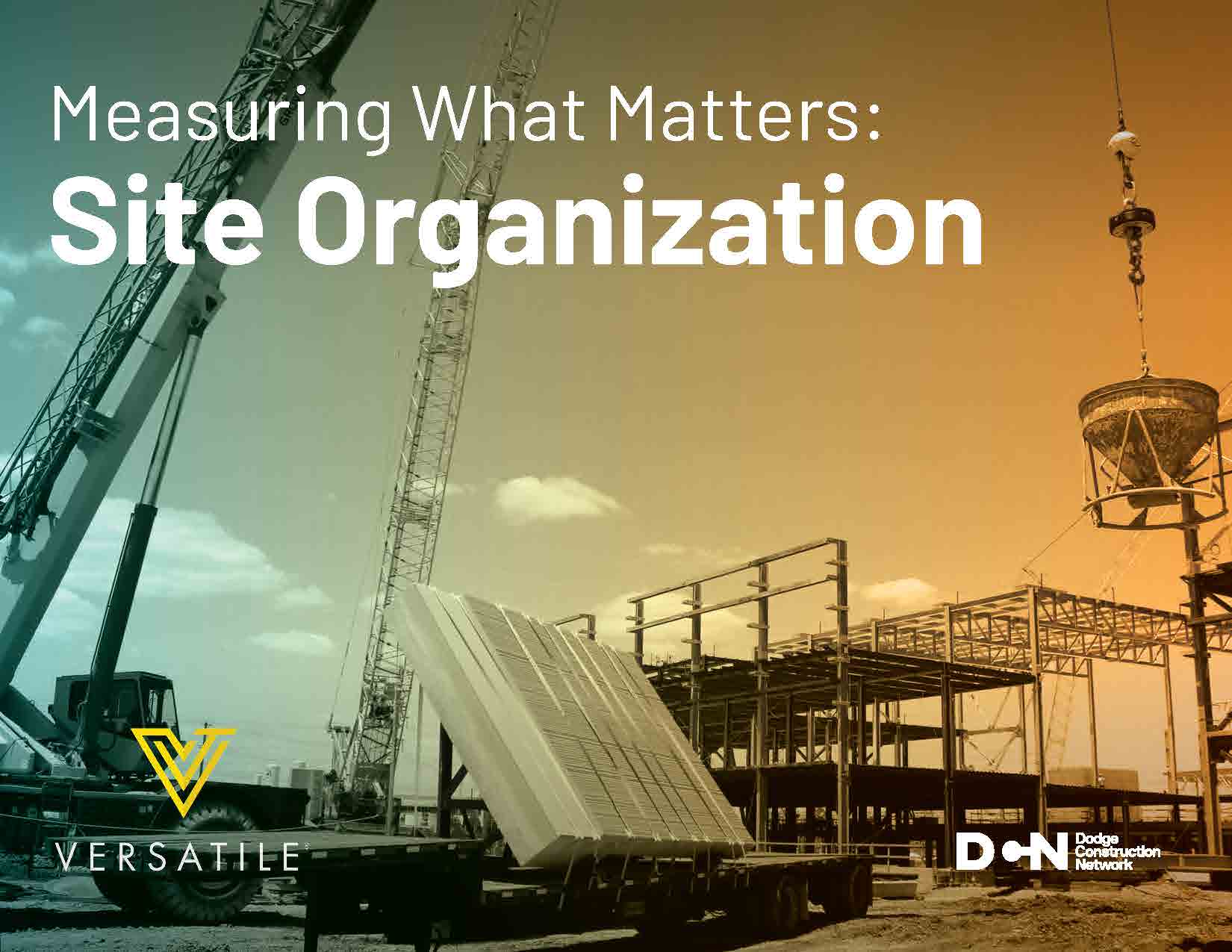 Data informing the "Measuring What Matters: Site Organization" report was gleaned from Versatile's artificial intelligence- and Internet of Things-powered CraneView platform, which captures images from hook-mounted cameras. Authors note how construction type impacts organizational benchmarks:
• On average, 18 percent of the overall crane activity on a cast-in-place concrete project center on site organizational activities, versus 5 percent for precast concrete and 11 percent for structure steel.
• Project teams that organize in advance of a day's work see a significant decrease in crane idle time, up to 50 percent in one instance. Daily picks on another project were increased by 25 percent when at least three loads were organized the day before.
• Batching materials or structural members matters. Setting up the crane for consecutive picks of the same load type and process leads to overall shorter cycle times—20 percent to 30 percent on average across all construction build types.
"Construction professionals are bursting with decades of deep technical knowledge and prowess. Data collection is the key to harnessing that prowess and creating repeatable, actionable insights that can optimize day-to-day execution for job sites," says Versatile CEO Meirav Oren. "Benchmarks highlight a team's natural efficiencies as well as opportunities to hit new performance metrics. This study shows how presenting and using insights from CraneView informs the decision-making process for site organization—offering contractors a unique way to scale and even reduce unplanned overtime."
"A lack of efficient site organization practices can reduce productivity, generate more material wastes, and increase worker safety risks. This report demonstrates that data helps contractors to address those challenges by revealing better strategies for their site planning," adds Dodge Construction Network Industry Insights Research Director Dr. Donna Laquidara-Carr. "Contractors armed with useful and actionable data will be more successful planning and staying ahead of the unexpected."
Related article
Turner Construction embraces crane hook-mounted sensor data capture