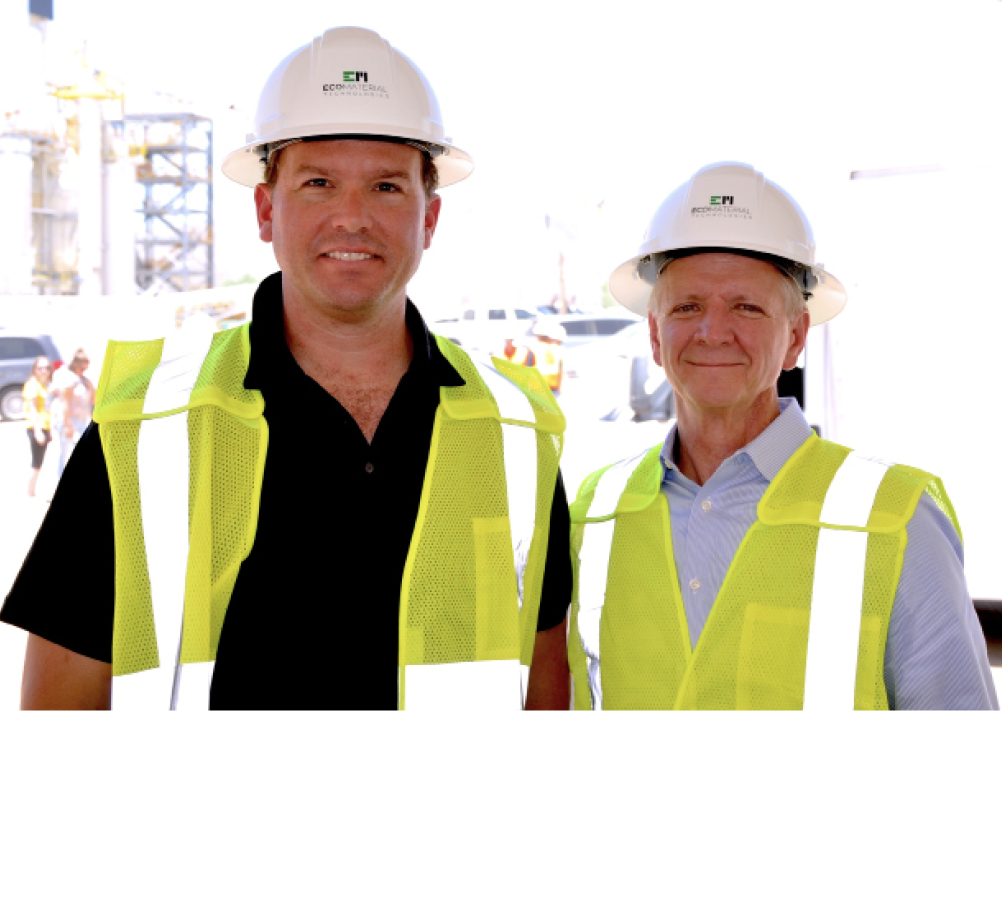 As brand recognition climbs from an early-2022 chartering as Boral Resources and Green Cement Inc. successor, Utah-based Eco Material Technologies remains in a league of its own: Few, if any, cement, supplementary cementitious material (SCM), aggregate or admixture producers match the company in total number of North American ready mixed and manufactured-concrete or heavy/civil contractor accounts, or overall market footprint.
"Eco Material is the best of both worlds as Boral Resources and Green Cement combine the largest distribution network of portland cement alternatives in the U.S. with an innovative, proven technology that increases their environmental and economic value," says CEO Grant Quasha, who maintains a title he held upon July 2021 arrival at Texas-based Green Cement. "The Company is excited to partner with its investors and 1,200 team members on a journey towards decarbonizing the materials industry."
Concrete and cement customers, state or federal environmental regulators, plus electric utilities will see more binder and raw feed development as Eco Material approaches 10 million tons in annual deliveries, up from an average of 7.5 million tons in recent years. To reach that threshold, the company is sourcing—and beneficiating as needed—previously overlooked or rejected coal ash from new or current power plant partner properties; increasing high value SCM production; and, most recently, mining and processing natural pozzolan. Its universe will continue to revolve around material meeting the requirements of ASTM C618, Standard Specification for Coal Fly Ash and Raw or Calcined Natural Pozzolan for Use in Concrete.
Through the first half of the year, Eco Material has pursued bigger objectives than a seamless ownership transition, from Australia's Boral Ltd. to a private investor group with bullish Wall Street backing. A mining industry and investment banking veteran, Quasha tasked his 10-member Boral Resources and Green Cement executive team to secure the core C618 Class F ash marketing and distribution business, then address or seize new opportunities on two fronts: Regulations mandating removal of coal combustion products from legacy impoundments or landfills, especially on sites of elevated groundwater contamination risk; and, the architectural/engineering/construction (A/E/C) community's increasing scrutiny on portland cement and other materials driving projects' levels of embodied carbon.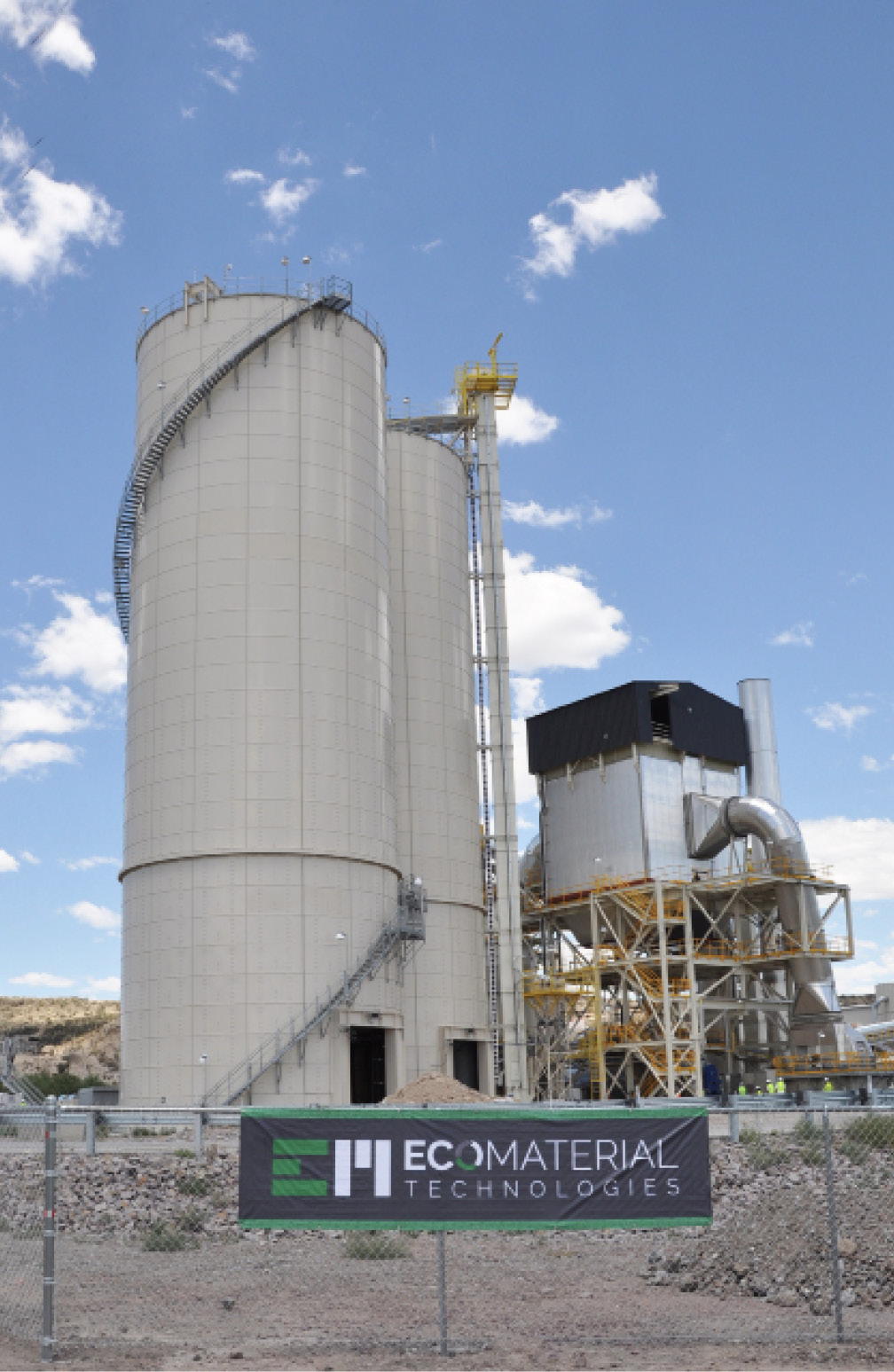 MAKING THE GRADE
Though technically not new, coal ash harvesting remains the next frontier for Eco Material and peer operators serving concrete and cement producers. It entails extraction of impounded fly ash or bottom ash from generating station or other power utility sites, followed by various treatment, grinding and classifying processes to bring the material to a) ASTM C618-level or higher performance in concrete; or, b) chemical composition befitting cement kiln.
"We have two major ash harvesting projects to announce later this year," says Eco Material President Keith Depew, one of eight Boral Resources executives who migrated with the Green Cement merger and ownership change. "Both are significant capital outlays that will help us meet Class F material demand in key regions and demonstrate successful ash management for power plant partners subject to new disposal guidelines." (note Record Harvest, opposite page.)
Harvested stock requiring beneficiation to attain C618 quality will position Eco Material to back up a diminishing supply of Class F ash from live coal-fired power plant feeds. Additional ash will be converted to a high performance SCM, as the company extends deployment of chemical treatment technology and processes yielding PozzoSlag and PozzoCem.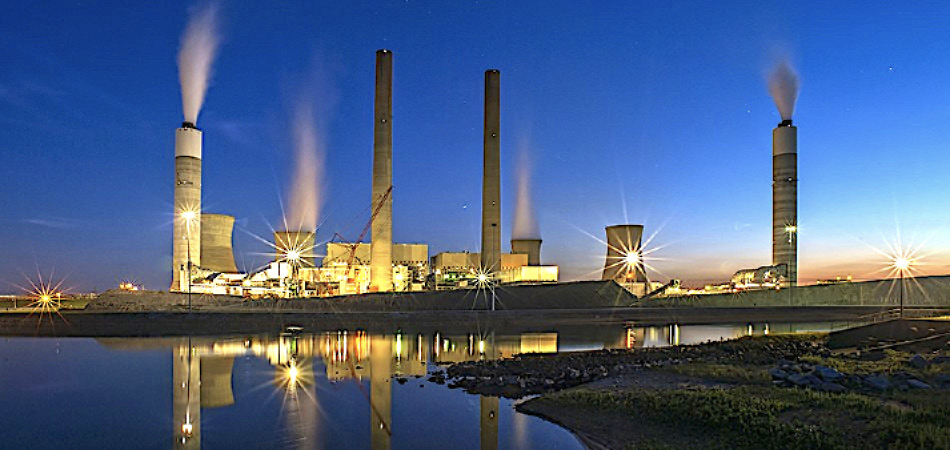 RECORD ASH HARVEST: 600,000 TONS/YEAR, 10 MILLION-TON HORIZON
As if the Kirkland Pozzolan Mine dedication weren't enough, Eco Material Technologies wrapped up Q2 2022 announcing an agreement with Georgia Power to harvest nearly 10 million tons of landfilled ash from Plant Bowen—one of the largest coal-fired power plants in North America. Eyeing annual volume upward of 600,000 tons, Eco Material will build a facility at the Cartersville, Ga. generating station to treat and process material meeting ASTM C618 characteristics. The agreement provides for the company to potentially add a second facility— driving annual production of concrete-grade material north of 1 million tons.
"As the largest partnership of its kind in the U.S., this project will not only use material from landfills and ash ponds, but also keep millions of tons of carbon dioxide from going into the atmosphere," says Eco Material CEO Grant Quasha. "The harvested material will be used in concrete to make stronger and longer lasting bridges and roads, and serve as a model for helping forward thinking utilities like Georgia Power and [parent] Southern Company close landfills and ash ponds, while building a greener and more sustainable planet."
"This project at Plant Bowen is historic for our company, and our entire industry, and we see the potential to expand beneficial use projects further in the future," adds Georgia Power Vice President of Environmental Affairs Aaron Mitchell. "Georgia Power is always researching and exploring new and innovative ways to reuse coal ash that are beneficial to our customers and communities. Finding and securing these opportunities will not only reduce and save space in landfills, but also serve as a financial tool to help offset the cost of ash pond closures for our customers."
"As concrete producers continue to work to achieve carbon neutrality, and power companies seek modern and innovative solutions for beneficial use of coal ash, this voluntary project in Georgia is a model for the industry, directly responding to both market and environmental needs," observes American Coal Ash Association Executive Director Tom Adams. "With the nationwide focus on improving American infrastructure including roads and bridges, demand for materials continues to outpace available supply, and collaborative projects such as this will be critical to bridging that gap in the future."
KEYSTONE STATE MODEL
Experience at a 2 million-ton Talen Energy ash deposit and processing operation in Danville, Pa. will inform the Georgia Power Plant Bowen harvesting contract. Eco Material recently surpassed a 150,000-ton Class F ash processing and shipment threshold from a Talen landfill that was identified in 2016 as a good harvesting candidate for (Boral Resources-proved) classification and treatment methods.
To mark the recycling, processing and marketing success, Eco Material hosted a spring gathering at the Danville site, drawing U.S. Representative Dan Meuser (R-PA-9); staff from the offices of Senators Pat Toomey (R-PA) and Bob Casey (D-PA); plus, Pennsylvania Senator John Gordner and Representative Kurt Masser. "We are honored to welcome Congressman Meuser and other officials to celebrate this achievement for our company and the state of Pennsylvania," said Eco Material CEO Grant Quasha. "Without their support and other state, federal and local officials, we would not be commemorating this milestone."
"My district is made up of many communities that benefit from the great work Eco Material is doing in Danville," added Representative Meuser. "Its innovative process of transforming the waste material, called 'fly ash,' from coal-fired power plants into a near-zero carbon cement product is a smart and environmentally friendly way to build America's infrastructure. Eco Material provides a free-market alternative to other products that have been used to repave roads throughout the Commonwealth."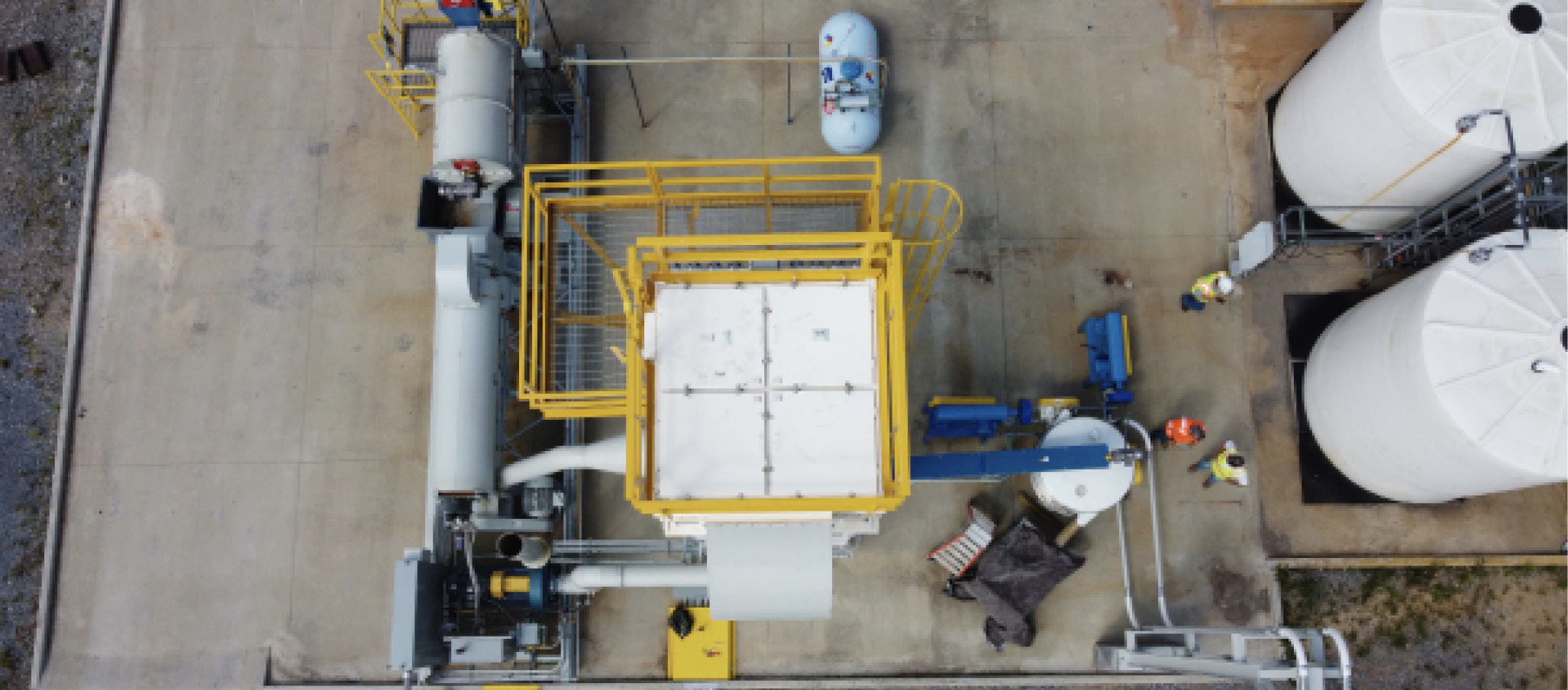 Green Cement began commercial PozzoSlag production at a modestly scaled Jewett, Texas facility nearly a decade ago. The material was promoted for high reactivity characteristics, initially enabling up to 60 percent replacement of portland cement in certain mix designs. When measured at varying dosage rates in concrete specimens, PozzoSlag paces portland cement controls' early strength development and surpasses their compressive strengths in 28-day cylinder breaks. Market uptake among concrete producers, boosted by state and local agency approvals, has propelled Jewett operation volume past 1 million tons to date. Most recently, the company has begun producing and selling PozzoCem, a 100 percent portland cement replacement product, in commercial quantities from the Jewett finishing line.
Management plans to scale up PozzoCem output in short order. PozzoSlag's underlying chemistry and process methods afford sourcing of average or sub-Class F or C ash from a broad sampling of coal-fired generating stations. Under the Eco Material umbrella—51 ash marketing/processing contract sites and 39 terminals with a combined footprint across 45 states, plus 2,800 rail cars and 160 bulk tankers—the PozzoSlag and PozzoCem technologies become candidates for production coast to coast.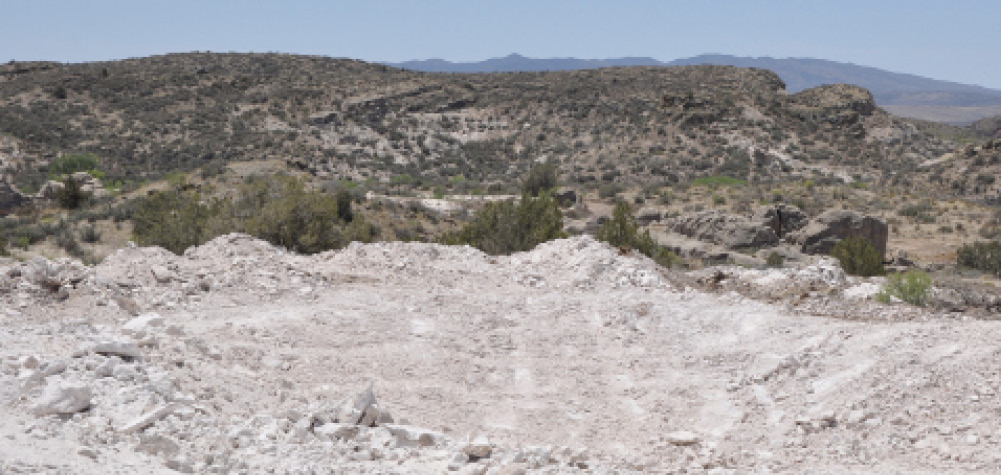 NATURAL POZZOLAN
Between live power generating station and impoundment-harvested ash feeds, Eco Material brings construction stakeholders a two-tier value proposition: A low-carbon portland cement substitute whose recycled material content hovers near 100 percent. The latter quality is certain to gain favor as A/E/C teams and their clients embrace and exercise "circular economy" principles that minimize waste.
Eco Material's newest product offering departs from the recycling loop but stands to contribute to fly ash beneficiation and deepen the supply of portland cement alternatives for quality concrete. Arizona customers and public officials joined the company late last month for a ribbon cutting at the Kirkland Pozzolan Mine, located in hilly, desert terrain 75 miles northwest of Phoenix. Grant Quasha credited internal construction and mining teams, as well as plant equipment suppliers, with creating a world class facility—potentially the largest of its kind in the nation.
Boral Resources and Scottsdale, Ariz.-based Kirkland Mining Co. entered a partnership in December 2019 to develop the 88-acre site, which holds 20 million-plus tons of high quality pumiceous tuff. The venture timed with diminishing Class F fly ash supplies in certain West Coast markets and greater acceptance of natural pozzolans as a premium SCM. Finished Kirkland Natural Pozzolan can be used in concrete mix designs to augment or replace fly ash, slag cement and portland cement, and counter alkali silica reactivity. It averages 11-micron diameter particles; exhibits 88-90 percent silicon, aluminum and iron oxides content; and bears ASTM C618 Class N designation.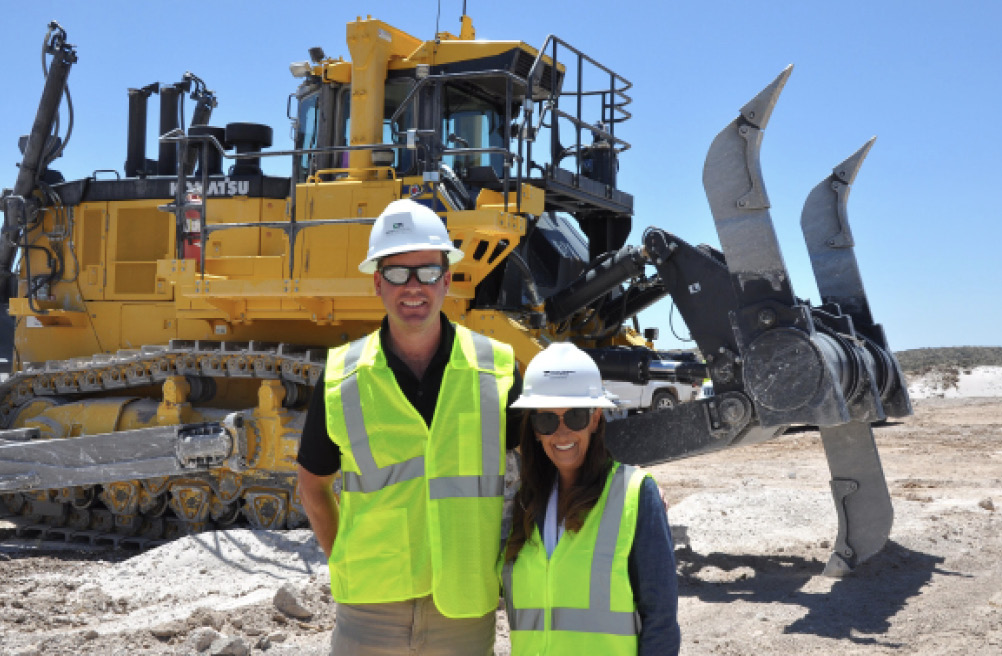 GREEN BACKERS
Eco Material has scaled Kirkland Mine crushing and classifying equipment, plus material handling and storage, for up to 500,000 tons' annual throughput. The facility is delivering Kirkland NP samples to customers and prospects who can observe the material's binding characteristics and potential to afford concrete practitioners a broader choice of aggregates due to ASR resistance. Initial Kirkland NP market development will be concentrated in Arizona and Nevada, although a rail loadout facility two miles from the mine will shoulder efficient material deliveries throughout the Southwest, especially in five bordering states—home to six Eco Material sites. Kirkland Plant Manager Michael Beirne, a Holcim US (Holly Hill, S.C.) veteran who arrived at Eco Material in early 2021, is overseeing production ramp up with a 15-member mining and processing crew.
Eco Material's emergence capped the Boral Ltd. North American market participation sunset. A first-of-its-kind financing mechanism, a Green-rated bond for a leveraged buyout, positioned Green Cement principals and new majority partners to close a $775 million transaction.
Lead Eco Material investors are New York middle market operator One Equity Partners (OEP), Wall Street's Warburg Pincus LLC, and subscribers to a $525 million Green Bond. The latter enthusiastically supported a newly-formed entity, presented as one "dedicated to decarbonizing the materials industry through scalable and proven technological solutions" and "equipped to "transform industrial waste into environmentally-friendly substitutes for everyday products."
"Fly ash represents one of the largest streams of industrial waste in the country, creating the unique opportunity for Eco Material to simultaneously solve a serious environmental challenge for utilities while lowering the carbon footprint of high-emitting industries like cement," noted Warburg Pincus Managing Director Roy Ben-Dor.
"Bringing together Green Cement and Boral creates immediate synergies, positions the Company to take advantage of new growth opportunities, and will enable it to have an even greater positive environmental impact," added OEP Managing Director Matt Hughes.
Six months on, Eco Material appears true to customer, investor and environmental stakeholder commitments—thanks to management continuity, coupled with timely investments supporting sub-C618 ash harvesting, scaling of PozzoSlag/PozzoCem production and distribution, and natural pozzolan production.