Black Buffalo 3D Corp., New York-based provider of large-scale 3D printers for construction and member of HN Inc., has named Dr. Kunal Kupwade-Patil as chief technology officer. He arrives from 3D concrete printing technology developer Icon in Austin, Texas, and will head the development of sustainable and alternative cementitious materials, plus nano-engineered binding agents. In addition to his tenure as Icon head of Materials Science, Dr. Kupwade-Patil was a research scientist in the Massachusetts Institute of Technology Department of Civil and Environmental Engineering.
"Kunal was instrumental in building this industry, and he brings a level of expertise that will continue to keep Black Buffalo 3D at the forefront of new materials development and more sustainable building practices," says Black Buffalo CEO Michael Woods.
White Cap Supply Holdings LLC, Atlanta, has closed on Michigan's CSI Geoturf, a wholesale distributor of civil site construction geosynthetic and landscape supplies. CSI Geoturf has locations in metro Detroit, Grand Rapids and Traverse City, and will join the White Cap North Central Region.
"With their specialized expertise in geosynthetics and a strong branch footprint in Michigan, we look forward to offering stronger service capabilities, extended breadth and depth of products, and additional locations for local customers, alongside the talented team at CSI Geoturf," says White Cap CEO John Stegeman.
Trail King Industries, Mitchell, S.D. manufacturer of open deck and materials hauling trailers for a wide variety of markets, has named Eric Thomas as director of Sales, responsible for leading district sales and product support managers. He arrives with 30-plus years' sales experience, concentrated in machinery. He most recently served as Kohler Co. regional sales manager. 
'HANDS ON' LEARNING AT IVY LEAGUE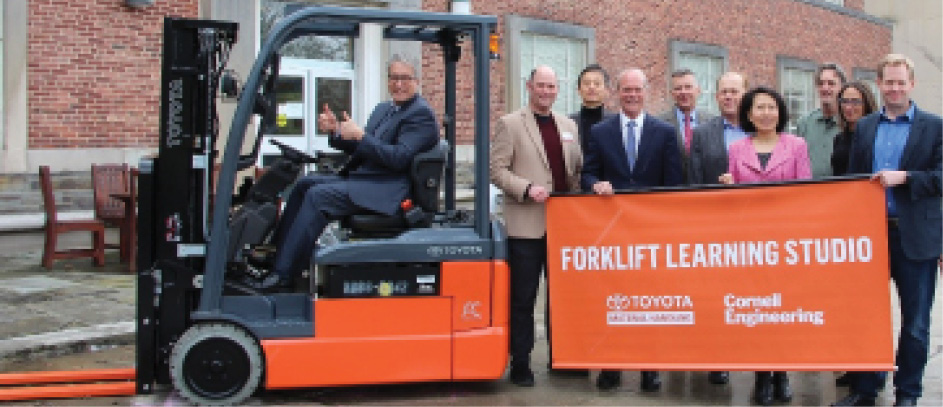 A new Toyota Material Handling and Cornell University College of Engineering partnership is dedicated to developing a knowledge center that incorporates the manufacturer's equipment to elevate immersive engineering education to an entirely new level. The Forklift Learning Studio will be built this summer with a goal of officially launching this fall for engineering students at the Ithaca, N.Y. campus. Toyota representatives and Cornell Sibley School of Mechanical and Aerospace Engineering (MAE) faculty began discussing a partnership late last year as a way to revolutionize the way students learn by finding a more optimal balance between lecture and lab sessions.
Toyota proposed that forklifts would be a perfect fit for such a learning studio and offered to donate the equipment and branding work necessary to bring the idea to life. Forklifts encompass all aspects of a mechanical engineering curriculum, as they a) use internal combustion engines (thermofluids); b) bear weight (structural mechanics); and, c) function contingent on dynamic stability (dynamics and controls).