Pacific Structures, a business of San Francisco-based Build Group with subcontracting entities across the West Coast, has named Brandon Tirri as chief executive officer. He will direct and oversee the namesake subsidiary, a structural concrete specialist, along with sister drywall, plaster and insulation, flooring and carpentry, plus exterior building envelope contracting operations. Combined, these entities generate over $400 million in revenue on an annual basis as subcontractors for outside clients and Build Group projects.
CarbonCure Technologies, Halifax, N.S. developer of carbon dioxide sequestration methods in concrete production, has been named to the 2022 CNBC Disruptor 50 List. The compilation recognizes fast-growing and innovative private companies—spanning many industry verticals—whose breakthroughs are changing business-as-usual and moving markets at an accelerated pace. CarbonCure's systems inject and permanently mineralize carbon dioxide within concrete, producing the same high-quality matrix with a lower carbon footprint, greater material efficiency and less waste.
"In collaboration with our innovative concrete producer partners around the world, by installing our turnkey solutions at existing plants, we're fulfilling demand for sustainable and circular concrete products," says CarbonCure Chairman Robert Niven. The inaugural CNBC Disruptor 50 list in 2013 recognized sector-defining companies such as Airbnb, Pinterest, Spotify, Twitter and Uber, he adds, noting "The fact that CarbonCure is named alongside these category-creating organizations—many of which have already achieved unicorn status in their respective industries—is great recognition of the hard work and innovation of our team and the immense progress we've made developing and deploying carbon removal technologies."
The Federacion Interamericana Del Cemento, Bogotá, and American Concrete Institute have extended an International Partner Agreement underlying a joint target of achieving carbon neutrality in the cement and concrete sector. Their efforts will be propelled through the recently chartered NEU: An ACI Center of Excellence for Carbon Neutral Concrete, whose mission is to provide access to technologies and the knowledge needed to produce and place low carbon concrete in the built environment. The expanded agreement will encourage cooperation in areas of joint events, industry partnerships, research, technology acceleration, technical committees, and other related activities.
"This agreement reaffirms our role in promoting the sustainable development of cement-based construction systems and highlights both organizations' commitment to achieving a carbon neutral industry," says FICEM Executive Director Maria Jose Garcia.
In 2019, FICEM and ACI completed an International Partner Agreement to exchange the technical expertise of each organization through publications, meetings, conferences, internet links, committee membership, certification activities, and other activities. An international agreement between concrete-related organizations who are committed to cooperation, coordination, and collaboration is a critical step in the effort to develop a worldwide unified concrete community of equal partners, ACI officials affirm.
"The Institute is eager to expand this partnership with FICEM and looks forward to members of both organizations carrying on technical exchange and collaboration through committee activities and development of education products," adds President Charles Nmai (Master Builders Solutions). "This agreement aligns with ACI's strategic goal to provide resources for concrete professionals globally and to effectively meet the demands of a changing world."
Ohio-based Lithko Contracting LLC, a leading national concrete contractor, has appointed Brian Cullen as executive vice president. He arrives with 20-plus years' financial and strategic leadership experience in executive roles at Fortune 500 companies, including McDonald's Corp. and Procter & Gamble Co., and most recently served as chief financial officer for Verso, a leading paper and pulp producer.
His appointment times with ongoing expansion of Lithko Contracting, which has grown from two Ohio locations in 1994 to offices in over 20 regions servicing 35 states throughout the country. The organization has shown consistent financial growth to become the second largest concrete construction company in the U.S., with annual contract volume eclipsing $1 billion. The executive vice president role has been created as Lithko continues to implement a strategic and organizational growth plan.
Denver-based residential and commercial flatwork business franchisor Sam the Concrete Man seeks to secure more than 30 franchise agreements during the second half of 2022, marking a second consecutive year of triple digit growth. The company equips franchisees to offer exterior and interior flatwork services, and provides technical and administrative support, including estimating programs.
"Sam the Concrete Man strives to create great experiences for customers and franchise owners, and the accelerated expansion we are experiencing serves as a testament to the positive impact of this collective focus," says Vice President of Franchise Development Ronnie Musick. The company has signed 36 agreements year to date, he adds, and is targeting franchisees in such key markets as Chicago, Detroit, Memphis, New Orleans, Oklahoma City, Philadelphia, Phoenix, Portland and Seattle.
The Charles Pankow Foundation's latest research grant supports development of design criteria for mechanical reinforcing steel splices in hinge regions that would result in adequate performance for Gr80 and 100 bars, and performance criteria for mechanical splices to allow their use in hinge regions. Work will be performed in University of Texas at San Antonio labs under Principal Investigator Wassim Ghannoum, Ph.D., P.E.
Co-funding the investigation are CPF partners American Concrete Institute Foundation and Concrete Reinforcing Steel Institute Foundation, BarSplice, Cascade Steel, CMC Metals, Dayton Superior, HRC, Nucor, nVent and Splice Sleeve. Members of an Industry Advisory Panel assisting in the investigation include Barsplice's Tim Cartwright; Cascade Steel's Jeff Kramer; CKC Structural Engineers' Joe Ferzli; CMC's Jacob Selzer; CRSI's David Fanella and Amy Trygestad; Dayton Superior's Jon Hankenhof; Magnusson Klemencic's David Fields; nVent's Manuel Conde; Nucor's Eric Nissen; and, Simpson Gumpertz & Heger's Dominic Kelly.

UHPC PROJECTS LEAD RESEARCH COUNCIL'S GRANT ROSTER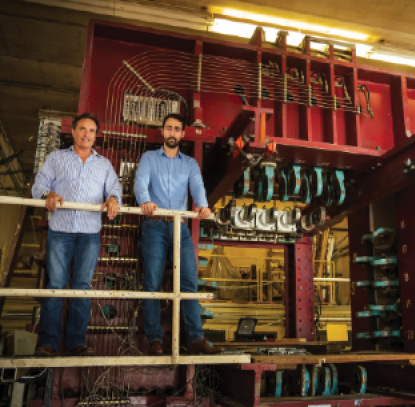 Among 10 projects receiving 2022 ACI Foundation Concrete Research Council grants, two address ultra-high performance concrete: "Maximum Reinforcing Ratio for Reinforced UHPC Beams: Towards Slender Elements," under principal investigator Yi Shao, University of California, Berkeley; and, "Shear Behavior of UHPC Considering Axial Load Effects," under Dimitrios Kalliontzis, University of Houston. Joining them on this year's roster are these projects and investigators:
"Alternative Supplementary Cementitious Materials from Local Agricultural Products," Ohio State University's Lisa Burris;
"Damage Classification of Reinforced Concrete Structures for Fire: Rebar Temperature," University of Buffalo's Negar Elhami-Khorasani;
"Development of a Phase Change Material-Based Heat-Absorbing Surface Covering for Concrete Pavements/Bridge Decks," Texas State University's Jung Heum Yeon;
"Evaluation of Early-Strength Development in Tension-Driven High Strength Concrete Formulations," Illinois Institute of Technology's Matthew Gombeda;
"Fatigue Behavior of FRP Bars Embedded in Concrete," Case Western Reserve University's Christian Carloni;
"How Much Consolidation Energy is Really Required to Create Concrete Specimens?" Missouri University of Science and Technology's Dimitri Feys;
"Multiscale Reinforcement of Hybrid Steel Fiber Reinforced Concrete," Texas State University's Xijun Shi; and,
"Reliable Measurement and Speciation of Sulfur in Concrete Aggregates," RJ Lee Group's April Synder.
Additional information about each of this year's awarded projects, including funding partners, research team and ACI Committee involvement is available at www.ACIFoundation.org/research.