Sources: Eco Material Technologies, South Jordan, Utah; CP staff
Arizona customers and public officials joined Eco Material for a June 21 ribbon cutting at the Kirkland Pozzolan Mine, located in hilly, desert terrain 75 miles northwest of Phoenix. CEO Grant Quasha credited construction and mining teams, as well as plant equipment suppliers, with creating a world class facility—one advancing the producer's mission to decarbonize concrete by offering alternatives to portland cement.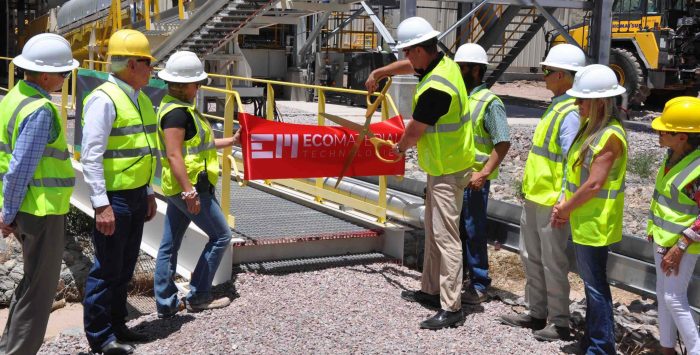 Eco Material predecessor Boral Resources and San Diego-based Kirkland Mining Co. entered a partnership in December 2019 to develop the 88-acre site, which holds 20 million-plus tons of high quality pumiceous tuff. The venture timed with opportunities tied to diminishing Class F fly ash supplies in certain West Coast markets and prospects for greater acceptance of natural pozzolans as supplementary cementitious materials (SCM). The finished Kirkland Natural Pozzolan can be used in concrete mix designs to augment or replace fly and portland cement, and counter alkali silica reactivity. It averages 11-micron diameter particles; exhibits 88-90 percent silicon, aluminum and iron oxides content; and, meets the requirements of a Class N agent per ASTM C618 Standard Specification for Coal Fly Ash and Raw or Calcined Natural Pozzolan for Use in Concrete designation.
Kirkland NP diversifies an Eco Material SCM portfolio heavy on Class F fly ash from live power plant streams. More recently, the company has grown binder offerings with impoundment-harvested ash processed to ASTM C618 performance levels, plus PozzoSlag, a highly reactive agent imparting higher compressive strength in concrete slabs and structures.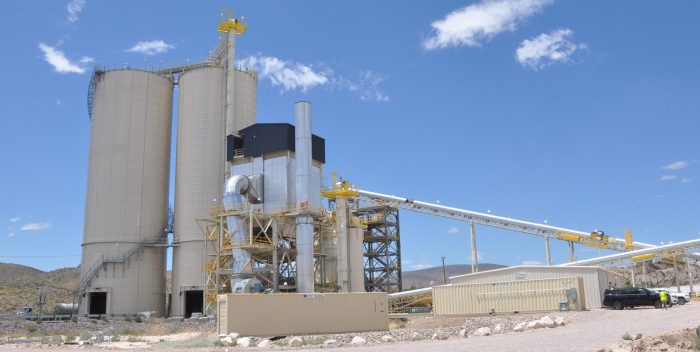 Eco Material has scaled Kirkland Pozzolan Mine crushing and classifying equipment, plus material handling and storage, for up to 500,000 tons' annual output. On the heels of the ribbon cutting, the facility will begin delivering Kirkland NP samples to customers and prospects within a few weeks. Initial market development will be concentrated in Arizona, although a rail loadout facility two miles from the mine will enable efficient material deliveries throughout the Southwest. Kirkland Plant Manager Michael Beirne, a Holcim US veteran who arrived at Eco Material in early 2021, will oversee production ramp up with a 15-member mining and processing crew.
Related articles