Natural Pozzolan Association members respond to fly ash supply disruptions and growing market for raw and calcined materials
Pozzolans improve concrete by converting problem-causing calcium hydroxide, a by-product of the hydraulic reaction between water and cement, to additional calcium silicate hydrate—the glue that binds the concrete aggregate. The key to an effective pozzolan is the completeness of the reaction it ignites within hydrated concrete. —Natural Pozzolan Association, 2017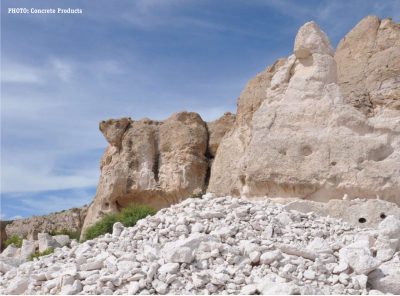 Performance-based specifications in design-build or conventional design-bid-build contracts, coupled with green building-minded project teams' quest to reduce embodied carbon in structures and slabs, are changing the correlation of portland cement consumption and concrete output. Such market dynamics spell lower clinker factors for the cement industry and binder optimization among ready mixed or manufactured concrete producers and customers.
Portland cement content streamlining in mix designs continues as energy market forces choke a traditionally steady supply of concrete-grade fly ash in key regions, especially the West Coast. The latest American Coal Ash Association Production and Use survey, released in November 2019, finds an 11 percent decline in 2018 fly ash consumption in concrete, primarily attributable to distribution channels disrupted by coal-fired power plant closures. Few disruptions will match the late-2019 sunset of the Navajo Generating Station in Arizona, source of 400,000 to 500,000 tons of Class F ash annually. That operation frames a near to longer term power generation trend: Half of the stations whose Class F fly ash output is approved for California and Nevada Departments of Transportation work are scheduled to close.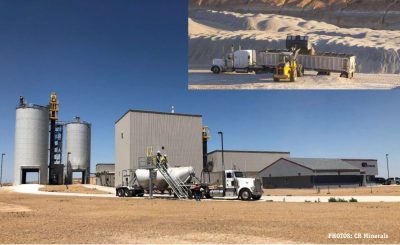 Developments in supplementary cementitious materials (SCM) are in lockstep with the migration from coal- to natural gas-fueled power generation. Enterprising miners and material processors are offering new solutions in heavy/civil concrete practice for optimizing portland cement and imparting performance features synonymous with Class F fly ash, most notably alkali-silica reactivity and sulfate attack mitigation.
SUPPLEMENTAL STANDARD
"We are meant to be a voice for makers and users of natural pozzolans, and ensure there will be relevant specifications and standards for our materials," Natural Pozzolan Association (NPA) President Jeff Whidden told members last year at the group's inaugural symposium. "Over the past few years, we have seen a resurgence in the use of natural pozzolans, driven mainly by changes in the fly ash market. American Coal Ash Association numbers show there is plenty of ash available overall, but not necessarily in the right places."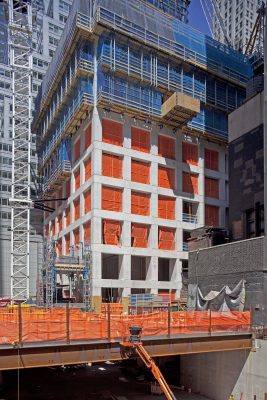 Whidden is president of Dallas-based CR Minerals Company, LLC, whose confidence in natural pozzolan and remediated fly ash sales prospects is underscored in a new Pueblo, Colo., blending, grinding and terminal facility specifically for concrete customers. A longtime operator of a New Mexico natural pozzolan mine, CR Minerals helped charter NPA, which has grown to 30 Regular, Emergent and Associate members. The former two classes are companies involved in mining, processing, and marketing of natural pozzolans graded or blended to meet performance requirements of Class N or Class F products per ASTM C618 Standard Specification for Coal Fly Ash and Raw or Calcined Natural Pozzolan for Use in Concrete. Associate members are mostly engaged in natural pozzolan testing, marketing or research.
"Our members started in niche markets and are now providing material to offset the impact of lower fly ash availability," NPA Executive Director Joe Thomas noted in his symposium opener. "Some are working with customers who find natural pozzolans deliver better rheology in fresh concrete than fly ash and are equally effective in combating alkali-silica reactivity. Between NPA member and nonmember producers, we estimate the industry has built up about 1 million tons of processing capacity, and has hundreds of thousands of tons of new capacity in the works."
NPA chartered in 2017 as a "network of producers to improve the performance and durability of the nation's concrete infrastructure." It emerged in between the formation of ACI Committee 240, Natural Pozzolans and ASTM C09.24 Subcommittee on Supplementary Cementitious Materials' New Natural Pozzolan Task Group (NP Group). The ACI Technical Activities Committee supported a splintering of Committee 232, Fly Ash, Natural and Processed Pozzolans, whereby Committee 240 members could realize better alignment of topics and projects applicable to natural pozzolans, plus expedited reporting on use of such materials.
NP Group participants, some represented on ACI 240, seek C618 additions or alternatives aimed at validating performance characteristics unique to raw (pumiceous materials) and calcined (kaolinite clay-based) natural pozzolans. Leading group targets is the accurate measurement of a material's pozzolanic activity index (PAI), as a complement to the C618 strength activity index (SAI). A robust PAI test method will position NPA members to prove product performance to fly ash specification-prone state department of transportation officials and other public construction interests, along with their counterparts in private work.
Other proposed changes to Class N pozzolan specifications revolve around performance versus prescriptive requirements. For example, currently prescribed chemical requirements or fineness characteristics for natural pozzolans would be "report only." Class N-type materials would be certified on the basis of performance as a pozzolan, particularly as it relates to prevention or mitigation of chemical attack in concrete.
2020 BALLOTS
NP Group Chairman Todd Hinton of Ash Grove Cement is preparing a draft standard reflecting input from December 2019 Committee C09 meetings in Houston. Balloting is envisioned early this year, followed by updating of the working document toward the main committee's June meeting in Boston. A lengthy development, balloting and issuance window likely attending a new raw and calcined natural pozzolan standard has compelled Hinton to propose adoption of ASTM C1260 Standard Test Method for Potential Alkali Reactivity of Aggregates (Mortar-Bar Method) and ASTM C1567 Standard Test Method for Determining the Potential Alkali-Silica Reactivity of Combinations of Cementitious Materials and Aggregate (Accelerated Mortar-Bar Method) for project approvals in the interim.
Both standards address a material's capacity to mitigate ASR, the underlying performance characteristic behind the majority of natural pozzolan-bearing concrete mix designs. Longer term, NP Group members are weighing various procedures to gauge PAI and replace C1260 and C1567 measures, ranging from bound water to various calcium consumption tests. New-procedure testing is under way at various commercial and institutional labs.
Raw and calcined natural pozzolan classes generally encompass finished powders in the 1- to 15-micron average particle size range. In the NP Group's proposed standard—where fineness characteristics, as noted above, are report only—coarser gradations are recognized if they meet performance targets. Such gradations are presently disqualified from C618 Class N designation if they do not meet the threshold of 66 percent passing a 325 mesh screen.
Raw natural pozzolans are crushed or graded from a variety of volcanic deposits. Their absence of calcining or any combustion process requirements affords a nearly 100 percent pound per pound carbon offset when they replace portland cement. Derived from various clays or shales, calcined natural pozzolans are processed at about half the 1,400-1,500°C kiln temperatures of portland cement, thus providing a significant carbon offset when substituted for cement. The most common concrete-grade calcined natural pozzolan, metakaolin, is highly reactive and promoted as an admixture. It offers cementitious, strength development and attributes on par with silica fume, but without commonly cited handling and mixing challenges.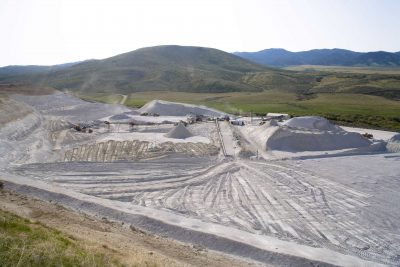 C618 DIFFERENTIATORS
The NP Group's working standard references many C618 points as report only, hence data points for user interest but not discriminator criteria. They include aluminum, calcium, iron and sulfur oxides content, plus loss on ignition. Silicon dioxide content, for which 70 percent is a minimum in C618 Class N-qualifying specimens, will also be report only.
True to an ASTM C09 template, a new natural pozzolan benchmark will delineate raw and calcined product classes alongside chemical composition and physical properties tables. Notable in the latter will be an SAI of 80 percent versus C618's 75 percent. The thresholds indicate compressive strength development in a 2-in. cube specimen cast from a mortar mix with natural pozzolan replacing 20 percent of portland cement, measured against a portland cement only control.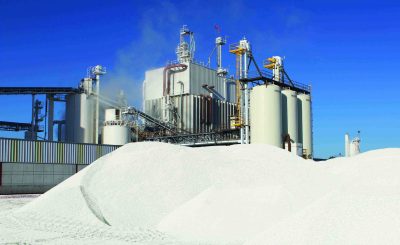 Raw natural pozzolan interests are inclined to a standard requiring an 80 percent strength development threshold and report only provisions for most overlapping C618 content; calcined product stakeholders are working on tailored methods for SAI and other performance criteria. Also in the draft standard scheduled for early-2020 release to the ASTM 09.24 SCM Subcommittee: Maximum water requirement of 115 percent for raw natural pozzolans, measured with a 100 percent baseline for portland cement. A possible future provision might allow a higher water requirement threshold if a material specimen can be proven free of deleterious materials. Water requirement data for calcined pozzolans will be report only.
"The evolution of pozzolan specifications in the 20th century was modeled after portland cement, whose primary measurement is strength," Bud Werner of Denver-based CTL Thompson told NPA symposium attendees. "We have a long way to go for testing natural pozzolans."
"The new NP standard is a work in progress," affirms NPA's Joe Thomas. "The end result will likely incorporate many of the outlined proposals, but may have other changes as well due to the dynamic state of research & development in the natural pozzolan realm."
RAW NATURAL POZZOLANS
The Natural Pozzolan Association defines raw natural pozzolans as magmatic, rooted in volcanic activity, and occurring in tephra (fine) or tuff (coarse, rock like) layers or concentrations. U.S. and Canadian deposits of such materials are primarily west of the Rocky Mountains. Here, Concrete Products examines incumbent and new natural pozzolan players aiming to fill voids in markets where traditional Class F fly ash supplies are constrained or cut off, or offer ready mixed and precast concrete producers new additives with architectural and structural performance qualities.
Natural Pozzolan Association
100 East 155 South
Malad City, ID 83252
208/252.2808
---
Boral Resources
Far and away the leader in fly ash marketing and distribution for concrete and cement producers, Boral Resources has recently stepped up processing capabilities to extend Class F-grade product volume and availability amid coal-fired power generating station closures. Strategies have entailed new beneficiating technologies bringing sub-par coal combustion products to ASTM C618 performance levels, along with CCP plus natural pozzolan blends. Most notable regarding the latter is Boral Resources' acquisition of 4.5 million tons of natural pozzolan at the surface of the halloysite clay- and iron oxide-rich Dragon Mine, Utah.
Upon announcing the deal, Boral CM Services Vice President, Product & Business Development Rafic Minkara noted, "Extensive testing and characterization shows that the materials can be blended with several Western fly ash sources to extend the volume of concrete-quality pozzolans available in Western states markets. This material can deliver enhanced ASR mitigation when blended with some fly ashes."
Boral Resources
10701 South River Front Parkway
Suite 300
South Jordan, UT 84095
801/984-9400
---
CR Minerals
A concrete mix designed with Tephra pozzolan helped a CR Minerals Rocky Mountain region customer meet concrete specs on a recent wind energy contract. PHOTO: CR Minerals
A long-time supplier of pumiceous materials for industrial and consumer markets, CR Minerals (CRM) has quickly emerged as one of the highest volume natural pozzolan producers on the strength of a concrete industry-geared grinding operation in Pueblo, CO. Opened in 2018, the facility processes raw natural pozzolan and fly ash material originating from New Mexico and Colorado.
CRM's Tephra-branded Natural Pozzolan (NP), White Pumice Natural Pozzolan (WP), Oil & Gas Fly Ash (OG) and Remediated Fly Ash (RFA) each measure at 46-48 lbs./cu. ft. bulk density and approximately 2.3 specific gravity. The latter material is a patented blend of Tephra NP and coal combustion products, netting a supplementary cementitious material (Tephra RFA) equal to or exceeding ASTM C618 requirements for Class F fly ash. CR Minerals recently unveiled a plan to triple production at the Pueblo plant, which is running at near full capacity. Leading the CR Minerals team is President Jeff Whidden, a veteran of Lafarge North America and Breckenridge Materials, a St. Louis-based ready mixed and aggregate producer.
CR Minerals Company, LLC
3345 Lime Road
Pueblo, CO 81004
719/239-7869
---
Hess Pumice
The family-owned company was one of the first movers in branding concrete-graded materials for the present era of natural pozzolans. Operating a rich Idaho deposit—the Wright Creek Area mine—initially developed by Owens Illinois for television screen polishing media, Hess Pumice has a strong footprint in industrial and consumer markets. Among the latter, it is a leader in toothpaste-grade powder.
Concrete market entry in 2011-2012 followed a University of Utah investigation confirming the pozzolanic activity performance of 3- and 15-micron gradations of Wright Creek material. Hess Pumice promotes those grades for architectural concrete and decorative slabs, plus high performance mixes and agency work requiring alkali silica reactivity mitigation. HessPozz products are 80 percent silicon dioxide and 14 percent aluminum trioxide.
Hess Pumice Products
100 Hess Drive
Malad Industrial Park
Malad City, ID 83252
800/767-4701
---
Kirkland Mining
Kirkland Mining deposit
After five years of research & development, plus 18 months of permitting and community relations exercises, KMC secured a U.S. Bureau of Land Management Finding of No Significant Impact determination in late 2018 on a proposed extraction and processing master plan for an 88-acre plot near Skull Valley, Ariz. Geologists report that the deposit has 23 million tons measured and 130 million tons inferred of high quality pumiceous tuff. Initial processing has yielded material with mean particle sizing of 11 microns and strong potential to blend with lesser fly ashes to yield a product with Class F-level ASR performance. Past tenants of the property, dating to early 1900s, have included a dimensional stone fabricator and a pumice operator, Great Western Tuff and Cement Co. Material testing, mining equipment procurement and logistics planning throughout 2019 have KMC on track for commercial delivery of natural pozzolans in 2020-21.
Kirkland Mining Company, Inc.
9694 East Chuckwagon Lane
Scottsdale, AZ 85262
480/209-1103
---
Lafarge Canada
The producer has tapped Garibaldi Pumice Ltd., operator of a mine near Pemberton, B.C., to supply material to a Kamloops, B.C., grinding and storage facility, formerly milling up to 250,000 tons/year of portland cement. Lafarge Canada is testing pumice ground to an average 12-micron diameter for blending with Class C fly ash to yield a finished powder with Class F characteristics and alkali silica reactivity resistant properties. The producer used 2019 for commercial trials, targeting about 5,000 tons of processed pumice.
Lafarge Canada's supplementary cementitious materials program has been disrupted by the closure of two of six units at the TransAlta Corp. Sundance power station, west of Edmonton, and the phased coal-to-natural gas conversion of the remaining four units through 2022. At peak output, Lafarge Canada managed and marketed 250,000 tons of Class F ash from the facility.
Lafarge Canada Inc. Western Region
#300 115 Quarry Park Road Southeast
Calgary, Alberta T2C 5G9 Canada
403/225-5400
---
Nevada Cement
No stranger to blended cements and the accelerating decline of fly ash stock for West Coast markets, Nevada Cement has tapped natural pozzolans for the past decade as part of a supplementary cementitious material portfolio. Its primary offering, simply labeled Class N Pozzolan, is mined at a Basalite Concrete Products quarry in Dayton, Nev.; processed at the company's Fernley, Nev., flagship plant; bears fineness qualities similar to Type III portland cement; and, exhibits resistance to alkali silica reactivity and sulfate attack.
In a presentation at the inaugural NPA Symposium in May 2019, Nevada Cement Technical Sales Representative Dave Imse cited the urgency of providing Western state agencies alternatives to conventional Class F fly ash: Coal-fired power plants whose output has attained Nevada and California agency approval, for example, will have just over half of active capacity in 2025 than in 2018.
Nevada Cement Co.
1290 West Main Street
Fernley, NV 89408
775/575-2281
---
SR Minerals
The North American business of Sunrise Resources is in late permitting stages of the CS Pozzolan-Perlite Project, sited in Nevada, north of Las Vegas. Between virgin material isolated in part of the deposit, plus processing of perlite byproduct, SR Minerals envisions 100,000 to 500,000 tons' capacity of natural pozzolan suited to Nevada and California market concrete customers. In its most recent investor guidance, the company noted continuing U.S. Bureau of Land Management review, along with leasing of a mineral and grinding plant located 15 miles from the deposit.
"Our short-term objective is to start producing natural pozzolan as a byproduct of processing perlite and by selling run-of-mine natural pozzolan to customers with existing grinding facilities," Sunrise Executive Chairman Patrick Cheetham tells investors.
SR Minerals Inc./Sunrise Resources Plc
Sunrise House, Hulley Road
Macclesfield, Cheshire SK10 2LP
United Kingdom
---
CALCINED NATURAL POZZOLANS
This class of products from Natural Pozzolan Association members and peers is derived from kaolinite, a hydrated aluminosilicate material. When heated to 800°C, kaolinite transforms to metakaolin, with average particle sizing in the 1- to 3-micron range. The white to brilliant white powder is proven for its high reactivity potential with calcium hydroxide, or free lime, typical of hydrating portland cement mixtures. Here, Concrete Products examines established and new players calcined natural pozzolans, all tending to high performance, value-added mixes commanding premiums with architects, engineers and contractors.
Advanced Cement Technologies
With a brightness index likely besting what might have been attained via white portland cement, the Broad Museum demonstrates metakaolin's potential in glass fiber reinforced concrete. California architectural precast specialist Willis Construction Co. fabricated elements whose intricate geometries form what New York architect Diller Scofidio + Renfro dubs a "veil" for the downtown Los Angeles landmark, opened in 2015. The producer incorporated Advanced Cement Technologies' PowerPozz metakaolin in the mix design.Diller Scofidio + Renfro (main); Willis Construction (casting yard)
A North American forerunner in concrete-grade, high reactivity metakoalin (HRM), the company was founded in 1995—a few years beyond the advent of silica fume admixtures for high strength concrete in structural building applications or high performance mixes in bridge decks and parking structures. Advanced Cement Technologies presents its PowerPozz HRM as a proven alternative to silica fume, but also supplies the latter material to the concrete market. PowerPozz has a mean particle size of 3 microns plus silicon dioxide and aluminum trioxide contents of 51-53 percent and 42-44 percent, respectively.
"PowerPozz provides superior pozzolanic performance that contributes to the improved strength, durability, chemical resistance, ASR mitigation, water absorption, efflorescence control, and aesthetics for quality concrete and cement based materials," Advanced Cement notes. "It also enhances concrete rheology, providing a smoother, creamier mix that improves handling and finishing characteristics."
Advanced Cement Technologies
435 Martin Street, Suite 2040
Blaine, WA 98231
800/595-7552
---
BASF
Processed and marketed through the company's Performance Chemicals business— separate from Construction Chemicals and the Master Builders flagship—MetaMax is a high-reactivity metakaolin pozzolan based on high purity kaolin clay thermally activated within a specific temperature range. The pristine white mineral admixture meets or exceeds all of the specifications of ASTM C-618 Class N pozzolans. With a 1.3-micron median particle size, MetaMax reacts with free lime produced during hydration of cement and fosters additional cementitious material. Processing to exact specifications maintains high whiteness, high reactivity, ultrafine particle size distribution and product consistency.
BASF Corporation
100 Park Ave.
Florham Park, NJ 07932
704/930-1218
---
Burgess Pigments
Company is among operators mining kaolin across central Georgia. It has developed the namesake Optipozz as a concrete-grade metakaolin, with average particle size of 1.4 microns. The product is approved in six state departments of transportation concrete specifications. Burgess Pigments recently added a sixth calciner at its Sandersville mine and processing operation, partly in response to concrete market development. Current Optipozz projects include piles for a tidal structure in Miami and bridge deck in Detroit.
Burgess Pigment Co.
525 Beck Road
Sandersville, GA 31082
478/552-2544
---
I-Minerals
Company is completing feasibility studies on a northern Idaho kaolin deposit. Testing indicates the strong concrete performance potential of Bovill Metakaolin, for which mine developers envision initial processing of 20,000 tons annually. The branded powder would become the only high quality metakaolin processed in the West.
I-Minerals Inc.
880 – 580 Hornby Street
Vancouver, British Columbia
877/303-6573